Meet the bee team: Mac students protect solitary bees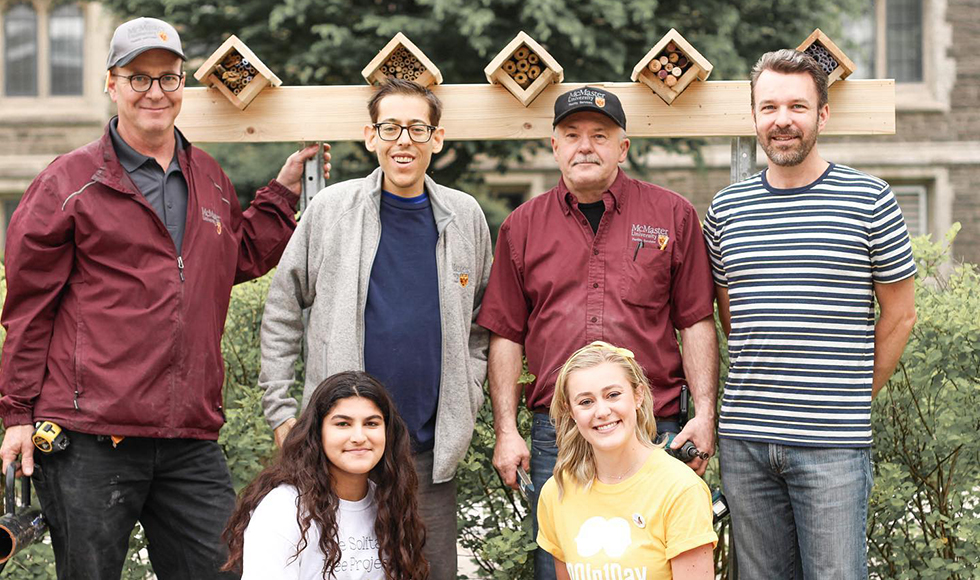 Facility services team members (Top from left: Dwayne Massey, carpenter, Adam Chiaravalle, student, Robert Stevens, carpenter and Craig MacDonald, director of maintenance services), collaborate with Simran Jolly (bottom left), secondary school student founder of The Solitary Bee Project, and Abbie Little (bottom right), community relations coordinator and Academic Sustainability Program students (not pictured) to install 50-plus bee houses on McMaster University's campus in 2019. Adam Chiaravalle (top centre left), a student and facility services team who passed away in 2020, is remembered for his advocacy and promotion of sustainability projects on campus. Photo by: Reta Meng
---
"It takes teamwork to protect solitary bees."
Thanks to the teamwork of Waslat Waizi and other students, staff and faculty, McMaster has been designated a Bee City Campus.
Waslat, along with three other students from life sciences and commerce backgrounds currently living in three countries, never met in person, but they helped shape McMaster's campus for years to come.
They are the second cohort of students to participate in The Solitary Bee Project, offered through the Academic Sustainability Programs Office.
Waslat, Callum Hales, Samara Hasan and Abhik Sen partnered with the facilities services team and academic bee experts at McMaster to plan a virtual native species planting.
Even though the students could not come to campus because of pandemic restrictions, through the power of social media, the entire community was invited to follow along as 100-plus native trees and shrubs were planted close to bee houses installed on campus.
"It was not until after our group finished the project and filled out the application for McMaster to become a Bee City Campus that we really started seeing this was so much more than a grass roots project," says  Hales, a commerce undergraduate student.
"Protecting pollinators like solitary bees also aligns with the United Nation's Sustainable Development Goals related to zero hunger, life on the land, and sustainable cities."
Bees are essential to the pollination of fruits, vegetables, and flowers, but due to pesticides and habitat loss are in decline.
Solitary bees, who do not live in hives, can be found laying eggs in the over 50 bee homes that students and facilities services team members installed throughout campus in 2019. As a species, solitary bees are non-aggressive, making them good company in gardens on a campus buzzing with students.
"By helping students protect pollinators, we're helping students learn. Facility services team members who participate also connect with our university's vision of advancing societal health," says Debbie Martin, co-chair of McMaster's Sustainability Advisory Council, associate vice-president and chief facilities officer.
"A healthy bee population at McMaster helps everyone on our main campus and in our community."
As one of 14 designated Bee City Campuses, McMaster is committing to promoting healthy, biodiverse habitats for pollinators on campus and fostering environmental awareness about the importance of bees to our ecosystem.
Every year, students in the SUSTAIN 3S03 course will contribute to the Solitary Bee Project developments and a Pollinator Team, consisting of staff, students and faculty will continue to uphold our commitment.
"When students learn about and act to protect pollinators, they learn about the breadth of sustainability and become part of something much bigger than themselves," says Dr. Kate Whalen, co-chair of McMaster's Sustainability Advisory Council, Okanagan Charter Committee member and senior manager of McMaster's Academic Sustainability Programs Office, which oversees the SUSTAIN courses.
"As a signatory to the Okanagan Charter, this is one way McMaster is committed to prioritizing optimal health and well-being in our community. Bees are essential to human life."