Meet the 2023 recipients of the President's Award of Excellence in Student Leadership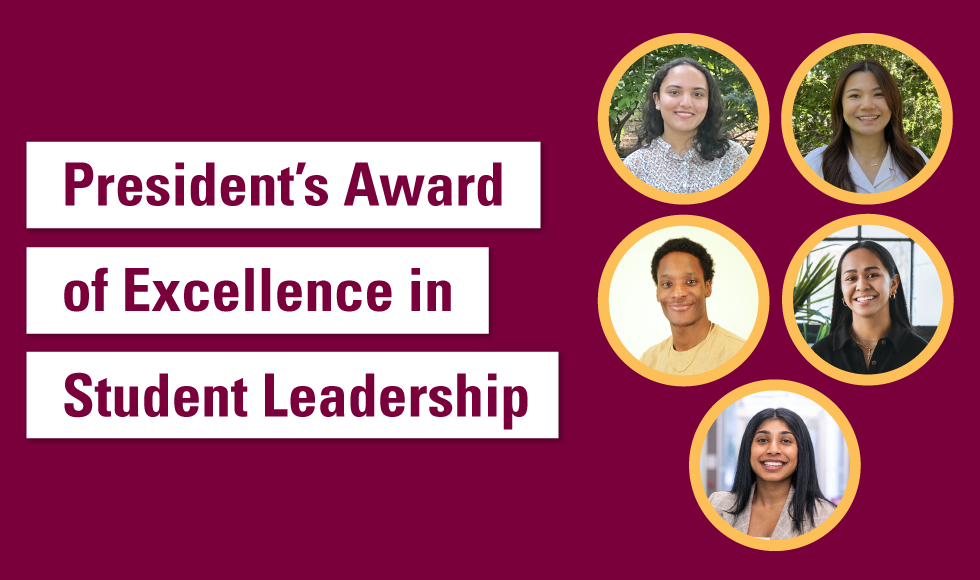 ---
From advocating for gender equity, to empowering Black-identifying student athletes, to helping create a more sustainable campus, five exceptional students are being recognized for their contributions to the McMaster community as the recipients of the 2023 President's Award of Excellence in Student Leadership.
Established in 1993, this annual award celebrates the contributions of McMaster undergraduate students in their fourth year who have played a significant role in enhancing the intellectual, social or cultural fabric of the McMaster community through outstanding leadership.
"I want to congratulate these amazing student leaders," says McMaster President David Farrar.
"Their volunteerism, their sense of citizenship, their commitment to supporting members of the McMaster and local communities, and their dedication to enhancing the experience of students on our campus are an inspiration, and I commend them for their outstanding work and achievements."
Meet this year's recipients:
---
Brandon Bernard
Communications Studies, Faculty of Humanities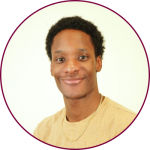 Brandon Bernard is a community-oriented student-athlete that consistently worked to improve the experience of all students on McMaster's campus. During the 2022-23 school year, Bernard was the co-president of the Black Student-Athlete Council, a group that fosters equity and inclusion for Black-identifying student-athletes, and for students as a whole. He was also a part of the executive student leadership group, a group which met with the administration within the Athletics Department to foster innovative ideas and support various department groups.
As a Marauder Mentor, Bernard spoke to kids about striking a balance between athletics and academics, and shared other tips on ways to maintain good health, both mentally and physically. Bernard also volunteered at the Black Student Success Centre and was involved in a variety of events that spoke to the equity and inclusion of Black-identifying students on campus.
---
Shaza Zahir Hassan
Honour Social Psychology, Faculty of Social Sciences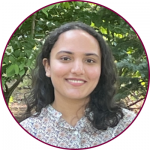 Throughout her undergraduate experience, Shaza Zahir Hassan was an active membership of the McMaster community, taking on several roles including as the international student ambassador lead for the Faculty of Social Sciences, teaching assistantships within the Social Psychology and Health, Aging & Society departments, the executive membership of the Social Psychology Society, and volunteer facilitator for the Community Volunteer Circles, to name a few.
Hassan dedicated herself to cultivating a sense of community for students at McMaster, especially for those who were far from home and sources of social support. She plans to continue her academic journey at McMaster by pursuing an M.A. in Health and Aging, and by pursuing her research interests at the intersection of mental health, education and cultural diversity to support international students and recent immigrants.
---
Andrea Jacob
Bachelor of Health Sciences, Faculty of Health Sciences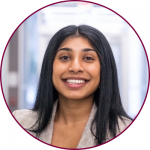 Throughout her time at McMaster, Andrea Jacob has been committed to spreading her passion for gender equity, empowerment and fostering community to those around her. Jacob has served as a Health Sciences Welcome Week representative and executive, stylist executive and co-chair for the Health Sciences Charity Fashion Show and research assistant lead for the CeliacCONNECT project with McMaster Children's Hospital.
As the co-founder and co-president of Girl Up McMaster, Jacob made an impact at McMaster and in Hamilton. Through her leadership, the Girl Up McMaster team held several events and workshops with renowned speakers, and successfully established three mentorship programs in the Hamilton community with Mission Services of Hamilton, YWCA Hamilton and Westmount Secondary School.
Jacob looks forward to continuing to make a difference as she continues her education at Dalhousie University Faculty of Medicine.
---
Arianne Soriano
Kinesiology, Faculty of Science
A varsity athlete, Arianne Soriano was inspired to lead and take part in many positive initiatives to help support McMaster communities. From 2020-2023, Soriano served as an Archway Mentor to support the well-being and transition for first year students during the midst of a global pandemic.
Within the Kinesiology Program, Soriano volunteered as a Welcome Week rep and student strength & conditioning varsity coach. As a member of the Women's Basketball team, Soriano also served as the 2022-23 president of the Varsity Leadership Committee, where she took a leading role organizing a mental health awareness week, among other initiatives. As well, she founded the first Asian Pacific Islander Heritage Month event in Athletics & Recreation.
Arianne will be continuing her education and pursuing her passion for health care in the accelerated Honours Science Nursing program at the University of Toronto.
---
Helena Teng
Bachelor of Health Sciences, Faculty of Health Sciences
Helena Teng is passionate about innovative and interdisciplinary solutions to complex problems, and completed her Honours Bachelor of Health Sciences with an Interdisciplinary Minor in Sustainability. During the 2022-2023 school year, Teng served as a Student Sustainability Ambassador Program (SSAP) organizer, focused on connecting sustainability clubs to students. She supported sustainability on campus as the student office coordinator and as an undergraduate teaching assistant for the Academic Sustainability Programs Office. She also played a significant role in the development of McMaster's Sustainable Procurement program.
Teng is deeply interested in the connection between mindfulness and sustainability, and served as the president of McMaster's Mindfulness Club. To bridge the gap between McMaster and the broader Hamilton community, she also volunteered as a core committee member of Mindfulness Hamilton, working to promote mindfulness through organizing events and leading a podcast interviewing mindfulness leaders.