Meet the 2023 McMaster Alumni Award recipients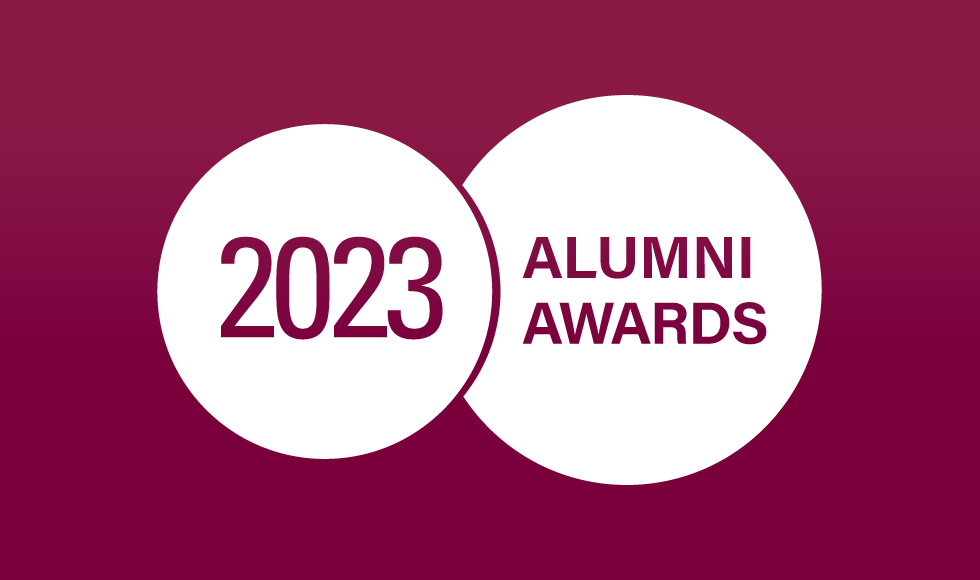 ---
McMaster Alumni invites you to celebrate our McMaster Alumni Association Award inductees
A full list of the incredible award recipients is below.
Karen Bakker '95
---
2023 – Alumni Gallery
Karen Bakker is a Canadian author, researcher, and entrepreneur known for her work on digital transformation, environmental governance, and sustainability. A Rhodes Scholar with a PhD from Oxford University, she is a Professor at the University of British Columbia. In 2022–2023 she will be on sabbatical leave at the Harvard Radcliffe Institute For Advanced Study. She is the recipient of numerous awards, including a Guggenheim Fellowship, Stanford University's Annenberg Fellowship in Communication, Canada's "Top 40 Under 40″, and a Trudeau Foundation Fellowship.
Ross Belot '81
---
2023 – Alumni Gallery
Ross Belot is a poet, photographer, documentary film maker, and an energy and climate change columnist. He previously worked for a major Canadian petroleum company (okay, it was Imperial Oil) for decades before retiring in 2014. Now he writes eco-poetics and opinion pieces about government climate change inaction. Ross was a finalist for the 2016 CBC Poetry Prize and long listed in 2018. IN 2017, he completed an MFA at Saint Mary's College of California. Born in Ottawa, Ross has made his home in the Golden Horseshoe since 1970.
Ross' poetry collection Moving to Climate Change Hours was named one of the best poetry collections of 2020 in Canada by the CBC and one of eleven books that will change your thinking about the climate crisis by Shondaland.
Jay-Ann Gilroy '87
---
2023 – Alumni Gallery
Jay-Ann's wealth of business transformation, social impact and leadership expertise has been cultivated over more than 20 years as a senior executive in a broad range of roles and experiences in the private and public sector, and co-operative financial services. Jay-Ann Gilfoy joined Meridian as President & CEO on January 3, 2022. She is focused on leveraging Meridian's unique value proposition to transform the business, achieve its winning aspiration and secure its future. In collaboration with the Board and senior management, she is responsible for articulating the organization's strategy and delivering on its purpose on helping Members and customers achieve a better life, while growing the business.
Lorraine Gray '05
---
2023 – Alumni Gallery
Lorraine Gray is the first woman to lead her division at Hydro One, Ontario's largest electricity transmission and distribution service provider. She oversees more than 700 field staff who operate over 300 transformer stations and 1,000 distribution stations across Ontario. Lorraine is a force in the championship of women's advancement at Hydro One, achieving balanced hiring in her business unit's apprenticeship program, encouraging gender-equity protocols in hiring processes, and working to normalize women as leaders in Field Operations. A true trailblazer in a male-dominated industry, Lorraine is credited with changing norms through example, helping to transform Hydro One into a more diverse and inclusive workplace. She is also a mentor to the next generation of women engineers outside of Hydro One, both through the organization's Women in Engineering University Consortium and as Engineer in Residence at Ontario Tech University's Women in Engineering program.
Chandra Kavanagh '20
---
2023 – Alumni Gallery
Dr. Chandra Kavanagh is the Director of Bounce Health Innovation. Bounce Health Innovation is a medical technology cluster and health innovation incubator. The vision of Bounce is to help Newfoundland and Labrador become the testbed for medical technology innovation in North America. Prior to this she served as the Ethics Officer for the Newfoundland and Labrador Health Research Ethics Authority. She also teaches biomedical ethics for the Memorial University of Newfoundland and Labrador School of Medicine, and the MUN philosophy department. Chandra received her PhD in 2019 from the philosophy department at McMaster University, where she studied biomedical ethics and feminist philosophy. Chandra's presentations on political and ethical issues have received high acclaim across Canada, the United States, Europe and Australia and she has been widely published in both academic and popular media.
Vivian Rambihar '75
---
2023 – Alumni Gallery
Cardiologist Vivian Rambihar is a pioneer in diversity and health, studying immigrant health, particularly for South Asians. An immigrant himself, he arrived in Canada from Guyana in 1970 to study math and physics at UC, then medicine at McMaster University. He was among the first in Canada to identify ethnic and gender differences in health, and to use chaos and complexity science as a model for this and for health promotion. He was aware of the need for social development of the South Asian community as they settled into the GTA, and he helped to create a network of planned activities and provided services as necessary. He is the recipient of the Canadian Cardiovascular Society Segall Award for Health Promotion in Canada, the IndoCanadian Chamber of Commerce Humanitarian Award, and the Queen's Diamond Jubliee Medal. In 2011, Vivian Rambihar was named one of the Top 25 immigrants in Canada. An Adjunct Professor of Medicine at U of T, he is also the health co-chair for the Global Organization for People of Indian Origin, with the goal of reducing the epidemic of premature heart disease and diabetes across the Indian Diaspora.
Mary Valentich '63
---
2023 – Alumni Gallery
Dr. Mary Valentich began her social work career as a social work case aide at the Hamilton General Hospital in 1963. From 1965 to 1968 she worked as a social worker at Lakeshore Psychiatric Hospital, Toronto, with one year in the first behavioral modification unit for adolescents in Canada. She joined the St. Patrick's School of Social Work at Carleton University in 1968 as an Assistant Professor and then, Associate Professor. She moved to Calgary in 1976 with her partner, Dr. James Gripton and began teaching in the Confluent Program of the School of Social Welfare, University of Calgary, later becoming a Professor, Assistant Dean, MSW Program, and Acting Dean, with three years (1991-94) as Advisor to the President (of the University) on Women's Issues. She has been a Professor Emerita since 1998.
Throughout these years, her teaching included human behavior and the environment, interpersonal communication, human sexuality and feminist practice. While engaged in a range of social justice issues, she has worked unceasingly to improve women's status, both in social work education and the community beyond. Additionally, she maintains a private practice related to relationship issues, sexuality, assertiveness, career management and organizational development.
Daniel Yoon Sik Choi '18
---
2023 – Arch Award
Daniel is a JD from Osgoode Hall Law School. Prior to law school, he worked in Database Operations at the Ontario Medical Association. He holds a BA in philosophy from the University of Toronto and a MA from McMaster University, where his research focused on ethical theory. He is a level 1 candidate of the Chartered Financial Analyst Program. His current research interests are in the intersection of law, business, and technology. Professionally, he is interested in cross-border transactions and capital markets. During law school, he served on the Osgoode Hall Law Journal, the Intellectual Property Journal, and the Transnational Legal Theory Journal. In his spare time, Daniel is committed to volunteering in his community. He served on the executive of the Asian Law Student Association, the national chapter of the First Generation Network, and contributes to a number of other student groups.
Linda Dao '16
---
2023 – Arch Award
Linda received her B.Sc. in Biochemistry (Honours) from McMaster University before earning an M.Sc. in Space Studies and a certificate in Space Studies from the International Space University (Haifa, Israel; Strasbourg France). Having worked at the National Aeronautics and Space Administration (NASA) and the Canadian Space Agency (CSA), Linda strives to incorporate her backgrounds in the health sciences and in space together towards enhancing the field of space medicine. Linda is a strong promoter of STEAM (Science, Technology, Engineering, Arts, and Mathematics) and interdisciplinary education, using the platform of space to guide younger students. At SEDS Canada, she aims to find space-related opportunities for all Canadian students.
Gabriel Ghiglione '17
---
2023 – Arch Award
Gabriel is a McMaster '17 grad that has since run his way around the world. Literally. Gabriel will talk about a bet he made with his friend to run 7 marathons in 7 days across "The Roof of the World" in Tajikistan. Gabriel has worked as a freelance engaged anthropologist for several startups around the globe and is currently working as a full-time community builder. Gabriel, once a McMaster Track athlete, combined his love of running with his career. Gabriel uses fitness as a tool to build communities for Midnight Runners, a global fitness community partnered with Reebok and several other sports brands. He manages communities and partnerships in 11 cities around the world. He is currently in Bogotá, Colombia building the 12th community.
Vidhi Thakkar '08
---
2023 – Arch Award
Vidhi completed her MSc at McGill University and PhD in Health Services and Policy Research the University of Toronto. She has worked with various provincial ministries of health and healthcare organizations utilizing her expertise in health services research. She is a CIHR health systems impact post-doctorate fellow. She works with Dr Kelli Stajduhar at the University of Victoria and Jonathan Schmid at the Victoria Hospice. Vidhi is a Lecturer and Instructor at McMaster University and teaches courses in data analytics, statistics, and communicating with healthcare data. Her post-doctoral work has focused on the development of a program evaluation framework for a hospice program that supports caregivers and older adults. She has a strong interest in health services and policy research, leadership and management, patient-oriented research, knowledge translation. She applies her expertise in health services research to connect patient partners, healthcare professionals, and policymakers in the design and implementation of high quality and meaningful research.
Stacey Marjerrison '03, '06
---
2023 – Hamilton Community Impact
Dr. Marjerrison advocates for access to medicine for children who might benefit, works with the Pediatric Oncology Group of Ontario to improve care for survivors of childhood cancer, and advocates for families who don't have all the benefits of Canadian citizenship (such as newcomers, refugees, and teens on student visas). Since 2019, she has cycled across Canada raising funds and awareness of childhood cancer with the National Kids Cancer Ride. She rode to support all the organizations that receive funding from Coast to Coast – organizations that she has seen make such a difference to families – the Children's Hospitals (including McMaster Children's Hospital), the cancer camps (including Trillium and Ooch), the advocacy and support organizations (POGO for example), research funding through the C17, and the list goes on. She rode for families – the ones who lost kids, who are still supporting childhood cancer survivors, and the ones that are facing a brand-new diagnosis. She also rode for her Dad who passed away after his own second cancer relapse. She had to hear the words she too often has to say: 'his cancer is now incurable'… so she rode in the hope that one day they'll never have to say or hear those words again.
David Grant '16
---
2023 – Community Impact
David Grant is a registered social worker with a Masters in Social work and specialized knowledge in psychiatric illnesses including addictions, children and family welfare, particularly for Black people of the African Diaspora. David serves as a clinical social worker for the Sentencing and Parole Project where he conducts research and writes legal reports detailing the social, psychological and family histories of Black inmates with a specific focus on how racism impedes on these respective realms.
David is a current PhD student in the School of Public Health Sciences at the University of Waterloo where he is focusing his research on treatment, assessment and conceptualization of Black peoples' Mental Health and Illness.
Kyle Empringham '11
---
2023 – Global Community Impact
Kyle Empringham is a Faculty of Science graduate who is passionate about civic engagement, communications, and network building. With over a decade of experience within these fields, Empringham has had the opportunity to utilise his skill set while working for organizations like the David Suzuki Foundation. Empringham is also the Co-Founder of The Starfish Canada's Top 25 Environmentalists Under 25 program which inspires young Canadians to take leadership roles in their communities and to celebrate their peers contributing in the environmentalism movement. Empringham continues to support The Starfish Canada in his role by building teams of dedicated and passionate leaders.