Meet Social Sciences valedictorian Angelo Marmolejo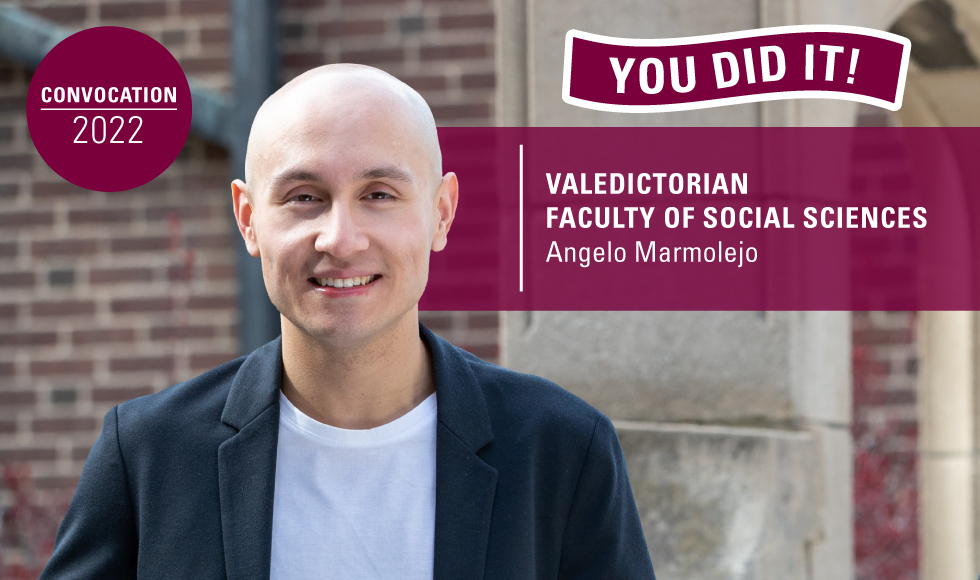 "Life isn't just about work, volunteering or education. It's about the little things, living your life and just being around the people you love." Angelo Marmolejo is a 2022 valedictorian for the Faculty of Social Sciences. (Photo by Georgia Kirkos, McMaster University)
---
Faculty of Social Sciences valedictorian Angelo (Jello) Marmolejo graduates June 15 with an Honours Bachelor of Arts in Social Psychology, minoring in Health, Aging and Society. We asked him a few questions to get to know him, and here's what he had to say.
Why did you choose McMaster? 
I wanted to come to McMaster University after stepping foot on campus for the first time back at 2017 Fall Preview. I immediately felt like this place was home, as the autumn and studious atmosphere immediately attracted me here.
Just being there for a day, you could see all of the different stories and backgrounds that everyone had, and I just wanted to see them all and expand my world.
I felt that McMaster could offer me that and it did not let me down, and I even made my best and lifelong friends here, too.
What's next for you? 
I'm going to take a gap year before heading off to graduate school to really get a better perspective of who I am as an individual and to really see the extent of how much I can impact my community and grow as a person in the real world.
Hopefully, I want to pursue a career within the health care and communications field, as I believe that I want to communicate and provide resources, services and tools to help improve the lifestyle and well-being of others in our community.
I strongly believe that everyone deserves the same access and opportunity to resources that help expand not only their understanding of the world, but also to advance in their career, health and lifestyle.
Can you share a great piece of advice you've been given?
Go and put yourself out there, but also remember to take a moment to smell the flowers and to breathe.
As an individual who comes from a disadvantaged background, I understand that I have to really put myself out there in the world by networking, volunteering and working in the areas that I really enjoy. As well, to really meet individuals with similar interests, who can provide you with those same opportunities and chances of growth within the community and within your field of interest.
However, even when you put yourself out there and really put your 100 per cent into everything, you need to remember to take a break and to recharge.
Whether doing self-care through hobbies, hanging out with friends, or even just going on a walk — just having that opportunity to take a moment can really help you remember that life isn't just about work, volunteering or education. It's about the little things, living your life and just being around the people you love.
Now that you're graduating, what's your advice for students?
Expand your world and horizons. Go out there and really try to get to know everyone or try to find every piece of information you can find about the environment and world around you. You'll be able to expand your understanding and perspective of the world, and then you'll be able to make an even greater impact on the people and community around you.
It'll help you grow as a person and as a human being, as you're able to understand the various backgrounds and stories of others, and really find your purpose and reason to why you get in the morning.
Tell us about a good memory from your time at McMaster.
I have so many good memories from my time at Mac that I can't list them all. One thing that I do love to look back on is when I met all my closest friends and all of the good times that we've had. Whether that was Welcome Week, going to Social Sciences (or Humanities) Formal, going out to celebrate, studying for exams or just being around each other, these are my good memories from McMaster.
I even have some of my biggest mementos and memories placed on a little memory board at home to look back on.
What's an accomplishment you're really proud of?
I would say valedictorian, but that would be a bit redundant! A recent accomplishment would be the completion of my group thesis with my colleagues within Social Psychology. It's the culmination of all our hard work over the past year, whether that be researching theories, articles or conducting surveys among the McMaster population, and just translating all this data into such an important document.
Not only that, working with others on this task was one of the greatest opportunities I've had, as I made lifelong friends throughout this entire project. Shoutout to my thesis group, love you guys.
Finally, it's also the culmination of our education for the past four years and it being used for a practical purpose to help advance our understanding of our community and society. I am very proud of this accomplishment and will always look back on it.
Tell us about a prof or mentor figure who made a difference for you in your time at Mac.
Someone who really made a difference for my time here at McMaster, would be my friend Salsa Sarhan, the 2021-2022 McMaster Social Sciences Society president. I've known her since first year and before first year as well! We met over Facebook and then got to know each other during our volunteering and extracurricular opportunities. She is a force of nature, and she really embodies what it means to be a marauder here at McMaster.
I've seen her advocate and be resilient against all of these negative forces within our community and constantly pushing for equity, diversity and inclusion for not only the McMaster and Social Sciences community, but also for the City of Hamilton. Seeing her do all of this hard work within the community and bringing all of this change as well, helps to inspire me to do the same and to really help our community for the better and as well to grow as a person too.
In fact, Salsa has actually pushed me to go for valedictorian, as she strongly believed that I've been the right person to represent our graduating class this year. So, shoutout to her for everything. I am always grateful and honoured to have always met Salsa Sarhan and to be a part of her life. Thank you Salsa for everything.
If you could have a superpower, what would it be?
My superpower would be flight and telepathy. To have the ability to fly would be amazing, as it means that I can go out and really access anywhere in the world that my body allows me to reach through flying. Whether that is on top of a skyscraper, or just flying all the way to Paris and drinking a nice cup of coffee, it would be honestly amazing to do so.
With telepathy, I would be able to understand everyone's perspective and just be able to provide support tailored to everyone's desire and dream. Plus, communicating with others using your mind, is just really cool.
What's an important lesson you've learned so far?
Failure and taking a break are okay. Everyone wants to always achieve excellence or to get their dream job immediately, but it is also important to consider taking a break every once in a while. In addition, you won't win every time. You can get a bad grade, write a horrific test, get dumped by your lover or get rejected from a job you really wanted. What matters is how you handle it and process it.
Talk to a friend about it or let it be your drive to pursue greater success in the future. Be resilient and good things will come to you.
While at Mac, did you receive donor-funded financial assistance (e.g., a scholarship, award, bursary)? Any thoughts on the importance of giving back to your alma mater to support future generations?
I got an entrance scholarship back in first year, which was a nice little bonus towards my tuition. Every year I applied to the McMaster general bursary, and it was always so helpful with handling my expenses during stressful times of the year.
I would definitely give back to my alma mater in the future once I have established myself in my career. I especially want to provide monetary funds and non-monetary items to really help advance the career and academics of marginalized communities.