Meet Science valedictorian Sanya Vij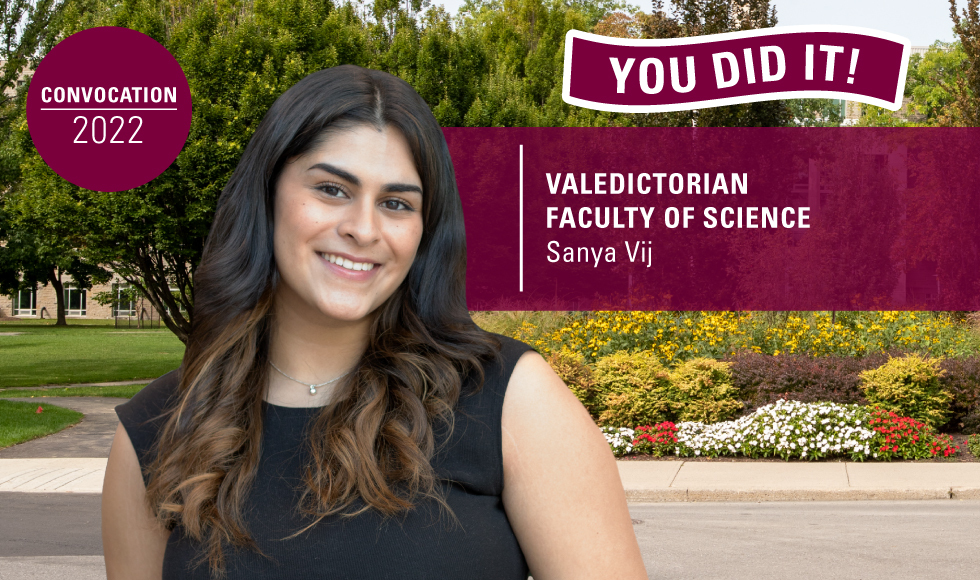 Put yourself out there and connect with people you look up to, says Science valedictorian Sanya Vij. "You never know who will take the time of day to take you under their wing and help you out."
---
Faculty of Science valedictorian Sanya Vij graduates June 16 with an Honours BSc in Life Sciences. We caught up to her and asked a few questions to get to know her better. Here's what Vij had to say.
Why did you choose McMaster?  
I chose McMaster because it felt like such a tight-knit community as soon as I stepped foot on campus during one of the preview days. Along with that, the interdisciplinary nature of the life sciences program drew me in because it stood out against other programs and schools.
I also really appreciated how much the students at Mac appreciate and prioritize life outside of just school and academics — this was especially important to me as it allowed me to grow as a person and leader without constantly attaching the label of "student" to myself.
What's next for you? 
After travelling to Europe and the West Coast this summer, I'll be back at Mac! I was recently accepted into the MSc. Global Health program, so I'll be back here in September and cannot wait for this new start.
Can you share a great piece of advice you've been given?  
Networking can be your best friend, especially if you're new to the world of academia and post-secondary education. Put yourself out there and connect with people you look up to — you never know who will take the time of day to take you under their wing and help you out in your journey, so take advantage whenever you can.
Now that you're graduating, what's your advice for students? 
I know it might sound cheesy and it's definitely easier said than done, but jumping out of your comfort zone is one of the best things you can do for yourself, and you will pleasantly surprise yourself when you see what you're capable of!
Ask for help even if you don't think you need it — upper-year students, your profs and other faculty members are all here to support you and see you succeed, so don't hold back based on fear or nerves.
Lastly, don't forget to stop and smell the roses once in a while – you're here for a reason and you deserve your spot at this school so take a few moments to take it all in as you're going through the motions.
Tell us about a good memory from your time at McMaster.  
A really good memory I have from my time here is repping for the Faculty of Science. This allowed me to meet some of my closest friends and was the first experience I had here that showed me what I was capable of. Every year, the Sciclones help more and more first years transition into university life while providing year-long support.
This group of people means so much to me and I am absolutely honoured to have been a part of it for the past three years.
What's an accomplishment you're really proud of?
Starting my own club alongside one of my best friends! Sophia and I started Penpals for Seniors in May 2020 as a response to the isolating times faced by older adults living in retirement and long-term care homes during COVID-19.
We built this club from the ground up with the help of our wonderful volunteers and recreational coordinators at the homes we partnered with in the Hamilton area. Overall, it has been really fulfilling and rewarding to see it become a successful, long-term initiative that will carry through into the future.
Tell us about a prof or mentor figure who made a difference for you in your time at Mac. 
I would like to give a huge shoutout to Dr. Sunita Nadella from the School of Interdisciplinary Science for being an amazing advocate for all student in the department. She has shown me and other students a completely different perspective within academia and research and has helped shaped me into the student I am today.
I've only had the pleasure of knowing Dr. Nadella for one year, but this time alone was enough to show me what a great mentor she really is.
So thank you so much Dr. Nadella, you're wonderful!
If you could have a superpower, what would it be?  
There's so many to choose from, I can't make up my mind! My top three would definitely be mind-reading, flying, and teleporting — they just seem so fun and useful!
What's an important lesson you've learned so far? 
One of the biggest lessons I've learned during the past four years is that a solid support network is invaluable. Whether you find support in your friends, family, mentors, counsellors, pet, etc., even having someone to talk to about how your day went can make a world of a difference in your growth as an individual and your experiences in general.
While at Mac, did you receive donor-funded financial assistance (e.g., a scholarship, award, bursary)? Any thoughts on the importance of giving back to your alma mater to support future generations? 
I did not receive any donor-funded financial assistance, but I did partake in the work-study program through Archway. It has been a great help in alleviating the financial burden associated with being a student, and I definitely think there should be more ways for students to be able to have these kinds of opportunities.