Meet School of Nursing valedictorian Alex Skipper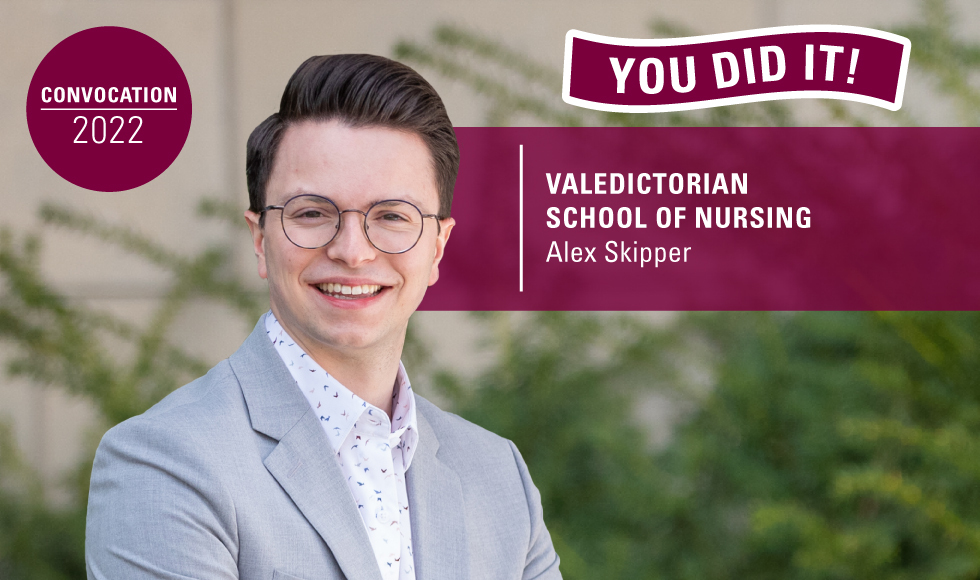 "Don't be afraid of reaching out and asking for help from those around you." We asked the School of Nursing valedictorian a few questions about himself. Here's what he had to say.
---
School of Nursing valedictorian Alexander Skipper graduates May 26 with a BSc in Nursing from the accelerated stream. We asked him a few questions to get to know him. Here's what Skipper, who is going on to work in the ER at McMaster Children's Hospital, had to say.
Why did you choose McMaster?   
When I was deciding on which school I wanted to study nursing at, McMaster was always my top choice. One of the biggest factors that pushed me towards McMaster was its reputation for ingenuity in health education and its curricular focus on holistic and patient-centered care. This is exemplified by the problem-based learning approach that McMaster employs, and regular integration of care-scenario based learning on the ways that nurses can help the person in their care.
Additionally, I have family and friends that are Mac nursing graduates, and they helped affirm that McMaster was the best choice for me. Coming up on the end of my degree here, I am so happy to have followed their advice!
What's next for you? 
First and foremost, the NCLEX exam. (And lots of studying!) But the more exciting things begin after my test is all said and done, and I begin my contract with Hamilton Health Sciences as a Registered Nurse in the emergency room at McMaster Children's Hospital! I completed my consolidation placement there, and I am so thrilled to be joining them as a staff nurse.
Can you share a great piece of advice you've been given?  
Don't be afraid of reaching out and asking for help from those around you! This is something that one of my clinical tutors said to me that has stuck with me through school and helped me through a lot of the challenges I've faced as I've completed my degree.
We have more to learn from others than we can ever teach ourselves, and you'd always be surprised at the amount of people willing to offer you their knowledge or support when you need it. You don't have to figure things out on your own!
Now that you're graduating, what's your advice for students?    
My advice for students would be to trust in themselves, the things they have learned so far, and the strengths that they have developed so far in their journey. I truly believe that we all have a lot more we can do than we give ourselves credit for, so don't sell yourself short! Don't be afraid to tackle a new challenge — you can always overcome an obstacle with a little time, some faith in yourself, and support from friends, family, or your teachers and tutors!
Tell us about a good memory from your time at McMaster   
It may sound like a small or potentially insignificant memory, but some things that are near and dear to my heart when I think about this question are the times I've spent where classmates became friends. Particularly I think about the late night study sessions or afternoon coffee dates where we would connect and shake off some of the stress of school and work. These are the memories and moments I know I'll take with me as I move into the world after graduation.
What's an accomplishment you're really proud of?  
Something I'm really proud of from my time here at McMaster is having the opportunity to start up a peer mentorship program for students in the accelerated nursing stream. This was an initiative that my MUNSS Accelerated Stream co-rep, Krizalyn, and I worked very hard to get off the ground and I think that it was a beneficial experience for both the upper year and first year cohorts to connect and support one another. This project has also received support from the MacPherson Institute's Student Partner Program, and we are excited to begin exploring some research on this area. I'm hopeful that the project we've started will be able to continue to grow to support future nursing students too.
Tell us about a prof or mentor figure or someone who made a difference for you in your time at Mac  
Someone that really sticks out to me is Dr. Maria Pratt, a tutor and professor here at the school of nursing. I was in Dr. Pratt's PBL group in my second semester and her support, encouragement, and dedication to helping her students become amazing nurses that really propelled me to be successful in my studies.
Other honourable mentions include Steve Gandza, Dr. Culver, Amy Palma, and Dr. Carly Whitmore but the list could go on and on! Thank you to all of the amazing tutors, professors, and instructors who work so hard to help each student achieve success at McMaster, Conestoga, and Mohawk sites. We sincerely couldn't do it without you!
If you could have a superpower, what would it be? 
What a fun question! It's so hard to choose but I think I would go with controlling the weather. I don't have a particularly insightful reason for this choice — I just think it would be super cool! But an endless supply of sunny days and freedom from cold and rainy weather seems like a win to me.
What's an important lesson you've learned so far?    
An important (and admittedly difficult) lesson I've learned so far is that you won't always succeed the first time you try and do something.
Especially in a professional degree, it is really easy to feel like you need to learn things instantaneously and be perfect immediately. But that's not realistic and not really representative of how learning works. Failure in, or difficulty with, a task is all part of the learning process and should be viewed as an opportunity to learn and grow rather than a personal or professional failing.
I've had to learn to not be too hard on myself in these situations, and I hope that others can learn this as well!
While at Mac, did you receive donor-funded financial assistance? Any thoughts on the importance of giving back to your alma mater to support future generations?    
I was very fortunate to have been awarded Corelene Helen Tostevin scholarship for academic achievement during my time at McMaster. This award really helped support my final year of studies by assisting me in paying for all the costs that add up between school and clinical placements and I am so grateful for the support of those who made this scholarship possible. To all those who choose to show their support by helping fund scholarships, awards, and bursaries, thank you for investing in McMaster nursing students, believing in us, and helping us on our path to becoming our communities' nurses!