Meet McMaster's spring 2022 honorary degree recipients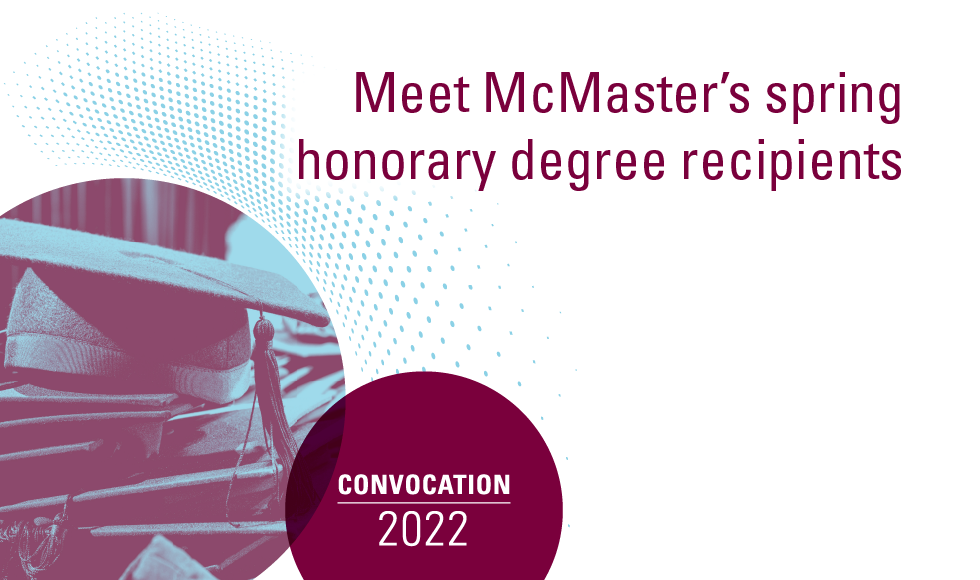 The honorary degree recipients will be recognized during spring convocation ceremonies.
---
From working to break the cycle of child poverty to advancing inclusive excellence in the tech sector, this year's McMaster University honorary degree recipients include ten of the best and brightest in their respective fields.
The achievements of these figures in fields such as health care, business, science, and engineering will be recognized during spring convocation ceremonies that begin with the Faculty of Health Sciences on May 25. In order of presentation, here's a look at who will be receiving honorary degrees this spring:
James Volmink
Faculty of Health Sciences – Wednesday, May 25, at 2:30 p.m.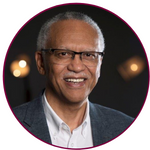 Volmink, a medical practitioner, educator, researcher, and leader, is widely recognized for his contributions to evidence-based medicine in his home country of South Africa and around the world. Over the course of his distinguished career, Volmink has worked to improve the health and well-being of underserved communities. In 1977, Volmink was denied entrance to Stellenbosch University because of the colour of his skin. Today, he is a Professor in the school's Department of Global Health and the former Dean of Medicine. Volmink's widely-cited systematic reviews have been credited with influencing clinical and health care practice around the world.
---
Alba DiCenso
School of Nursing – Thursday, May 26, at 2:30 p.m.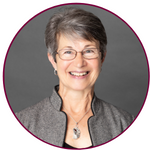 DiCenso, a trailblazer in McMaster's Faculty of Health Sciences and Professor Emerita in the School of Nursing, is known internationally for her work in advanced practice nursing, health services, and policy research. DiCenso's work was instrumental in supporting the full integration of nurse practitioners into our healthcare system, and she served as the director of the Ontario Training Centre in Health Services and Policy Research (OTC) for a decade. Her lifelong commitment to health and education earned her the Order of Canada in 2014. DiCenso trained, mentored, and supported hundreds of nurses during her time at McMaster and there is a chair at the university in her name.
---
Steve Buist
Faculty of Humanities and the Arts & Science Program – Monday, June 13, at 2:30 p.m.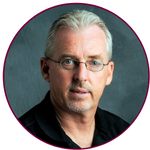 Buist is an investigative journalist whose work at The Hamilton Spectator has affected social and policy change in the city of Hamilton. He is perhaps best known for his award-winning Code Red series which examined the disparities in the determinants of health and health status across Hamilton's neighbourhoods. Buist, working in collaboration with McMaster University researchers, investigated concerning levels of brain trauma suffered by retired Canadian Football League (CFL) players, contributing to international discussions around concussion prevention. Buist has won four National Newspaper Awards, been named Canada's Investigative Journalist of the Year three times, been named Ontario's Journalist of the Year five times, and is a past winner of the world's top cancer reporting prize by the European School of Oncology.
---
Rola Dagher
DeGroote School of Business – Tuesday, June 14 at 9:30 a.m.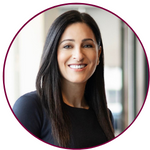 Dagher, a leading figure in the Canadian technology sector, has made it her mission to empower those around her. Immigrating to Canada from war-torn Lebanon with an infant in the 1990s, Dagher first worked as a retail salesclerk before going on to become the president of Cisco Systems Canada and Dell Technologies' Global Channel Chief – being one of only a few immigrant women to have attained such a position. She sees diversity as the foundation to building a high-performance workforce and is a vanguard of inclusive excellence. Dagher has been named a WXN Top 100 Most Powerful Women in Canada, the Women in Communications and Technology (WCT) Woman of the Year, and is a RBC Top 25 Canadian Immigrant Award winner.
---
Wayne Purboo
DeGroote School of Business – Tuesday, June 14 at 2:30 p.m.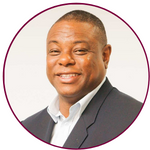 Entrepreneur, business leader, volunteer and McMaster graduate Wayne Purboo has over 25 years of experience in the media and telecommunications industries. Purboo, who was the co-founder and CEO of QuickPlay Media – a company providing mobile media services to premium video service providers – is now vice-president of Amazon Advertising. The Jamaican-born Canadian has volunteered with many organizations including Virgin Unite, The Toronto International Film Festival (TIFF), and SickKids. Purboo has also shared his entrepreneurial skills and experience with McMaster students at The Forge, McMaster's start-up accelerator. In 2006, he was named one of "Canada's Top 40 Under 40" by the Caldwell Partners and is a recipient of the University of the West Indies Vice Chancellor's Award.
---
Pamela Appelt
Faculty of Social Sciences, Wednesday, June 15 at 9:30 a.m.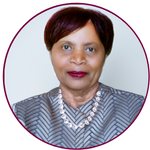 Appelt is a retired judge and community volunteer who has spent her life working to improve the lives of children and families. Born in Jamaica, Appelt came to Canada in 1966 and worked as a researcher in medical biochemistry at McGill University for several years. Appelt, who holds a Master's degree in Public Policy, later became the first female Afro-Canadian to serve as a judge of the Court of Canadian Citizenship. She has spent her life working with numerous community and national organizations, including helping found the Black-Jewish dialogue of B'Nai Brith Canada. Appelt played an instrumental role in bringing the archives of iconic Jamaican-Canadian poet Louise Bennett Coverley to the McMaster University Library.
---
Elva Jamieson
Faculty of Social Sciences – Wednesday, June 15 at 2:30 p.m.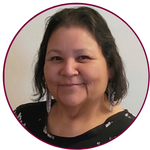 Jamieson, who is from the Cayuga Nation of the Six Nations of the Grand River, has dedicated her life to protecting and sharing traditional Indigenous epistemology, language and culture. A traditional healer and a Faith Keeper within the Cayuga Longhouse, Jamieson taught the Cayuga language and was vice principal of the Kawenni:io/Gaweni:yo Elementary and High-school at Six Nations before founding Juddah's Place, a collaborative care model clinic that offers primary care and Indigenous traditional services. Jamieson has shared her knowledge with McMaster students and also played a key role in the development of the University's Indigenous Health Learning Lodge. Jamieson has also been a guiding voice in the Faculty of Health Science's response to the Truth and Reconciliation Commission of Canada's Calls to Action.
---
Martin Taylor
Faculty of Science – Thursday, June 16 at 9:30 a.m.
Taylor is a world-renowned researcher known for pioneering public health geography as a public health discipline. Taylor, now a Professor Emeritus at the University of Victoria in B.C., was a professor in McMaster's former Department of Geography from 1974 to 1998. During his time at McMaster, Taylor served as the director of the Institute of Environment and Health, acting vice-president (research) and chair of geography. From 2007 to 2012, he was the president and CEO of Ocean Networks Canada. Throughout his career, Taylor has been sought out for leadership by a wide range of organizations whose purpose is to advance science. He is the author of two books and over 100 peer-reviewed publications in the field of environmental and community health.
---
Brian Warren
Faculty of Engineering – Friday, June 17 at 9:30 a.m.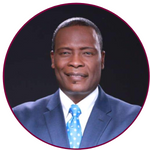 Warren is a child advocate, social entrepreneur, and athlete who, after retiring from the Canadian Football League (CFL) in 1993, launched Start2Finish, a charity focused on breaking the cycle of child poverty in Canada by combining fitness and education supports. Warren has grown the Hamilton-based charity to a national program that has touched the lives of tens of thousands of children, and he's worked with dozens of civic, municipal, and Indigenous leaders along the way. Warren also successfully lobbied the Ontario provincial government to include Start2Finish's after-school programming in dozens of school boards' online offerings throughout the COVID-19 pandemic.
---
Barry Hill
Faculty of Engineering – Friday, June 17 at 2:30 p.m.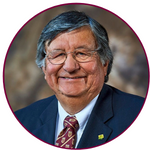 Hill, a two-time McMaster graduate, is an engineer, entrepreneur, cultural champion, and agricultural innovator. During a 26-year-long career with Ontario Hydro, Hill – a Mohawk from Six Nations of the Grand River – imparted some of his Indigenous values to the organization, establishing a native circle for employees and contributing to the organization's sustainable development policy. Upon retirement, Hill and his wife founded Hillsfield Farms, a successful 2,000 acre grain and oilseeds farm. In 2018, Hill was inducted into the Ontario Agricultural Hall of Fame for his many leadership roles, including his involvement with the Ontario Soil and Crop Improvement Association, the Brant County Federation of Agriculture, and the Six Nations Farmers' Association. He was inducted into the McMaster Alumni Gallery in 2016.