Meet McMaster's 2021 Schulich Leaders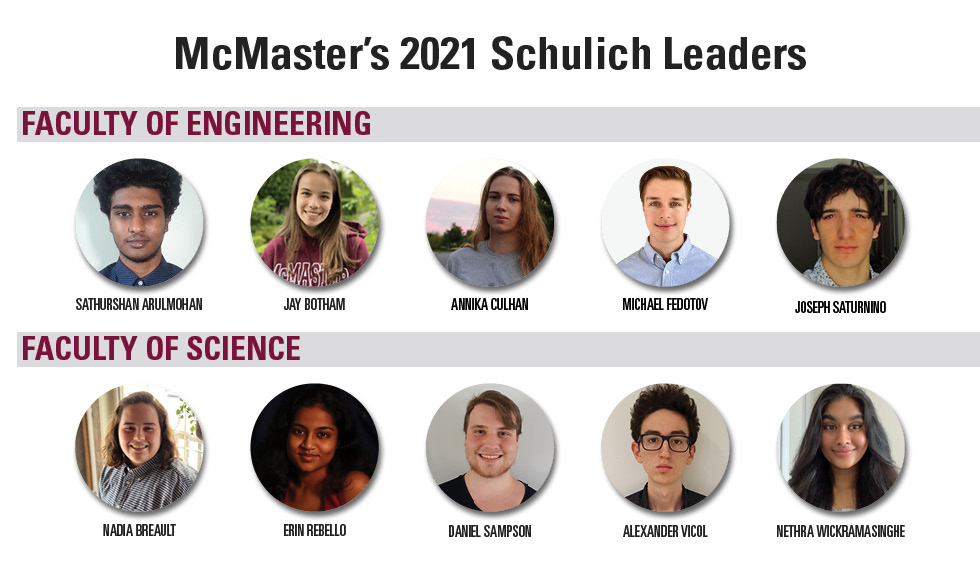 ---
McMaster's new group of Schulich Leaders are ready to change the world, with the support of Canada's most coveted undergraduate scholarship for science, technology, engineering and math (STEM) to help them get there.
Out of 1,500 applicants, one hundred Schulich scholarships were awarded this year to students going into STEM programs at 20 partner universities across the country. For the second year in a row, 10 scholarships were designated for McMaster— five students within the Faculty of Science, and five within the Faculty of Engineering.
The scholarships are awarded based on academic excellence, leadership, creativity and charisma, with strong consideration for financial need. Schulich Leaders are entrepreneurial-minded students looking to pursue careers in technology, entrepreneurship and business enterprise, engineering or scientific research.
Learn more about this year's accomplished Schulich Leaders below.
 Sathurshan Arulmohan – Engineering
Arulmohan has spent considerable time volunteering as a tutor in areas of mathematics, science and French. He believes in the importance of supporting youth interested in STEM and pursues this passion through his work as a camp counsellor, where he has helped to build a network of talented youth who will make a difference.
Jay Botham – Engineering
Botham's passion for math and science led her to win Silver at the Canada-wide Science Fair. She's also conducted research in both biology and chemistry at the University of British Columbia, served as her high school's Math Club President and created her own math tutoring service.
Annika Culhan – Engineering
Culhan is the first student from Carleton Place High School to be named a Schulich Leader. For four years she took courses at Carleton University through the Math Enrichment Centre, where she was the youngest student in attendance. Culhane has also been awarded a Dean's Excellence Scholarship and an Engineering Excellence Scholarship from McMaster.
Michael Fedotov – Engineering
As a high school student, Fedotov led a coding club and participated in math clubs, DECA competitions, robotics, hackathons, and STEM contests. He runs his own video game business reselling used video games and consoles. Fedotov is passionate about the many ways, small or large, that math can help solve problems.
Joseph Saturnino – Engineering
Saturnino is someone who wants to change the world. His academic interests earned him over 40 awards from Science and Engineering Fairs at the local, regional, national, and international level. He even has an Asteroid named after him, given by MIT Lincoln Laboratory.
Nadia Breault – Science
On top of her academic and leadership achievements, the Royal Canadian Air Cadets named Breault top cadet in her level every year and recognized her with a community service award. Using her mathematical skills, Breault hopes to one day solve society's problematic dependence on single-use plastics.
Erin Rebello – Science
Rebello was part of her high school's FIRST Robotics Canada team, including mentoring students and participating in community outreach. Her extensive resume reveals a passion for STEM as well as community service. Most recently Rebello was selected as one of 30 students to attend Ontario's Science Centre School to study biology, chemistry and scientific innovation.
Daniel Sampson – Science
Sampson demonstrated leadership skills as a student when he organized a mental health team to promote mental well-being at his secondary school. As a natural leader, he was selected as Master of Ceremony for his school graduation. Sampson aims to one day lead his own lab, developing effective yet environmentally safe pesticides for Canadian farmers.
Alexander Vicol – Science
Vicol's passion for science began in middle school, where his leadership in two key projects earned him the Science Award and the Principal's Award. As a high school student, Vicol was part of the University of Toronto Aerospace team and also led teaching and building sessions on Arduino, an open-source hardware, software and content platform.
Nethra Wickramasinghe – SCIENCE
Wickramasinghe has a keen interest in STEM entrepreneurship. She also wants opportunities to reach out to other youth and young women who are interested in careers in the field of STEM. For four years, she attended the Canada Wide Science Fair, earning gold in 2019. In 2020, she received the Weston Youth Innovation Award, which celebrates young Canadian innovators. Her project was a wearable device that detects physiological changes related to depression and anxiety and connects users with help.