Meet McMaster's 2017-18 Writer-in-Residence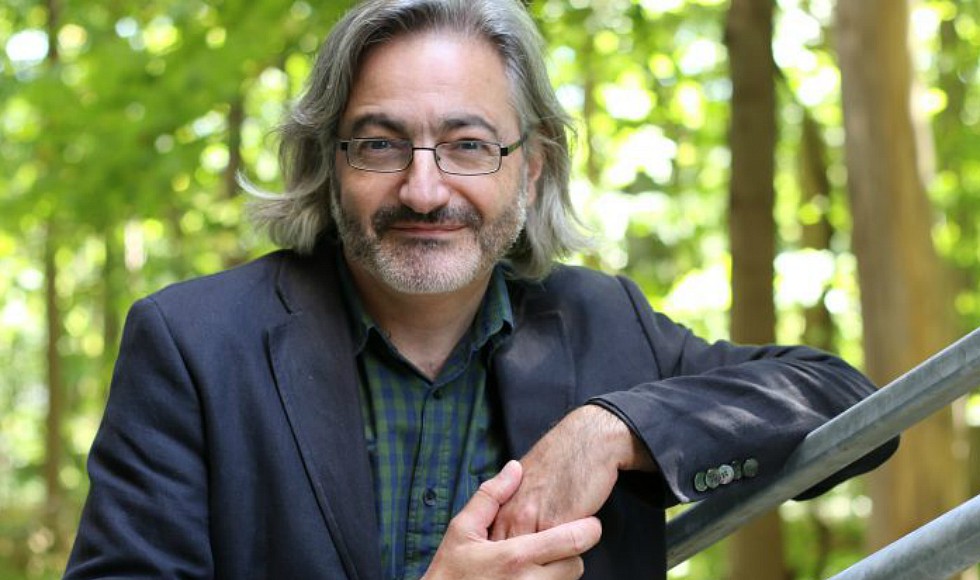 ---
2016 was a very good year for Hamilton author Gary Barwin.
His novel, Yiddish for Pirates, was a finalist for Canada's top literary honour, the Scotiabank Giller Prize. At the awards event, Barwin found himself in the spotlight, surrounded by the who's who of Canadian literature and seated beside acclaimed actor Gordon Pinsent.
"I got to go to this really glam thing so that was fun, but totally different than anything I have experienced before," he says. "I managed to miss my big cue on national television – I nearly ran up on stage way before I was supposed to, but luckily Gordon Pinsent, who is an old pro, put his arm on me and covered it over beautifully and nobody ever knew, so that was fantastic and kind of hilarious."
Barwin, a writer, composer, multidisciplinary artist and author of 21 books of poetry, fiction and books for teens and children, is the 2017-18 Mabel Pugh Taylor Writer-in-Residence, a program co-sponsored by McMaster's Department of English and Cultural Studies and the Hamilton Public Library.
As McMaster's Writer-in-Residence, Barwin is working one-on-one with aspiring authors in the McMaster and Hamilton Communities to provide mentorship and feedback, and to talk about any aspect of the writing process.
Barwin – a recipient of the Stephen Leacock Medal for Humour, among other honours – recently sat down with the Daily News to talk about what he loves about writing, how he brings humour to his work, and about the role of Writer-in-Residence:
When did you first start writing?
I always wrote, ever since I was a little kid and ever since I first learned to write stuff down. I figured that if you can write stuff down you can make stuff up and I was fascinated with making stuff up. And I was always fascinated by language. I used to make up little spells – they didn't mean anything, I was just using the letters in cantatory ways, in magic ways, but I found that that was really powerful, so I started writing stories and I just never stopped.
What is it that you really enjoy about writing?
I guess because it continues to be surprising to me. I keep trying new things and there seems to be limitless ways to use language and have language suggest itself to you. I'm a real believer in listening to the language and so I find myself surprised by the possibilities in stories, by the language, by things in the words themselves and I want to just play around with them.
You've done lots of different types of writing – poetry, fiction for both adults and kids – what do you like about writing in these different forms and genres?
It's interesting, some writers, kind of zero in more intensely on that thing that they do. I just want to try out different things and I also have a connection with different audiences too. I write books for little kids – five years, six years old – that's completely different that writing an adult book that addresses some heavy topic. So, part of it is addressing different audiences and also getting into language and seeing where it will take me or what it can do.
You're very involved in a number of art forms, from writing to music and multimedia. How do your other creative interests intersect with your writing?
I don't see borders between the different forms of art. Rather than saying, this is what I have to say to the world, it's more like the form calls to me, or pulls it out of me and I follow what it suggests. So, I find different places in me or different ways of responding to the world through the form. To me the creative process is the same – whether it's language or visual work or music, you get in and you explore it and listen to what it's suggesting and see where it takes you.
Writing with humour isn't easy for many writers. What makes a successful humourist?
One thing I would say about all writing is that it's about finding where you're actually at, not trying to sound funny in a certain way, but finding what actually amuses you, what surprises you, then figuring out how you can actually do it in the work.
I think there are people that naturally stand outside of something and want to make little quips on the side and there are others that want to roll up the sleeves and go more earnestly into something, but I think that part of you that wants to see the ridiculousness, the absurdity in yourself, the situation, the language or any of those things, that's the way into writing something humourous.
You've won the Stephen Leacock Award, been shortlisted for the Governor General's Award, been a finalist for the Scotiabank Giller Prize. What is it like to be honoured like that?
It's always great to be awarded something. But I guess while I think it means something to win an award, it doesn't mean something not to win an award. That's important because we tend to go toward prize cultures a lot – these are the five books that are the good ones in the year – but that's ridiculous, there are thousands of interesting books and some just play well in certain places.
I must say that in terms of awards, they've given me the opportunity to have some amazing interactions with readers of my works. For Pirates, I connected with some very old holocaust survivors who wanted to tell me their stories or Yiddish jokes, which is kind of amazing. I also had one man from Nigeria who was a banker and had just immigrated – he related to the immigration/refugee aspect in the novel – he shared his experiences and how he connected with the book. So, one of the things that awards allow you to do is to connect to those kinds of readers.
What advice do you have for writers who are just getting started?
They should just try to be like me! No, I think really, it's about finding what it is that interests you, and trying out many things, but not thinking about what you're supposed to write, or what you imagine poetry or short stories are supposed to be, but what actually interests you and makes you engaged with it.
Another important thing is to be involved in a writing community. Find an audience, find other writers, go to readings, write stuff, publish your own work, but really genuinly engage with a community of writers and readers. Maybe in a small way you have a group of writers and you talk about the work and try to seek out those experiences where you can connect more with writers and readers, I think that's important.
Why is the role of writer-in-residence so important for aspiring writers?
I think having someone who is a writer and not a professor, or teacher, someone who is outside of all of that is just writing and nurturing and guiding or advising, and being just an audience of one to a writer is something meaningful and just can just look at the work and listen to where the writer is coming from outside of any other context, it's not an academic context, it's not publishing context, it's just work and we see what it's doing or what it hopes to do and try and make it do that thing more effectively.
Gary Barwin holds office hours on Tuesdays on campus; 10:00 a.m. to 6:00 p.m. (CNH 312) and on Thursdays at the Hamilton Public Library, Central Branch; 1:00 p.m. to 9:00 p.m.
To contact Gary, email englwir@mcmaster.ca