Meet Jillian Kew, Faculty of Social Sciences valedictorian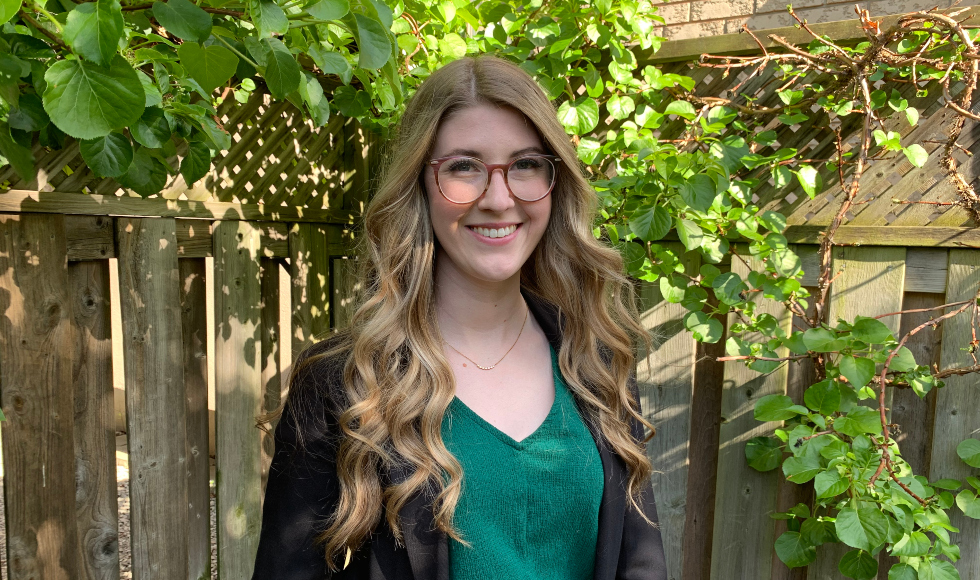 ---
Name: Jillian Kew
Hometown: ​Hamilton
What is the degree and subject you pursued?
Honours Political Science with a minor in Philosophy.
What made you choose McMaster?
I wanted to stay at home for university, so that meant I was choosing between a few local schools.
I went on a May at Mac tour when I was in grade 12 with a few of my friends from high school. I remember taking the bus in and feeling really excited about the commute, kind of like I was on an adventure! Seeing the campus and the friendly volunteers, the whole experience just sold it for me. I had a lot of friends from my high school who were going to Mac too, which made the decision feel really comfortable for me.
It felt like home the second I stepped onto campus.
What will you be doing/see yourself doing after graduation?
Honestly, I'm not sure yet, and I think that's okay. I'm taking things day by day and applying to jobs I feel I would enjoy and make a difference in. I'm passionate about so many things and have a lot of ambition. I can see myself in many different careers, so I'm allowing myself the time to consider my options. I think as long as I'm working with people and towards a good cause I will be really happy.
What would you say to your first-year self?
I would say to just go for it! There are a lot of opportunities I was really fortunate to have had in university. I remember every time I applied for something new, I would feel scared, thinking I wasn't qualified or good enough as someone else. Even when applying for valedictorian I was scared.
I have so many great friends by my side who have encouraged and believed in me throughout this process. I can't imagine not having these experiences throughout my time here and if I hadn't made the decision to just go for it, I wouldn't be where I am today. Follow your passions and see what happens.
Do you have any advice for current and future students?
Get involved in what makes you feel like you're doing something important. Apply for anything you're even slightly interested in doing because you'll never know what happens. Take chances and don't be too discouraged when you get rejected because it's all part of the journey.​ ​I've had to apply for things more than once before I got them.
I think it's important to follow the paths where you find yourself excited and inspired to work on something.
Pay attention to where you feel joy.
How has McMaster shaped the person you are today?
It's really the people in the McMaster community who have made the biggest difference for me here. There have been so many incredible, generous, and kind individuals who have given me opportunities where I've been able to create impactful experiences.
From my former manager, to friends and professors, I've had so many people believing in me and my vision for events and projects. I have been able to work with many people around the university and the Hamilton community to bring these visions to life. School and my education have always been very important to me.
At McMaster I've grown a lot academically, but I'm leaving my time here with so much more than a degree.
What events did you enjoy the most at McMaster/Hamilton?
Welcome Week holds a very big place in my heart. The chance to create experiences for others will always be most special to me.
What is your definition of success?
I think just being in a place where you look around and you're smiling — where you're really grateful for the people in your life and the experiences you are having.
How has McMaster helped you create a brighter world?
McMaster has given me the ability to research, find people who share similar passions as me, and create things I'm really proud of. I​ ​feel really lucky to have been able to contribute to McMaster in so many different ways.
Who is your favourite professor?
I have had many wonderful professors who have made big impacts on my academic experience. One of these professors is Dr. Flynn, who supervised my Honours Essay. Dr. Flynn was an incredible supervisor, always providing support and ideas for where to take my research next. I'm really grateful for his encouragement and guidance.
Another professor, Dr. Fowler, also has had a big impact on my education and always believed in my abilities. I would not have been able to be valedictorian without his recommendation. I owe much of my academic development and success to both of these professors, who always took the time to meet with me and help improve my work. I am very grateful to them and to all of the professors who have supported me during my time here! Thank you.
If you could have any superpower, what would it be?
I would like to fly. It just seems really cool.
If you could live anywhere in the world for a year, where would it be?
Whistler B.C. or somewhere around that area. I love the mountains!
What have you been doing to self-care during the COVID-19 lockdown?
I have been returning to the more creative things I've lost time for over the years. I'm trying to establish a routine as best as I can. My friend, Ashley, and I have been doing a video call workout every day which helps with that. I'm really thankful for her!
What's the hardest part about working virtually for you? The easiest?
Establishing routine and getting in the mindset that it is time to be productive is difficult for me due to the circumstances. I think the most difficult thing for me was going from a really constantly busy and moving schedule to having very little to do during the day. It became easier for me once I tried setting goals for myself every day. I'll make a list of goals which helps me focus on the small things I can do to keep myself motivated.
It is really nice to be home and spend more time with my family and my mom. We usually sit in the back yard and I'll switch between doing something productive and taking a break with her on her days off from work. It is definitely more relaxing and fun that way!
What would you advise others as we transition to a new normal?
This is a scary and difficult time for many of us. I think it is good to find a routine or activity which works for you. If you're able to, take this time to try and learn something new! We should all be listening to the official health guidelines and practicing social distancing. We all have the ability to make a difference. Remember to thank all of the essential workers and to be kind, compassionate, and understanding towards each other.
Any thoughts on the importance of giving back to your alma mater to support future generations?
Yes, I think it is wonderful to give back where you can!