Meet Health Sciences valedictorian Jacqueline Rintjema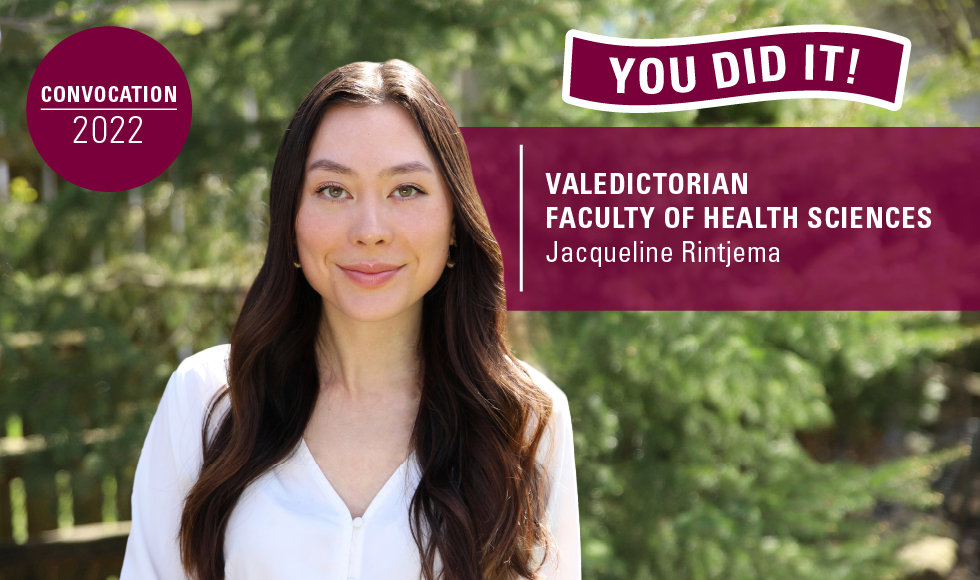 "If you don't ask, the answer will always be no." So we asked this year's Health Sciences valedictorian a few questions about herself. Here's what she had to say. (Photo courtesy of Jacqueline Rintjema 2022)
---
Faculty of Health Sciences valedictorian Jacqueline Rintjema graduates May 25 with a Master of Public Health degree. We asked her a few questions to get to know her. Here's what Rintjema, who is going on to law school at the University of Toronto, had to say.
Why did you choose McMaster? 
Nearing the end of my undergraduate degree in the Faculty of Social Sciences in March 2020, I was presented with the opportunity to pursue my Master of Public Health degree at other institutions in Ontario. In the face of a pandemic, I knew returning to McMaster in the Faculty of Health Sciences would prepare me to be at the forefront of public health research, leadership and evidence-informed decision-making. It was an easy decision!
What's next for you?
In the fall I will be starting law school at the University of Toronto. I'm aiming to combine my background in population health sciences with a legal education to understand how law can be used as a tool to generate systems-level health change and advance equity.
Can you share a great piece of advice you've been given? 
If you don't ask, the answer will always be no. It's cliché, but I think this advice is particularly relevant for students and can be applied broadly to any opportunity they are interested in pursuing.
Reflecting back on my undergraduate degree, I frequently self-selected out of applying for jobs, awards, scholarships, and leadership roles because I never thought I had a chance at obtaining them. Don't limit yourself!
During my graduate degree, I went after every opportunity that interested me. Even if it didn't end up working out, each application, interview, and connection I made enabled me to learn from the experience and improve for the next one. The opportunities that did work out made all of the disappointments worth it.
Now that you're graduating, what's your advice for students?
Community engagement through experiential learning was one of the most valuable components of my university experience. Being able to combine theoretical knowledge gained in the classroom with real-world hands-on experience in the community enabled me to obtain a deeper understanding of the challenges facing marginalized groups and the policy and program changes that are needed.
This developed my interest in public health and advancing health equity, which led me to pursue my Master of Public Health degree.
I'd encourage any student to seek out experiential learning opportunities, either formally through experiential learning elective courses, internships, and placements, as well as informally by volunteering with community-based organizations that are advancing a cause you feel strongly about.
To learn more about meaningful, reciprocal, and equitable community engagement practices, I'd encourage any student to connect with the McMaster Office of Community Engagement and to learn more about McMaster's Principles of Community Engagement.
Tell us about a good memory from your time at McMaster. 
One of my favourite memories during my graduate experience was helping to plan the annual McMaster Master of Public Health Student-led Conference (MPHSLC). As the conference took place virtually during the pandemic, we were able to bring together public health students and scholars from across Canada and internationally to discuss the intersection of social protection and public health.
It was a fantastic opportunity to showcase the important public health research that is being undertaken at McMaster and across the country.
What's an accomplishment you're really proud of? 
I was fortunate to be selected as a TEDx speaker at last year's TEDxMcMasterU event. It was a bucket list experience and gave me the opportunity to advocate for action on the social determinants of health, advancing health equity, and youth engagement in public health decision-making — three areas of public health that I am most passionate about.
Tell us about a prof or mentor figure or someone who made a difference for you in your time at Mac. 
An important aspect of mentorship for me is finding someone who cares about my personal and professional development and encourages me to pursue any endeavor that I am working towards. They are a sounding board for my ideas and can help to direct or redirect me when I feel uncertain.
I've been fortunate to have received mentorship from a number of incredible professors during both my undergraduate and graduate studies at McMaster, including my undergraduate thesis supervisor Dr. Larkin Lamarche and graduate thesis supervisor Dr. Michael G. Wilson, and Dr. Emma Apatu, Program Director of the MPH program.
If you could have a superpower, what would it be? 
To fly! It would cut down on any commute time and I'd be able to travel the whole world.
While at Mac, did you receive donor-funded financial assistance (e.g., a scholarship, award, bursary)? Any thoughts on the importance of giving back to your alma mater to support future generations? 
During my time at McMaster, I was fortunate to receive a Canada Graduate Scholarship- Master's (CGS-M) Award from the Social Sciences and Humanities Research Council of Canada (SSHRC) to support my graduate thesis work.
The plethora of research scholarships, awards, and bursaries available at McMaster make innovation possible. Reducing financial barriers for students and recognizing their successes and potential contributions to McMaster and to the broader community truly serves as a launchpad for students' careers and their professional development.
The support I received through my research scholarship has demonstrated first-hand the importance of giving back to the university to support student research and innovation.