Meet Engineering valedictorian Annika Yardy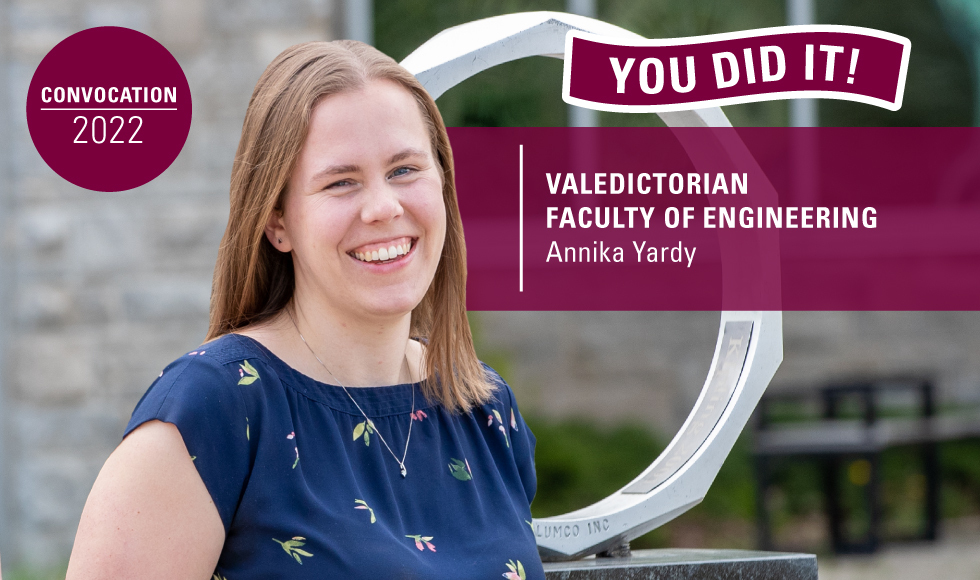 "Get involved in anything outside of class," says Engineering valedictorian Annika Yardy. "Your strongest memories will be formed from diverse experiences created with a community of people and places outside of academics." (Photo by Georgia Kirkos, McMaster University)
---
Faculty of Engineering valedictorian Annika Yardy graduates June 17 with a B.Eng in Chemical and Bioengineering  with co-op. We asked her a bit about herself. Here's what Yardy had to say.
Why did you choose McMaster? 
I chose McMaster for two reasons. In high school, I struggled to choose between science and engineering. But McMaster's engineering program has several interdisciplinary collaborations with other faculties, as seen in its Society, Management, ChemBio, and more recently, iBiomed programs.
And where else can an engineer take anatomy courses that provide access to a cadaver lab?
Also, the McMaster campus and community are beautiful. As an active, outdoorsy person, I fell in love with the Cootes trails behind campus.
Lastly, when I visited during May@Mac, I was astounded by the number of students present to show their support for the school: McMaster students' welcoming nature truly makes the campus feel like home.
What's next for you?
I will be pursuing my interest in immunology (thanks, ChemBio electives!) and drug delivery further with a Biomedical Engineering Master of Applied Science here at Mac. I will be exploring the therapeutic applications of oral thin films.
Can you share a great piece of advice you've been given?
I've heard this nugget of wisdom several times from several people over the years:
"Get involved in anything outside of class. School will always be there, and you will always have your classmates to support you. However, your strongest memories will be formed from diverse experiences created with a community of people and places outside of academics. You could travel to an out-of-province conference, go on late-night walks around campus, or explore a new waterfall in Hamilton together."   
Now that you're graduating, what's your advice for students? 
Do summer research! Even if you aren't planning for a career in academia, a lot of professors have summer placements where you can pick up some technical and public speaking skills that will make you that much more marketable for your first industry experience. You may also discover new career paths with your new connections!
Tell us about a good memory from your time at McMaster. 
Creating a concise answer for this question was hard — how do I select a memory from six years of late-night project meetings, Hamilton adventures, and first encounters with new friends?
So, I chose a theme: Welcome Week. I have participated in Welcome Week as a student and as a Residence Orientation Representative (ROR). From my first year Welcome Week, I remember participating in the Engineering Bus Pull to raise money for cystic fibrosis (CF). I finally felt the togetherness that Welcome Week tries to create when I was marching and shouting CF-themed cheers into the streets of downtown Hamilton alongside 100 of my future classmates.
As a ROR, I remember connecting individually with a handful of first years as they moved in, sitting with a student as they unpacked, and sharing with another student all that engineering has to offer (and of course, I had great Welcome Week rep teams).
What's an accomplishment you're really proud of? 
I co-organized an undergraduate conference for the McMaster Engineers Without Borders chapter alongside a nine-person team. We invited 11 presenters to speak to 75 McMaster delegates on topics related to food engineering (like smart agricultural monitoring, food insecurity in Hamilton, and innovations in the dairy industry).
The event was a great success, I had a fantastic team, and this position started my four-year journey with Engineers Without Borders! I've met the most curious, open-minded friends through EWB.
More recently, I've started a podcast, Tell Us About Yourself, where my co-host Anushree Chakravarty and I interview current engineering students and recent alumni about the tips and tricks that they've learned from their co-op and full-time job experiences.
Tell us about a prof or mentor figure who made a difference for you in your time at Mac. 
I'm grateful for the many genuine and kind-hearted professors, TAs, and senior students with whom I've crossed paths. I've had so many impactful conversations that I couldn't name them all here (it would be an entire essay).
If I can only describe a couple mentors here, I want to give a shout-out to chemical engineering professors Phil Wood (now retired) and Jake Nease.
Dr. Wood reached out to me in my second year when he saw me struggling to stay engaged in class. I was having difficulties with the transition to second year, and he was willing to listen and offer academic, career, and life advice.
Jake Nease is an amazing teacher and human. He held me accountable for my learning in class, always pushing me to try harder and question more. I've also seen how much he cares about his work, and it inspires me to put as much effort and thought into my own work.
If you could have a superpower, what would it be? 
Teleportation: I'd like to travel lots to meet new people with different perspectives and cultures without having to book a plane ticket!
What's an important lesson you've learned so far?
Stay open-minded and don't assume anything about anyone. Engineers Without Borders has taught me a lot about equity, diversity, and inclusion and the beauty of listening to those with different perspectives and lived experiences.
While at Mac, did you receive donor-funded financial assistance (e.g., a scholarship, award, bursary)? Any thoughts on the importance of giving back to your alma mater to support future generations?  
I did receive the Dean's Excellence Scholarship and an Entrance Award. I'm grateful because the financial support enabled me to invest more time in developing my soft skills (like volunteering in extracurriculars).
Supporting future generations of students is increasingly important, especially considering current barriers to equitable education.