Meet Brittany Bates, today's School of Nursing valedictorian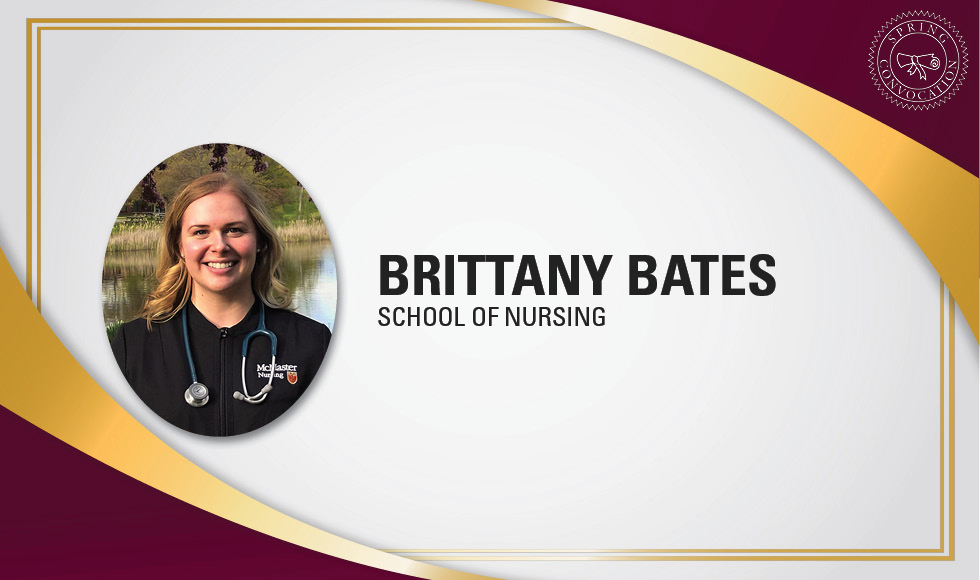 Meet Brittany Bates the valedictorian at the June 14 convocation for the School of Nursing.
---
Name: Brittany Bates
Hometown: Thamesford, ON
What is the degree and subject you pursued? Bachelor of Science in Nursing
Why did you choose to attend McMaster? 
I have had a great deal of respect and admiration for McMaster since my first day on campus back in 2012 when I began a degree in Health Studies with the Department of Health, Aging and Society. Upon graduating and later deciding to pursue a career in nursing, applying to the McMaster School of Nursing was an obvious choice. The program is world-renown for its innovation in nursing research and has an excellent reputation for delivering high-quality education with its problem-based learning approach. Completing my studies at the Conestoga College campus in Kitchener meant I could enjoy a smaller campus feel and has contributed to another incredible academic experience. 
What do you plan to do/see yourself doing after graduation? 
After completing my courses back in April, I allowed myself to take some time for rest and to celebrate my achievements as a nursing student. Right now, I am working for the Region of Waterloo Public Health doing COVID-19 contact tracing and have begun preparing for my NCLEX licensing exam that I will write later this year, so I may begin my career as a registered nurse! A little further down the road I see myself pursuing further nursing education and am also interested in teaching.  
Any advice to your first-year self? 
Throughout my academic career I always put a lot of pressure on myself to achieve my goals and would often take on many different projects at once. I would tell my first-year self to slow down and focus on one step at a time; allowing yourself to be present and to seize every learning opportunity will make achieving your goals that much more special.  
Any advice for current or future students? 
I think it is crucial to be open-minded; your success in your courses and placements will depend heavily on the attitude you bring to every class or clinical shift. Even if you are placed in a nursing setting where you do not see yourself practicing one day, there are still many learning opportunities to be had. And on top of that, you may even discover a new career path you had not considered before! 
How has McMaster shaped the person you are today? 
Being a part of the greater McMaster community has motivated me to continue to pursue the best version of myself. My achievements with McMaster and Conestoga have allowed me to see what I am truly capable of, and the resulting confidence will stay with me as I work toward my future goals. 
What events did you enjoy the most at McMaster or in Hamilton? 
I always enjoyed attending the different social and academic events hosted by the McMaster University Nursing Student's Society (MUNSS). Being a student at the Conestoga campus meant that I got to enjoy being a part of the Conestoga College and Kitchener communities as well. 
What is your definition of success? 
To me, success is the feeling you get when you know that you did your best, regardless of what the outcome is. Looking back and knowing that I gave something my all is when I feel the most accomplished. Every time you try, you have an opportunity to learn and improve. 
How has McMaster helped you to create a brighter world? 
My time at McMaster and Conestoga has gifted me with many opportunities to advocate for our future nurses through several student-led initiatives. I have represented Conestoga nursing students at both the provincial and national levels and believe this has helped me share with students the importance of using our voices to ensure our own needs are being met while we provide care to others. Knowing when to advocate for ourselves as nurses is imperative to competent practice, and leads to safer care environments for both nurses, and our patients. 
Who is your favourite professor? 
I always thoroughly enjoyed our courses with Dr. Kirsten Culver. Her passion, knowledge, and dedication to our success made each class a remarkable learning experience. Honorable mention to Dr. Peter Helli for always stumping me with the bonus questions on his exams! I am also beyond grateful for the amazing instructors I had at Conestoga College, who encouraged me to embrace the space outside of my comfort zone and allowed me to discover what I am truly capable of. 
If you could have any superpower, what would it be? 
When I first read this question, I immediately thought, "to never have to sleep!" But when I think about it more, I think I would rather have the power to make time stand still; I am constantly reminded of how fast time goes by and the importance of being present for every moment.
If you could live anywhere in the world for a year, where would it be? 
During my previous degree I completed an academic exchange and spent a semester at the University of Copenhagen in Denmark. I loved many things about the Danish way of life, particularly that my main form of transportation was my bicycle; I became quite skilled in biking through all kinds of weather, and sometimes with doing so a kanelsnegle (cinnamon role) in one hand. I have always wanted to return for a longer stay!
What have you been doing to self-care during the pandemic? 
A lesson I think we have all learned this past year is the importance of staying connected to our family and support systems. I have tried to be creative in the ways I reach out to my loved ones; I like sending letters in the mail and having game nights or visits over Zoom. I also make an effort to spend time outdoors every day and have become a bit of a plant mom!
What's the hardest part about working virtually for you? The easiest? 
The hardest part is not being able to see my peers and colleagues in person. I really felt that this year as a fourth-year student; since our fourth year is primarily spent in our placements, we do not get to see our peers often. With the pandemic, we missed out on being able to come together once a week for class and had to make the most out of our time together in the virtual setting. The easiest part was not having to stress about finding a parking spot before class! 
While at Mac, did you receive donor-funded financial assistance (e.g., a scholarship, award, bursary)? Any thoughts on the importance of giving back to your alma mater to support future generations? 
I was fortunate to receive the Marilyn Kelly Memorial Award, as well as the Lillian Brown Nursing Award for Academic and Clinical Achievement. The generosity displayed by our donors is truly amazing; their benevolence towards the McMaster and Conestoga communities allows for students to be recognized for their hard work and assists them on their journey to achieving their academic and personal goals.