MEDLIFE trip to Peru offered students 'so much more'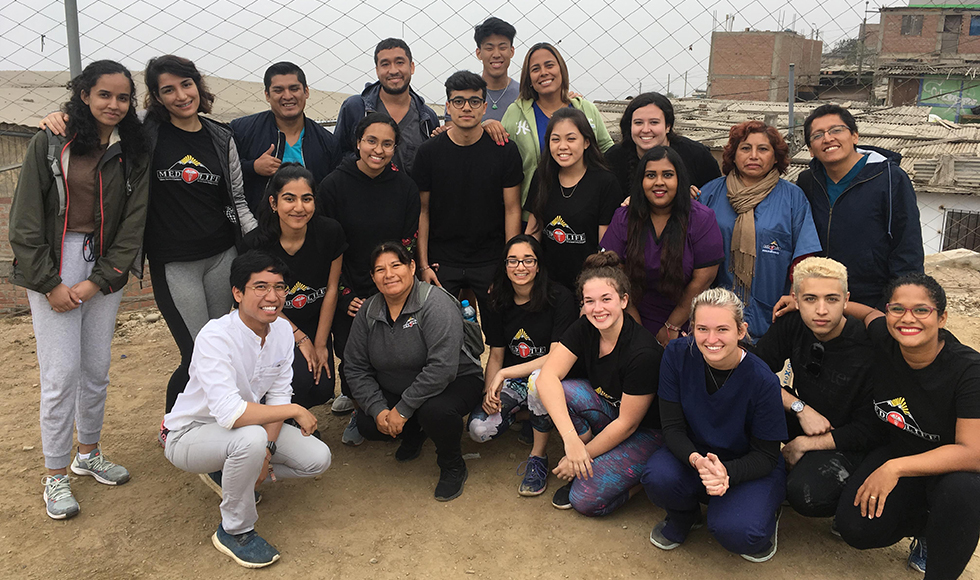 ---
In May a group of approximately 19 McMaster students traveled to Peru with Medicine, Education, and Development for Low-Income Families Everywhere (MEDLIFE). MEDLIFE is a sustainable development organization that works in Peru, Ecuador, Tanzania, and Nicaragua. The following was written by Dorsa Kord, third year Health Sciences student and co-president of the McMaster MEDLIFE chapter.
---
I expected this trip to be a week of volunteering, with a component of positive impact, and learning a little about international development. But it offered so much more.
When I arrived on a Saturday at the airport in Lima I was united with a group of other McMaster women who were in the same MEDLIFE van as me. Although I hadn't had the chance to meet them before the trip, I warmed up to them instantly and felt like I had previously known them. We talked all the way to our hostel.
The first couple of days were spent exploring the beautiful city and meeting other MEDLIFE participants from McMaster and other university chapters. The real work began on Monday when we were taken on what was called a "Reality tour." We were taken by bus around to the communities in Lima. Lima is very centralized in Peru and many Peruvians migrate from other provinces to Lima with the hope of better education, jobs, and healthcare. However, many migrants cannot afford to live in the city so they move to the outskirts and build small houses founded on tires, sandbags, etc. The city often does not provide electricity for them and they steal electricity from other communities, which creates an unsafe environment. There is also no running water. Instead, a water truck arrives every week to fill water tanks that are typically contaminated with chemicals. These communities were built on a mountain. On top of the mountain, a wall could be seen. On the other side of the mountain, there is a very wealthy neighborhood. Once the migrant community started extending towards the mountaintop, the wealthy residents paid the new community to build a wall because they were concerned about criminal activities entering their neighborhood. The wall was a concrete line between the advantaged and the disadvantaged. It was then that I understood why it was called a reality tour.
The next three days were spent in mobile clinics. Every morning we went to different communities in Lima. Usually there were patients already waiting for us by the time we arrived. Patients were triaged where volunteers took their heart rate, blood pressure, temperature, and other information. Then they went to the education station where a nurse spoke with them about health topics such as safe sex and family planning, breast cancer self-examination, prevention of high blood pressure, etc. Then, depending on their needs, a volunteer took them to a general physician, dentist, or obstetrician. Once they had been to all the required stations, they headed to the pharmacy to pick up their prescription.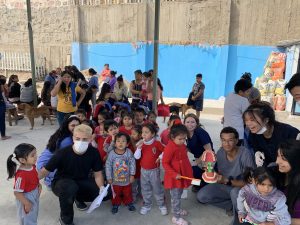 On the last day of the week, we headed to a MEDLIFE partner community to finish a staircase that was started by another MEDLIFE team. We spent the day cleaning and painting the staircase and ended the day with the inauguration of the staircase. There was dancing and music, and so much joy in the air.
There are many reasons that make MEDLIFE unique. All the healthcare professionals in MEDLIFE are local, there is an emphasis on sustainable development and they try to bridge the gap between the existing system and people. MEDLIFE's goal is to empower and support the communities to improve their circumstances using the resources they already have. It helps them navigate the system that might be too challenging for them to figure out without support. MEDLIFE does not decide what the communities need. Instead, it organizes regular meetings with the communities to listen and provide them with an opportunity to explain what they need.
Dr. Ellis, the founder of MEDLIFE, is originally from the United States, but the headquarters is located in Lima.
"The decision to base MEDLIFE in Lima was made because we don't want to be a flight away. If someone needs help, we want them to be able to call us and we can put on our hiking boots and head to their community." More importantly, MEDLIFE clinic patients who require additional support are enrolled in MEDLIFE's Patient Follow-Up program for as long as they need to receive the quality care they need. MEDLIFE has patients who have been with the organization for more than a decade. To MEDLIFE, healthcare is more than a clinic. It's a process of caring and recovering and providing support. No matter how long the process takes.
Our team in Lima saw close to 1,000 patients over the duration of the trip, we built and painted a staircase, and inaugurated a retention wall. But there was much more to remember from this trip. There was joy, kindness, and new friendships.
MEDLIFE is a club at McMaster under the McMaster Student's Union. McMaster MEDLIFE aims to raise awareness for and help address the issues of medicine, education, and development in local and global communities.