McMaster's Women of Distinction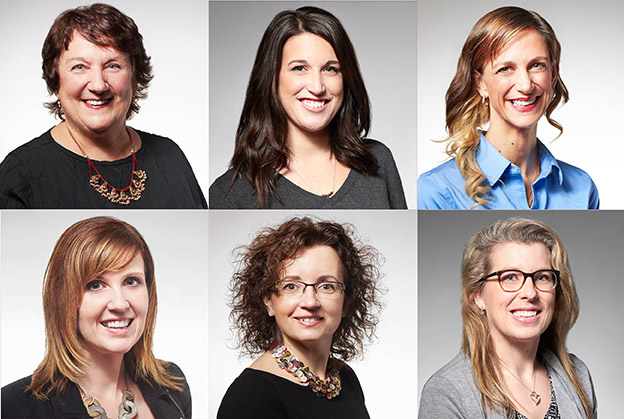 From left to right: Maroussia Hajdukowski-Ahmed, Rebecca Babcock, Rachael Finnerty, Sarah Glen, Alba Guarne, Brenda Vrkljan
---
March 10, 2016 marked the 40th anniversary of the YWCA Women of Distinction Awards. Six of the award recipients share a connection with McMaster University.
Brenda Vrkljan (Business, Education & Mentorship), is an associate professor in the School of Rehabilitation Science at McMaster where she researches aging, driving safety and community mobility – including a Candrive study tracking more than 1000 older drivers across Canada. She has mentored more than 25 students.
Sarah Glen (Community Leadership), manager of community initiatives at the Hamilton Community Fundation, and teaches a course at McMaster where community groups needing research are connected with students. Glen has inspired many of her students to take up social justice issues and community initiatives in Hamilton. In 2014 Glen was also the recipient of an MSU Community Engagement and Teaching Award.
Alba Guarne (Science, Technology or Trades), Associate professor in bio-chemistry and bio-medicinal sciences at McMaster, has made discoveries in DNA mismatch repair and replication that have helped scientists better understand molecules and pathways which contribute to biological processes, including cancer. She has mentored and advised many female scientists and encourages female scientific engagement in her field.
Rebecca Babcock (Young Women of Distinction), dedicated her young career to helping at-risk children and women with cancer. She is the co-founder of the McMaster Athletes Care Program and the Steel City Amazing Race, intended to help at-rick youth. She also worked at the not-for-profit Nanny Angel Network for which provides free nanny service for mothers with breast cancer.
Maroussia Hajdukowski-Ahmed (Lifetime Achievement), board member of the Immigrant Women's Centre for Newcomer Health, the Immigrant Culture and Art Association, and the India-Canada Women's Committee. She also helped kick start the women's studies program at McMaster.
Rachael Finnerty (Health), works with youth, promoting self-worth, personal insight, and problem solving as program manager of Fletcher and Associates. She has also served as president for the Music Therapy Association of Ontario where she piloted new music therapy programs including one at the McMaster Children's Hospital.
The full story about the event can be found on the Hamilton Spectator website.