McMaster's 'Stars' to shine light on health, energy challenges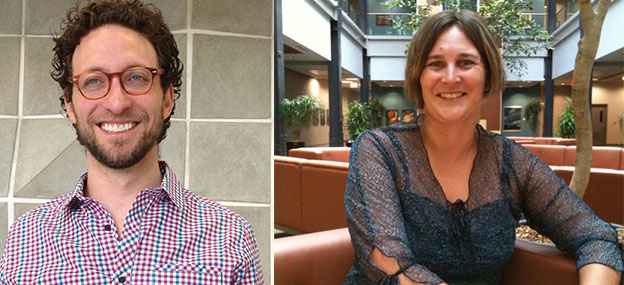 Jeff Pernica, left, and Corinne Schuster-Wallace, right, each lead McMaster teams that have been awarded $100,000. Named Grand Challenges Canada Stars in Global Health, one team will focus on intestinal infection testing while the other will work to develop bio-gas technology in Africa.
---
Two groups of McMaster researchers have been awarded $100,000 each for their plans to speed up intestinal infection testing and develop energy-producing bio-gas technology in Africa.
Both were selected as Grand Challenges Canada Stars in Global Health.
One team will run a clinical trial at a Botswana hospital that will use new methods to identify which children have diarrhea caused by bacterial and parasitic intestinal infections or viruses. This early diagnosis is expected to identify patients who can benefit from treatment much sooner.
According to the World Health Organization, diarrhea is one of the leading causes of death among children under five globally, accounting for more than one in 10 child deaths.
The issue is that the cause of the diarrhea isn't quickly diagnosed, says Jeff Pernica, assistant professor in the Department of Pediatrics and a member of the research team.
"We feel many children with potentially treatable infections are under-recognized, and our group has been refining a swab system that will allow timely detection and diagnosis. We believe this will save lives," he said, adding that these diseases often slow children's growth, which can create lifelong problems.
Pernica said the pilot study is one of the first in a sub-Saharan area with high-HIV prevalence. A follow-up multicentre trial is planned.
Another group of researchers at the McMaster-based United Nations University's Institute for Water, Environment and Health, will put their grant to work in Uganda.
Corinne Schuster-Wallace's team will initiate a project to collect and transform human and other waste into an energy and revenue-producing bio-gas.
Supported by two Canadian firms, eventual implementation will involve large underground tanks to mulch human waste along with fish market refuse and other organic trash.  Methane from the tanks will be tapped for a new economical source of fuel.
A recent study concluded that a sanitation system for 400,000 people in the Ugandan capital of Kampala's urban slums could be run without subsidies by marketing wastewater products.
Grand Challenges Canada is a program that supports bold ideas that have a big impact on global health. Funded by the Canadian government through the Development Innovation Fund, it works with the International Development Research Centre, the Canadian Institutes of Health Research and other global foundations and organizations to find sustainable long-term solutions which integrate science, technology, social and business innovation.