McMaster's Spectrum awards $105,000 in Student Startup competition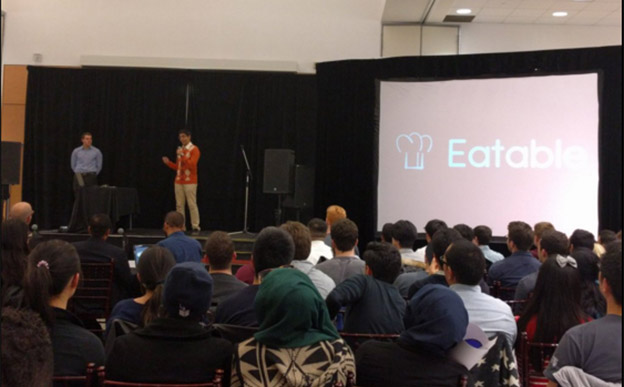 ---
On March 31, over $100,000 was awarded to 5 student entrepreneurial groups as part of McMaster's Spectrum second annual Student Startup competition. 
CIBC Hall at McMaster was filled to capacity with well over 225 student entrepreneurs, McMaster staff and faculty, and members of Hamilton's entrepreneurship community.
Five winners each won $20,000 in cash and an automatic spot in McMaster's accelerator The Forge. Additionally, they were awarded in-kind prizes from generous sponsors.
The audience was asked to vote for their favourite startup who were then awarded a $5,000 People's Choice prize. 
(Note: Originally the intention was to award four prizes of $25,000 to the top groups. However, the competition was close and it was decided during the competition to award five startups $20,000 each.)
Judges, Winners and Competitors  
The panel of judges decided the winners and provided the Top 10 Finalists with feedback, pulling on their own experiences from their respective entrepreneurial successes.
This year's judges were: Adam Spence of the Social Venture Exchange and Mars Discovery District; Sean Van Koughnett, AVP and Dean of Students at McMaster University and founding director of UWaterloo's Velocity; and Dr. Sunny Kumar an experienced venture capitalist and Executive-in-Residence at Innovation Factory.
Each startup team had to select only one person, who would present their 3-minute pitch to the audience. After hearing each pitch, and asking a few questions, the judges had to deliberate and choose the five startups who would go home as victors. They took into account the live pitch and all aspects of the application process.
This year's winners are:
Eatable (Mohammed Ahmed) – $20,000
FISH Technologies (Melissa Houghton) – $20,000
HINT (Jacob Jackson) – $20,000
TronClub (Gregory DeLaunay) – $20,000
Virtual Possibilities (Mitch Wilson) – $20,000
People's Choice: Cognosco (Akiv Jhirad) – $5,000
(See details on each company below)
The judges were astounded and proud of the quality of this year's applications, semi-finalists, and finalists. At every stage of the process, the competition was incredibly competitive and decisions were difficult. The feedback was overwhelming and the entire community was impressed with the work being done by McMaster student entrepreneurs.
The Top Ten Finalist startups competing included 20/20 Optimeyes, Cognosco, Eatable, FISH Technologies, HINT, KiDi SMS, Nectocare, TronClub, Virtual Possibilities, and Zentrella.
Please feel free to get in touch for further details. 
—————————————————————————————————-
Company details
Eatable: Mohammed (Fawad) Ahmed, Wesley Kerfoot, Rishabh Moudgil, Avian Yuen, Steven Zhang
An app that will revolutionize the way people create and connect through food. The mobile app platform serves as a hub for students to search and share recipes.
University students have difficulty finding cost-effective, convenient, and healthy ways to cook, but they also love to share what they create. Eatable provides student-friendly recipes in a home cooking community passionate about sharing self-made meals. Sharing on recipe apps is not compatible with how students want to showcase their food creations. Eatable will allow students to share recipes in a more personal and fun way. 
FISH Technologies: Melissa Houghton, Robert Van Gemeren, Kris Cuachon, Vinod Chaudhary, Ali Sheikh
Farming Innovations & Sustainable Horticulture (FISH) Technologies is a company that is focused on reinventing the farming industry through innovation. This reinvention is focused on reducing the environmental impact of current practices while maintaining, or increasing, profitability of our clients. Current focus is on the greenhouse industry, with the intention of introducing a commercially viable aquaponics system to replace current practices.
The plan is to build a system that has a low initial investment cost that can be upgraded as finances become available. This system will feature automatic water balancing and hands free fish waste removal. Focus is on making the system easy to use, which will reduce the risk involved in investing in the new technology. FISH will also provide the opportunity for servicing which would help reduce the knowledge barriers associated with new technologies.
HINT: Jacob Jackson, Ahmed Elmeligi
Healthcare Innovation in NeuroTechnology (HINT) is developing a wearable monitoring device for high-risk patients that can detect a stroke in their sleep. Until now, a stroke during sleep resulted in either debilitating effects or death. This is because strokes during sleep are unable to receive the highly effective, time-sensitive treatment. The device will provide continuity of care outside of the hospital for up to 250,000 patients and will save the lives of thousands of stroke victims every year, while maintaining quality of life. 
TronClub: Gregory DeLaunay, Roslyn DeLaunay, Jennifer Bendle
Tron-Club™ lowers the barrier to entry for aspiring Makers by supplying them with monthly circuit building kits. Each kit starts easy and ends challenging. Tron-Club™ was founded in June 2015 with an initial $1,500 grant from the Ontario Summer Company. Tron-Club™ was the most successful company in the Ontario Summer Company for that year. To date, over 1,600 kits have been shipped, more than $5,000 has been invested in equipment, there have been over 11,000 YouTube commercial views, total revenue is over $60,000, and projected sales for the year will be over $100,000. TronClub has been featured in many blogs and in TechCrunch.
Virtual Possibilities: Mitch Wilson, Dr. David Langlois, Lawrence Schembri, Dr. Tian Zhang, Stephanie Hoeppler, Amy Dyck, Mo Khan, Xiaoyue Wang, Gavin Zhang, Kyle Arscott
Virtual Possibilities Inc. (VPI) is commercializing a novel surgical navigation system technology ("LaparoGuard") designed to markedly improve the safety profile and accuracy of laparoscopic procedures. VPI will reduce surgical tool-patient tissue collisions, reduce costly readmission procedures and improve the efficiency, workflow speed and intraoperative planning in an operating room, by increasing surgeon's confidence in the correct placement of hardware therapy. VPI estimates that its predictive, error-prevention imaging & navigation technology could play a pivotal role in allowing the 90% of North American hospitals that lack the resources for surgical navigational systems to afford a flexible, affordable solution.
Cognosco: Akiv Jhirad, Mandakini Jain, Larona Toteng, John Barberiz
Cognosco was inspired by the increasing rate of traumatic brain injury due to vehicle accidents, falls, violence and sports. The solution is a medical device startup aimed at creating non-invasive solutions to prevent the detrimental effects of traumatic brain injuries in victims, through early detection. Currently, research and development is being focused towards a portable device that uses near infrared spectroscopy technology to non-invasively examine the presence of a bleed underneath a patient's skull. A time and cost effective solution using this technology has been created by a startup team. The portability of the device allows it to be a diagnostic tool for on-site accidents, which makes it an essential tool for paramedics. It is also accurate enough that hospitals will find it diagnostically useful, and inexpensive enough that emergency caregivers (safety officers in sports centers, emergency dispatchers) will also find it to be resourceful.