McMaster's rare maps provide students with a window into the past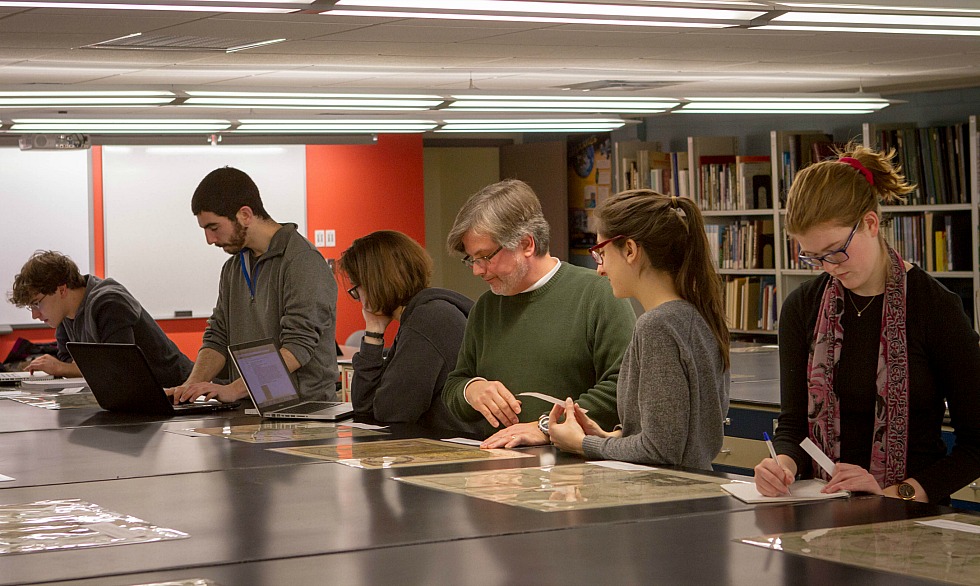 Students from Arts and Science 3BB3: Technology and Society II work with map expert Gord Beck, Maps Specialist, Maps, Data, GIS (second from the right) on an experiential learning project featuring a number of the rare maps contained in McMaster's Lloyd Reeds Maps Collection.
---
Arts and Science students pore over a series of rare maps in McMaster's Lloyd Reeds Maps Collection.
From a 300 year-old English county map, to an oversized map of the Franklin expedition, the students are learning that these artifacts are more than simply tools for navigation– each one tells a story about the period in which it was created.
Now, many of the insights revealed in these maps can be found in a digital display and experiential learning project created by students in Arts and Science 3BB3: Technology and Society II in collaboration with maps experts from McMaster University Library.
"For a long period of time, maps were the only way to get information about the spatial distribution of cities or see what rivers actually looked like, we couldn't simply go to Google Earth," says John Maclachlan, course instructor and Assistant Professor in the School of Geography and Earth Sciences.
"I wanted students to see how maps have changed over time,' he says. "These maps are different from modern maps- they're more artistic. They're not always complete, but they give you different types of information."
Maclachlan worked with library experts Jay Brodeur, Manager of the Maps, Data and GIS Department and Gord Beck, Maps Specialist, Maps, Data, GIS, to develop the project, which is now available online.
"We wanted to expose students to this incredible collection," says Brodeur. "This project was a great way to get students into the Library and interacting with library materials. We also wanted to take the work they produced for this assignment and share that with the public. "
"There's a lot these maps can tell us," says Beck "If you're looking at a map of North America created 200 years ago by a European, how are they portraying the indigenous people in the illustrations around the edges of the map? How accurately are the maps drawn and what might that tell us about the degree of the scientific knowledge? "These maps can help students wrap their minds around culture and society at a given point in time."
Students began by visiting the library to view a range of rare maps from McMaster's extensive collection.
Students were asked to select a map and formulate three research questions. The map collections staff then connected students to a range of reference resources, which the students used to complete a research essay on their map.
Brodeur then incorporated the students' work into the digital exhibit, which is now permanently accessible through the Library's website, providing context and background information for members of the public or researchers seeking to learn more about these maps.
"I can lecture all day about the usefulness and history of maps, but for them to formulate their own questions and put their own identity on that work can be a very valuable experience for them," says Maclachlan. "It's nice that this isn't just another project students put in their drawer, it's out there, it's being used and it's useful information."
Mack Gillies, a third year student in the Arts and Science program who contributed to the project agrees, adding that working hands-on with the map collection provided him with a unique learning experience.
"There's a big difference when you can actually see the history and you can touch it, it makes learning that much more enriching," says Gillies. "You can come in to the map library any time and examine any map you want. When you come to university you don't realize how many learning opportunities there are, but this is a great resource."
About 2000 students come to the map library each year to work on assignments, a number that continues to climb as library experts work with an increasing faculty members to develop experiential learning opportunities.
"The library has been changing over the past decade or so and moving from a place where the books are to where learning happens," says Brodeur. "It's important that we're not just a repository of the University's maps, but that were also a place with the expertise to structure students' learning and develop activities where students can use our materials to learn in a different way."