McMaster's Master of Communications Management program graduates 100th student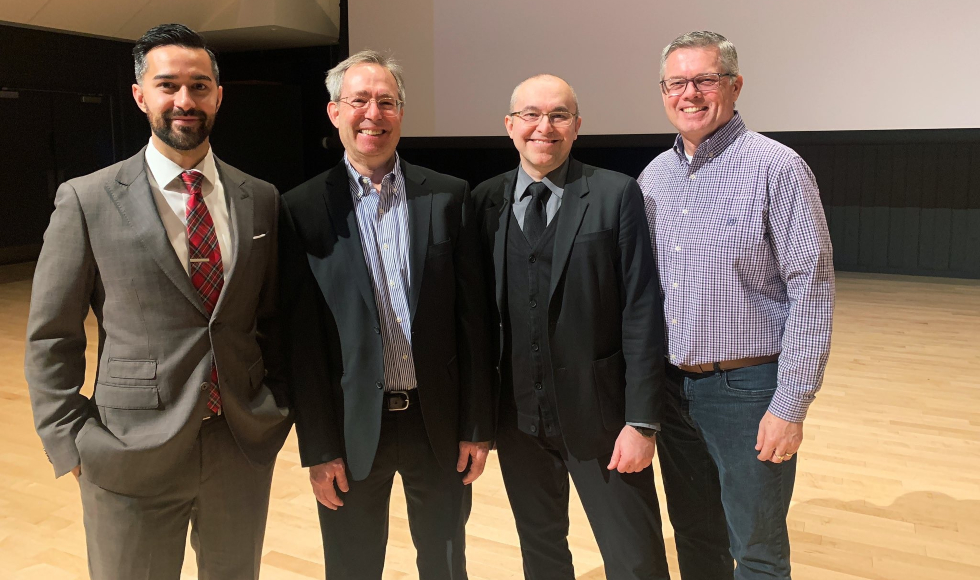 Martin Waxman (second from left) celebrates the defence of his capstone research project and officially becoming the 100th MCM graduate, From left to right: Mark Stewart, Martin Waxman, Alex Sevigny and Terry Flynn.
---
Martin Waxman's path to McMaster was … well, a little backward.
"I was invited to teach a social media class – so I started as an instructor and ended up as a student," laughs the long-time digital, social media and communications consultant and instructor.
Waxman, who worked as an entertainment publicist and owned his own PR agencies before becoming a consultant in 2011, was an early adopter of social media – back when social media meant blogs and podcasts, before Twitter existed and Facebook moved off university campuses.
"Social media turned communicators into writers and publishers – it made us step out of the shadows and become transparent parts of the story," he explains. "I could see the potential – even though it took a year-and-a-half of having a Twitter account before I got up the guts to send my first tweet!"
Waxman's expertise in the ever-changing digital space eventually led to guest lectures in PR programs, as well as positions as an instructor at both U of T's School of Continuing Studies, where he developed a Digital Strategy and Communications Management certificate, and Seneca College, where he still teaches social media and public relations.
And while he had the practical experience needed to guide students through the sometimes thorny thicket of social media practice, he started to think that further study would help him provide an academic lens to his teaching work. That led him to enrol in McMaster's Master of Communications Management program, a unique part-time graduate program, offered in partnership with the Syracuse University, that blends business, communications and leadership training.
Waxman is now the program's official 100th graduate – an accomplishment that founding director Terry Flynn points out is just one alumni milestone over the program's 13-year history at Mac.
"One of our graduates is now a CEO, one was the first woman to run for chief of the Dené Nation, and one has started her PhD," explains Flynn, who will once again become director of the program when Alexandre Sévigny embarks on a  research leave in July. "The program has a transformational effect on people's lives."
That's partly because the MCM program emphasizes business and leadership skills as well as traditional communications training. Students, who study online and have a series of "residencies" at McMaster, take communications theory, research, finance and accounting courses, and also develop literacy in data science and artificial intelligence.
"Two or three weeks after the first residency I start getting the phone calls and emails," says Sévigny. "The results are remarkable – there are often two or three students with a major job advancement or career change while they're still in the program. They start to think completely differently about their jobs – there are many 'a-ha!' moments."
One hundred and fifteen graduates and 13 cohorts in, those a-ha moments are still regular occurrences.
Just ask Waxman – who, at last count, has tweeted more than 26,500 times since that first 18-month tweet. He's also joining the program for its summer semester this year — this time, revisiting his role as an instructor.
As I've said before, @McMasterMCM has been one of my career highlights and is an excellent opportunity for senior communications and #PR pros to learn and listen. https://t.co/DWAmNXz3bE

— Martin Waxman (@martinwaxman) October 18, 2018
"The MCM program has given me more of an intellectual framework to use when thinking about client issues or developing a course – and it's also opened up new areas to focus on in my work, like the role of artificial intelligence in communications," he says.
"It was one of the best things I've ever done for myself professionally."
Waxman will join 20 other MCM students next month as they receive their graduate hoods and diplomas during the Faculty of Humanities convocation.