McMaster's graduate residence means new housing options for students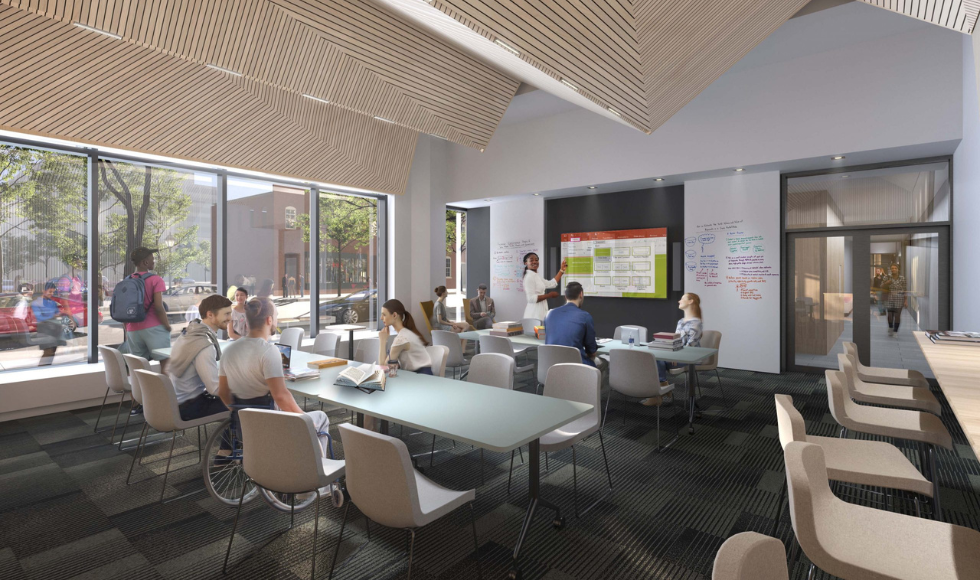 ---
In only a few months' time, McMaster graduate students will have a new housing option with the opening of the university's first dedicated graduate residence.
Located in downtown Hamilton at 10 Bay Street, the residence was designed after in-depth consultations with graduate students to ensure their housing environment meets their needs and supports their academic goals.
Units in the state-of-the-art, 30-storey building are fully furnished and the monthly rent includes all utilities, high-speed internet, 24/7 building security, live-in McMaster residence support staff, and use of the building's amenities, including a fitness centre, movie theatre room, study spaces, a music room, co-working space, games room and a rooftop park/track and barbecue area.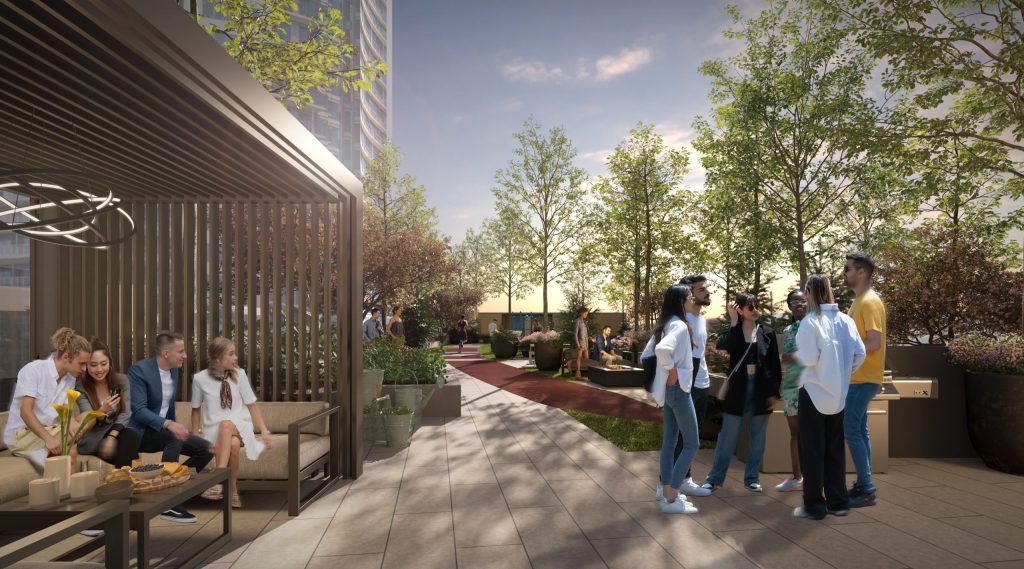 As well, of the 453 apartments in the building, 69 are barrier-free, meaning students can access their apartment and move around freely with the use of an assistive device.
"Graduate students have unique needs, and we are proud to finally have a residence that offers a variety of floor plans for individuals, couples and families in a housing community that supports their personal and academic success," says Saher Fazilat, vice-president of Operations and Finance.
The residence is also steps away from local restaurants, shops and other McMaster locations, including the David Braley Health Sciences Centre.
The building is designed to meet Leadership in Energy and Environmental Design (LEED®) Gold standards and includes green roofs and bicycle storage.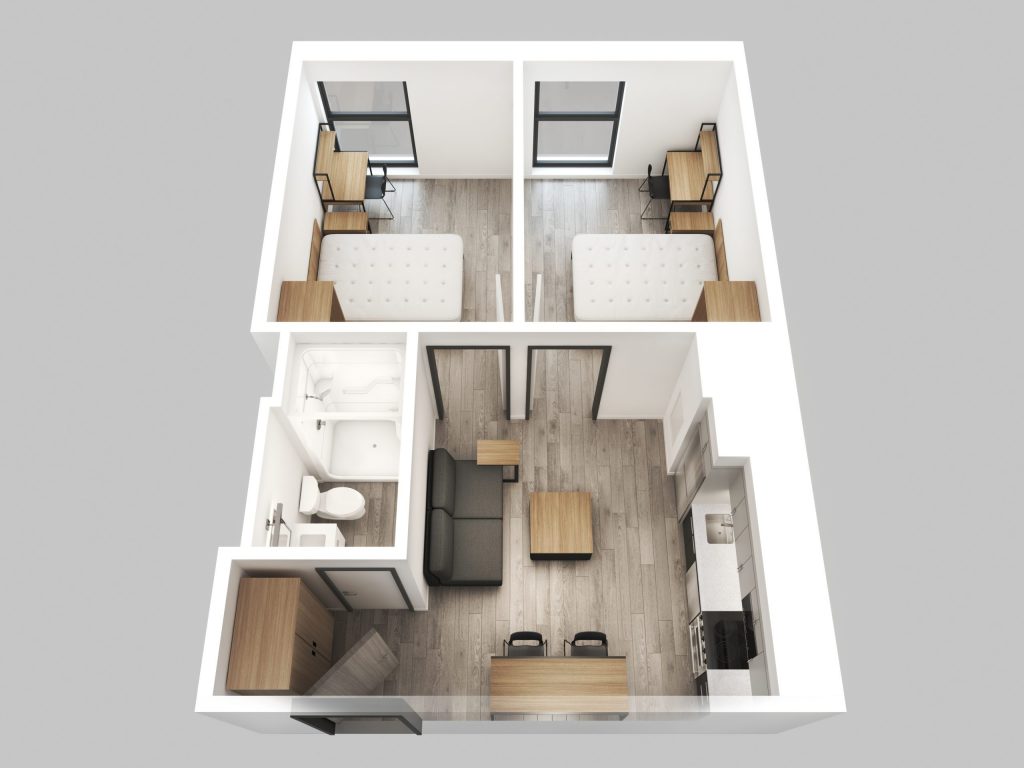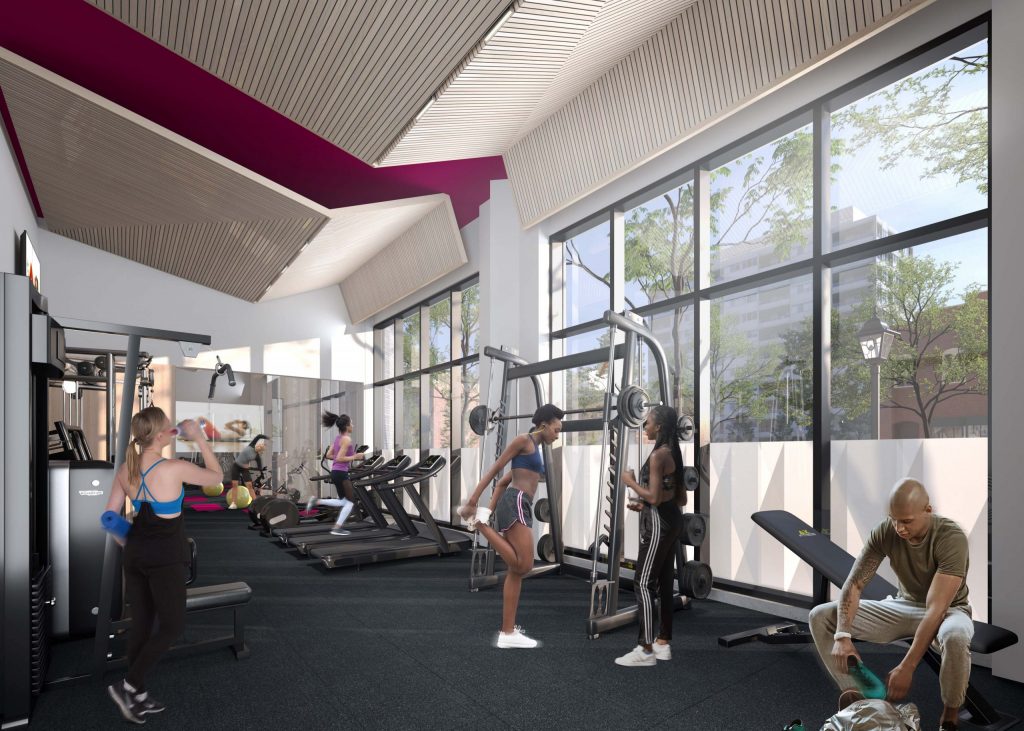 Monthly rental costs start at $1,375 and over 50 per cent of the rooms available are under $1,500.
A family discount is available for couples or those with children who wish to lease an entire 2-bedroom apartment. Many units are also available for those who want a roommate. Full details of unit pricing and lease details are available on the housing website.
10 Bay was developed as a public-private partnership with Knightstone Capital Management. Rates are comparable or lower to similar residential buildings in downtown Hamilton, though most others do not include the many extensive amenities and supports that 10 Bay offers.
For comparison, the average rent for a one-bedroom apartment in Hamilton in March 2023 was $1,828, according to news reports in the Hamilton Spectator and CHCH News.
There will also be no requirement for students to prepay first and last month's rent, and no need to supply a credit check, income verification, or proof of employment, which help reduce barriers to securing housing.
Beginning Monday, April 17, the first round of incoming graduate students will be invited to choose their new McMaster home from a variety of fully furnished apartment styles.
Each faculty has been allotted a proportion of the bed spaces to offer students and will continue to make waitlist or housing offers directly to students as spaces become available.
In the consultation for McMaster's Campus Master Plan, students identified having more housing near campus as a priority. 10 Bay and a new undergraduate student residence being developed, Lincoln Alexander Hall, are part of McMaster's strategy to address this need.
"The 644 rooms at 10 Bay create a new option for students at a time when housing is in great demand," says Fazilat.
"It will be the right option for many students and, along with providing safe and supportive living, it will contribute to the ongoing revitalization of downtown Hamilton."
Hamilton's planned LRT will also provide quick and easy access directly to campus from downtown.