McMaster's 'Bug Man' to receive President's Lifetime Achievement Award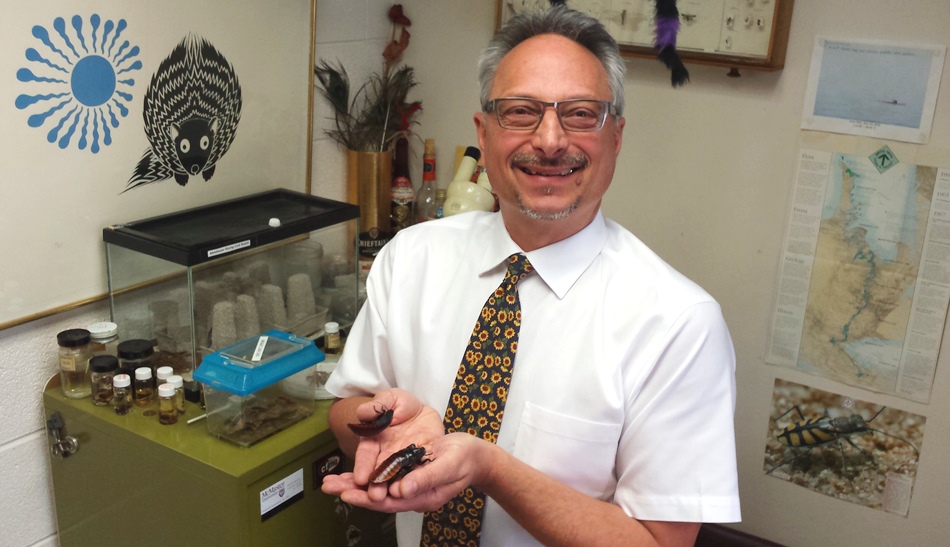 "I get paid to do what I love. How many people have that opportunity? I'm a very, very lucky person." Marvin Gunderman is the inaugural inductee of the President's Lifetime Achievement Award.
---
I've only known Marvin Gunderman for about 20 minutes and already he's asked if I want to hold a cockroach.
That tends to happen when you meet an entomologist who is a gifted teacher and passionate advocate for the importance of insects to the health of the planet. "It's my job to dispel the myths," says Gunderman. "There are so many misconceptions."
The walls and shelves of his office are chock full of neat things that speak to his lifelong passion for the insect world, including (yes) his cockroach collection and a large, hairy, and thankfully fake spider hanging from the ceiling.
He will soon have another neat thing to display in his office: An award for lifetime achievement from McMaster's President Patrick Deane.
The inaugural inductee of this new award, Gunderman will be recognized along with 114 other McMaster employees on May 31 at the President's Awards for Outstanding Service. These annual awards celebrate individuals and teams who have made exemplary contributions to the University.
"It's just been a really lucky trip," says Gunderman of his 26-year career at McMaster. "There are awesome people on campus, who do fantastic things, year in, year out. To get this award – I was gobsmacked!"
Gunderman's many roles at McMaster include Manager of Technical Services in the Department of Biology, Insect Taxonomist, and Instructor of Field Entomology and Ecology.
Mostly, though, people know him as "The Bug Man" or "DaBugster." He specializes in tiger beetles and is frequently called upon to give school lectures and speak to the media.
He graduated from Mac with a BSc in biology in 1983, then a master's in 1989.
Professor David Rollo has known Gunderman since the 1980s when he was Gunderman's graduate supervisor. "Marvin's research was exemplary, but he also brought a contagious and joyous optimism that made all the work seem like fun," says Rollo.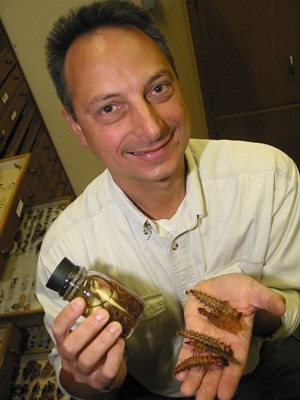 Rollo credits Gunderman's "unquenchable spirit" as well as his gifts as an entomologist and a teacher. "It's rare to mention Marvin's name without a smiling recognition from someone in the room."
No doubt many of those smiling people are students who benefited from Gunderman's instruction and mentorship over the years. "I always say to students, you're going to learn skills that may seem menial at the time," says Gunderman, "but they are all important and they will pay off down the road."
When he was a kid, did he know he could make a living studying bugs? "No, I just kept doing it," he laughs. He had gathered his first proper insect collection by the age of 15 and found a friend who was interested in skulls. "What a pair we were! We'd go out looking for dead animals – the skull for him and the insects for me. We were nerds and we had a great time."
That insatiable curiosity has never left him. When he visits new habitats, he collects images of specimens to use in his lectures "to show people how alien and beautiful insects are."
If humankind were wiped out, the planet would flourish, says Gunderman who points out that 99.5 per cent of insects are beneficial to us. "But — you wipe out the insects and it would be a disaster." Insects do all kinds of essential things for our world, like turn over soil, decompose dead animals, and pollinate plants. "That's why we have to protect the habitats, and not just the individual species," he says.
So why is he so darn happy all the time? "I get paid to do what I love. How many people have that opportunity?" says Gunderman. "I'm a very, very lucky person."
Everyone is invited to attend the President's Awards ceremony on Tuesday, May 31 from 3:00 to 5:00 p.m. in CIBC Hall on the third floor of MUSC.