McMaster Women's Choir takes centre stage as national award winners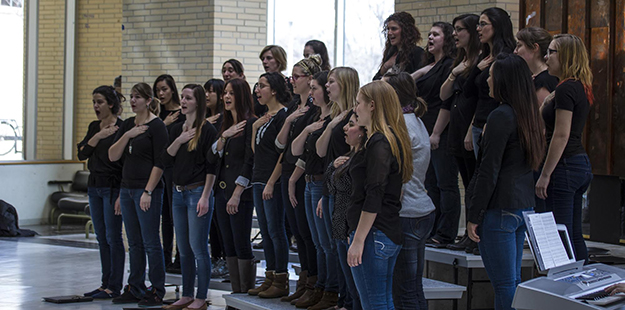 'We are thrilled,' said Rachel Rensink-Hoff, director of the women's choir. 'This is the first time that McMaster has been recognized in this competition. We programmed our concerts and song selection this year with this competition in mind. It's a very exciting time for our choral program.'
---
McMaster's Women's Choir has been named best in the country.
After a tense wait behind the scenes, the McMaster Women's Choir took a bow as champions of the National Competition for Canadian Amateur Choirs that aired on CBC Radio 2.
The choir received a $1,000 prize for its efforts. The competition featured 11 different categories and attracted amateur choirs from coast-to-coast. The McMaster Women's Choir was one of three finalists competing in the women's category.
"We are thrilled," said Rachel Rensink-Hoff, director of the women's choir.
"This is the first time that McMaster has been recognized in this competition. We programmed our concerts and song selection this year with this competition in mind. It's a very exciting time for our choral program."
The National Competition for Canadian Amateur Choirs is organized by Choral Canada and open to amateur choirs from across the country.
A full list of this year's winners can be found here