McMaster Women's Basketball claim OUA title over Ottawa Gee-Gees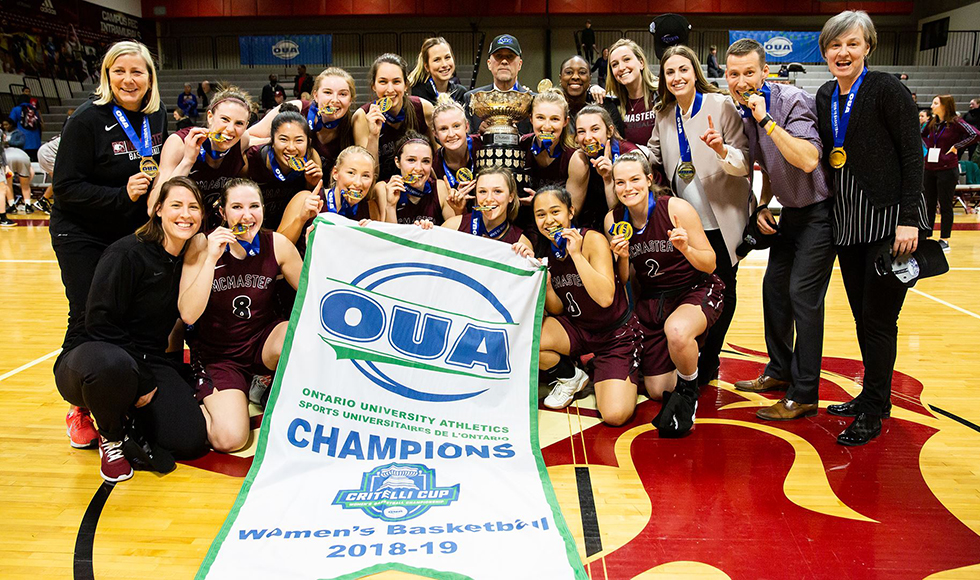 McMaster did one better on their second consecutive trip to the conference title game. Photo by: Greg Mason.
---
A year after coming agonizingly close to the Critelli Cup title, the Marauders leveraged their experience and went one step further Saturday.
The U SPORTS no. 3-ranked Marauders out-dueled the top-ranked Ottawa Gee-Gees 79-75 in a razor-close title contest in the nation's capital to win the fifth OUA championship in their program's history.
With the win, McMaster clinched its first championship since 2008, and erased the heartbreak of its final loss a year earlier on home court. The result also saw the Marauders avenge their regular season loss to the Gee-Gees in November.
The Marauders fifth title is also the fifth for head coach Theresa Burns, and comes in her 26th year at McMaster's helm.
Having previously earned a berth at the U SPORTS Championship with its status as an OUA finalist, McMaster will enter the tournament with one of its top seeds as the conference champion.
Seeding for the tournament, which begins with quarter-final contests on Thursday, March 7, will be determined at a conference call on Sunday, March 3.
Fresh from being named an OUA First Team All-Star for the second consecutive season, senior guard Hilary Hanaka was named as the Player of the Game, after posting a game-high total of 22 points on eight of 19 shooting from the field and three of six from three-point range.
Hanaka added five assists, and provided two vital free throws in the final seconds to secure her team's win in a back-and-forth battle between top five teams in Canada.
"This is what we've been working toward this entire year," said Hanaka in the wake of the win. "It's a step in the right direction for our team and it's the first gold. We're not done yet, but this gold feels pretty good."
"After five years here at Mac, it's amazing to end this year on this note. I'm beyond proud of what we've achieved already and I can't wait to see what comes next."
Second-year guard Sarah Gates and forward Linnaea Harper also starred in the win, with 20 and 14 points respectively.
Gates continued to show the touch from long range that earned her a first all-star nod of her career in 2019, hitting five of 11 shots from the field and three of six from three-point range.
"Against a very tough Ottawa team we had everything we could handle, but we were resilient and we played hard for 40 minutes," said Burns. "Everybody who stepped on the court had an amazing shift for us."
"We shared the ball and played the pace we wanted to play, and it feels so good to be able to bring the trophy and the banner and all of the hardware back to Hamilton and to our McMaster fans."
Read more: https://marauders.ca/news