McMaster unveils new Indigenous Circle teaching and gathering space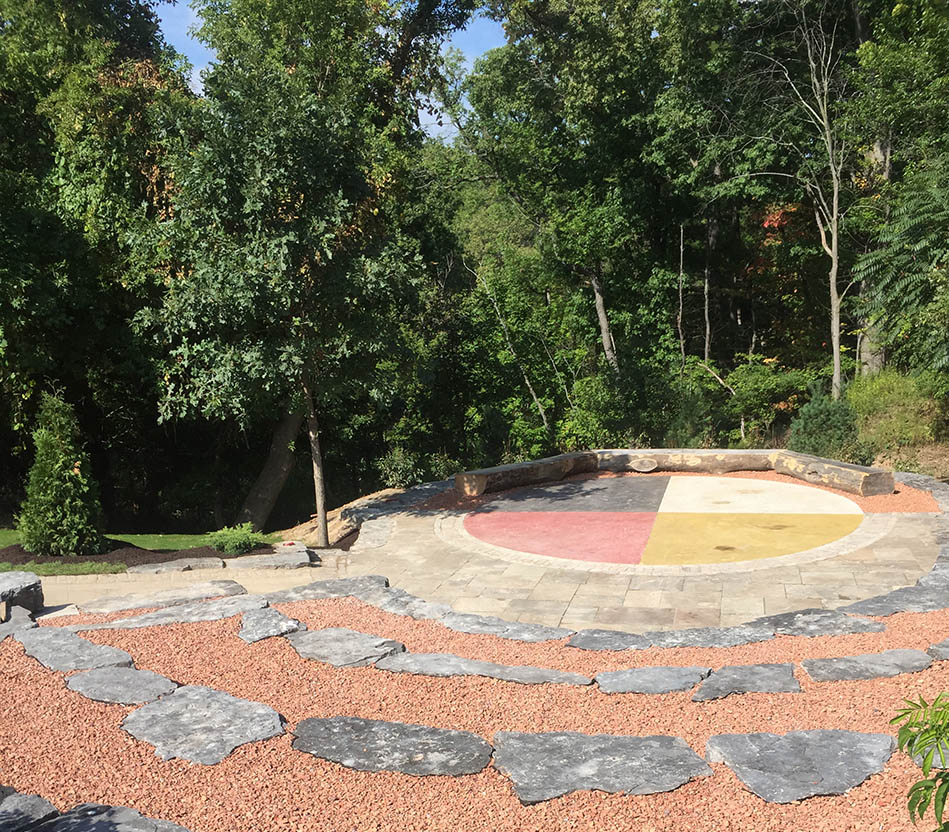 ---
McMaster University has opened a new outdoor space for classes, ceremonies, performances and other activities, designed to affirm the importance of Indigenous knowledge to the university community.
The Indigenous Circle, opened with a ceremony Friday, is called Karahakon Kateweienstha (Learning in the Forest) in Mohawk, and Nibwaajkaawin Teg (Place of Wisdom) in Ojibway. It was created under the guidance of McMaster's Indigenous Education Council, which provides advice and support to the University on all Indigenous matters.
Located between Alumni Memorial Hall and Whidden Hall, the space features tiered stone seating set in a natural bowl, arranged around a stage that takes the form of a medicine wheel. The stage overlooks the forest ringing the Cootes Paradise wetland.
The space is decorated with symbols that include the Two Row Wampum, an icon of Indigenous and settler cultures living and growing together. Plantings in the space were sourced from Six Nations of the Grand River.
The outdoor teaching space is made for use by classes in any faculty, plus performances, ceremonies and meetings, and it is meant to be used informally at other times.
"Where you learn is critical to how successfully you grow as a human being," says McMaster president Patrick Deane. "Whoever sees it, I hope, will understand the powerfully important relationship the university has with the Indigenous community."
Deane says the project was inspired by the Calls to Action of the Truth and Reconciliation Commission report, which has driven a wider re-examination of Canadian history and ways to heal the relationship between Indigenous and non-Indigenous peoples.
Vanessa Watts, director of McMaster's Indigenous Studies Program, which will manage the space, says it's an important addition to campus for Indigenous and non-Indigenous students alike.
"To me, it's a visual representation of how important Indigenous knowledge is to the university community," Watts says. "It affirms that teaching and learning can take place outside. Nature and knowledge are enmeshed, and they are part of who we are as Indigenous people."
She hopes the simple presence of the space will help Indigenous students to feel welcome and valued at McMaster at the same time that it enriches the perspective of non-Indigenous students.