McMaster to raise first University flag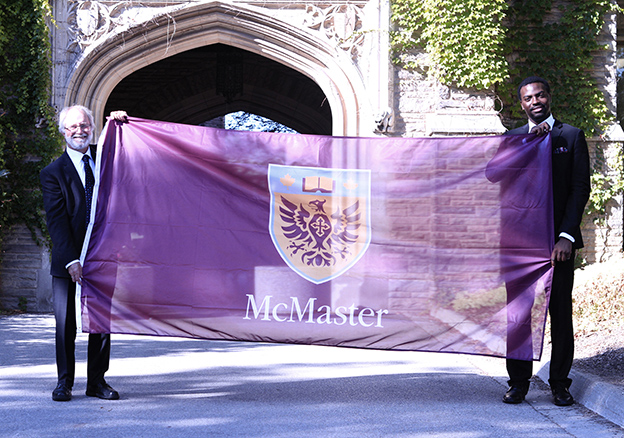 University President Patrick Deane, left, and Students Union President Ehima Osazuwa show of McMaster's new flag in front of University Hall.
---
We've got official colours, a logo, a mascot, even a bronze sculpture of our founder. But for more than 128 years, something's been missing.
A flag.
That will change on the morning of October 1, when McMaster's iconic University Hall tower becomes home to the institution's first official flag.
The ensign consists of the shield portion of the University's logo above the name "McMaster" on a maroon background.
The flag will be raised by McMaster Students Union President Ehima Osazuwa.
The flag raising is part of the University's celebration of its 85th year in the city of Hamilton.
After moving to Hamilton from Toronto, classes began at McMaster's new campus on October 1, 1930.
The University will celebrate with a number of events, including an online fundraising campaign scheduled to run Oct. 1.