McMaster to partner with 'best in the field' to develop water technologies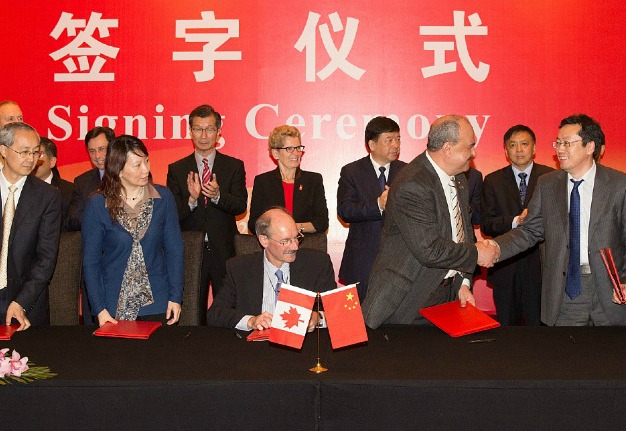 McMaster officials sign an agreement with Chinese and Canadian academic and industry partners to develop water treatment and water contamination detection technologies. The agreement was signed while on a trade trip to China with Ontario Premier Kathleen Wynne.
---
McMaster University has signed a major agreement with Chinese and Canadian partners to support research innovation and accelerate the commercialization of new water treatment and quality monitoring technologies.
The agreement will see the creation of the McMaster-Jiangsu International Technology Development and Translation Centre which will undertake research and development, technology transfer and commercialization of water treatment and water contamination detection technologies.
The Centre will have campuses located in both Hamilton and Jiangsu Province, China and will build on existing partnerships with leading Chinese academic and research institutions, as well as Ontario-based and Chinese industrial partners.
Chang Qing Xu, professor of Engineering Physics and Qiyin Fang, associate professor of Engineering Physics will lead the McMaster research team, which will be based in the McMaster Innovation Park.
"This agreement brings together the very best in the field and will allow for the two-way flow of technology, talent and capital between partners," says Mo Elbestawi, McMaster's Vice-President, Research and International Affairs. "These kinds of partnerships are critical to fuel innovation and ensure that new technologies, which have the potential to positively impact human health, are developed and commercialized for the benefit of all."
The partnership includes Chinese firm Jiangsu Delin Environmental Protection Technology Co. and Hamilton-based, Forsee Instrument Ltd., Soochow University as well as the Centre for the Internet of Things (CIOT), the Institute of Microelectronics of the Chinese Academy of Sciences (IMECAS). CIOT and IMECAS are both national research centres in China.
"McMaster is a world leader in sensor technology with a focus on applications such as water treatment, water contamination detection and diagnosis," says Peter Mascher, McMaster's Associate Vice-President, International "With this agreement, our expertise will be complemented by related technologies developed by our partners in Jiangsu Province which are necessary to translating our sensor technology into real-world applications. It's only by working together that we can continue to make progress on developing these critical technologies."
McMaster officials signed the agreements while taking part in the Ontario Science & Technology Mission to China.