McMaster to host major conference on health and exercise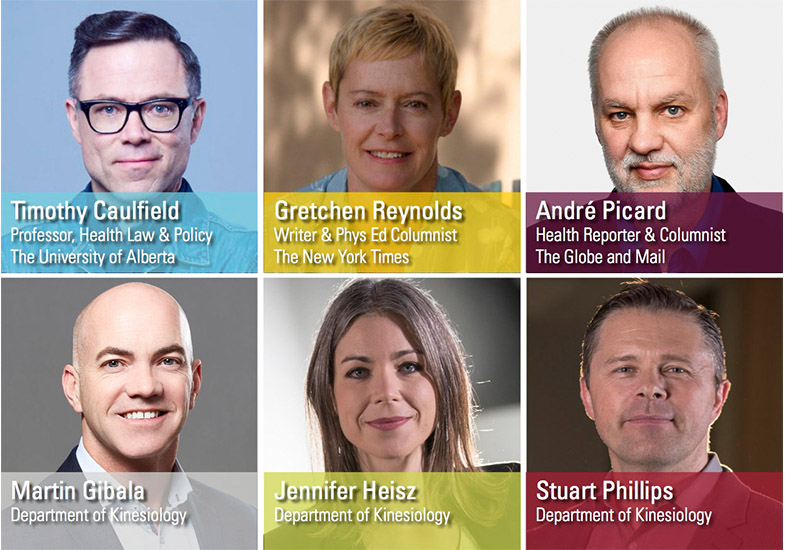 ---
In an age of information overload and conflicting health news, McMaster's leading exercise and health researchers—together with some of North America's highest profile health journalists
and authors—will participate in a free public event on the science behind cardiovascular, skeletal and brain health.
Just the Facts Please: An Exercise in Achieving Optimal Health will take place Wednesday, December 6th from 7 – 10 p.m. at the McMaster Innovation Park.
"This unique event brings together high-profile journalists and commentators with leading kinesiology researchers to discuss exercise and health from a broad perspective," says Martin
Gibala, a professor in the Department of Kinesiology who has organized the event. "It is a rare opportunity for the public to engage with so many prominent influencers under one roof."
Below is the list of speakers and topics to be discussed:
Pop Culture and Twisted Science: Timothy Caulfield, Professor, University of Alberta
Exercise & Cardiovascular Health: Making Every Minute Count: Martin Gibala, Professor of Kinesiology, McMaster
Exercise & Musculoskeletal Health: The Unique Benefits of Strength Training: Stuart Phillips, Professor of Kinesiology, McMaster
Exercise & Brain Health: Preventing Cognitive Decline: Jennifer Heisz, Assistant Professor of Kinesiology, McMaster
Lessons for Personal Health: How to Move Better and Live Longer: Gretchen Reynolds, Writer and Phys Ed Columnist, The New York Times
Lessons for Public Health: The Exercise Prescription: André Picard, Health Reporter and Columnist, The Globe and Mail
"The research coming out of kinesiology is far-reaching and has the ability to improve the mental and physical health and well-being of all generations," says Rob Baker, McMaster's vice- president of research.  "What's equally as important as these discoveries is our researchers' commitment to sharing their knowledge with the broader community."
The event, which is moderated by Steve Buist, a long-time reporter with the Hamilton Spectator, will include a Q & A with panelists. It is supported by the Department of Kinesiology, the Faculty of Science and McMaster's Research Office.
To register, please visit: https://www.eventbrite.ca/e/just-the-facts-please-an-exercise-in-achieving-optimal-health-tickets-39885274931