McMaster supports graduate students displaced by Taliban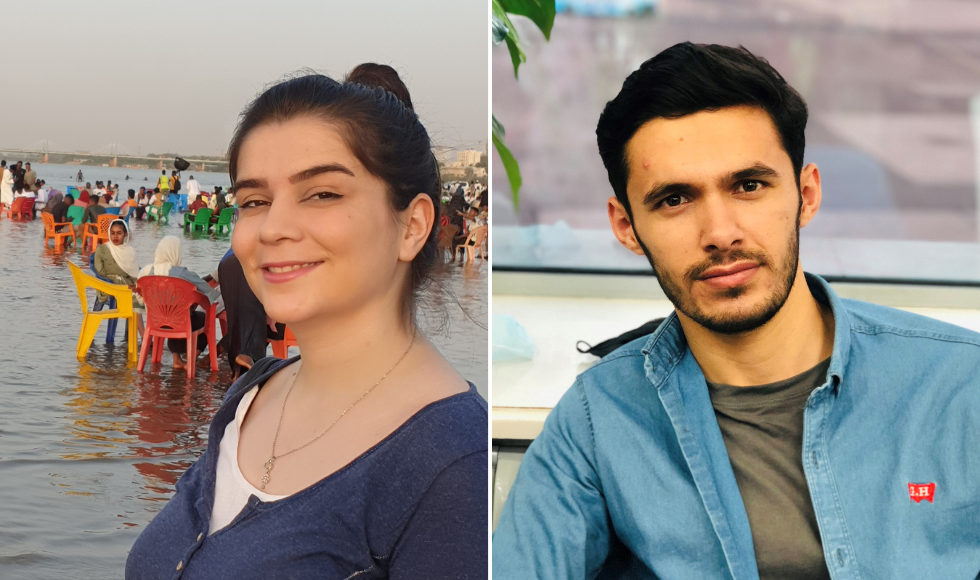 Afghan refugees Marjan Alipur and Yasir Essar are receiving funding to further their education through the McMaster Students At Risk Bursary (SARB). The fund was launched in 2022 to support forcibly displaced, including refugee, undergraduate and graduate students. (Images courtesy Marjan Alipur and Yasir Essar).
---
At the beginning of August 2021, residents in and around Afghanistan's capital were increasingly worried about the Taliban offensive heading their way, with reports the group had captured dozens of provincial capitals in the preceding weeks.
At the Kabul University of Medical Sciences, Yasir Essar, 24, a dentistry student with ambitions of furthering his education by studying global health, grew increasingly worried about having his name on academic papers about human rights and women's rights in Afghanistan.
As images of Afghan soldiers surrendering to the Taliban circulated in the media, Essar's family came to the difficult conclusion that the window of opportunity to flee before the arrival of the Taliban was quickly closing.
Essar, his parents, two sisters and four brothers left their home on August 4, 2021, just 11 days before the Taliban arrived in Kabul.
The family fled to Tajikistan as refugees, where they remain.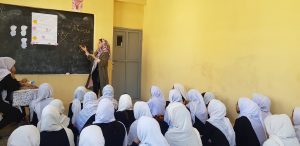 For those who stayed in Afghanistan, life under the Taliban regime was tense.
Marjan Alipur, 32, felt her safety was threatened. Just five months before the government fell, she had led a street demonstration in the Afghan city of Herat to encourage women to attend public events and say no to fundamentalism. She had also conducted training sessions on menstrual hygiene, which is considered taboo and usually not taught to girls.
"To save our lives, my family and I left Afghanistan in March of 2022," Alipur said in an email written from Sudan where she is now a refugee.
In Tajikistan, Essar said time passed excruciatingly slowly. His life had been disrupted; his academic journey was unfinished. As a refugee who could not speak Russian, it was difficult to resume the studies that he hoped would define the rest of this life. He spent time on LinkedIn where he spotted a post from McMaster University about a new financial support, the Students at Risk Bursary (SARB).
The fund is one of two supported by McMaster's six Faculties and the Office of the Provost, which collectively pledged $800,000 for forcibly displaced students, scholars and researchers. Of that amount, $200,000 is allocated to sponsoring and supporting forcibly displaced, including refugee, undergraduate and graduate students.
The remaining $600,000 is for the Scholars At Risk Program (SARP), which is currently open for applications from McMaster faculties, departments and research centres to employ scholars, researchers and lecturers at risk, remotely and locally.
"These funds are part of McMaster's commitment to the creation and dissemination of knowledge at the global level," said Susan Tighe, provost and vice-president (Academic). "We want to assist promising students and researchers who have had to flee their homes to realize their potential and contribute toward a brighter world."
---
View Donation Page: McMaster program to support forcibly displaced students and scholars
---
Essar researched McMaster online and decided to apply.
"I'm desperate to start my education again," he wrote.
He was soon accepted to study global health at the Faculty of Health Sciences. On June 10, 2022, Essar received the email that would make it possible for him to accept the application — he qualified for SARB.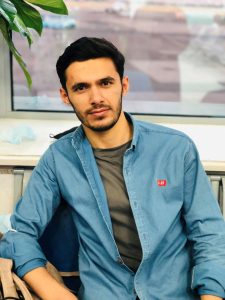 Speaking over Zoom from Rudaki, Tajikistan, Essar said he had been counting the days since applying for the fund.
"I did a lot of research about education in different countries and I learned that especially in the U.S. and Canada you may get an admission letter, but if you don't have funding you may not be able to pursue your education," Essar said while smiling.
"Qualifying for funding helps me overcome one of the biggest obstacles that students face, which is balancing paying tuition and living fees with staying focused on your research."
Essar has never been to Canada.
"It will be hard to leave my family behind, but in life, you have to take the opportunity that is presented to you," he said.
"Every day in Tajikistan as a refugee felt like I was wasting my time, that I should be studying instead."
Essar is among the first to have received letters confirming they would be receiving funding as forcibly displaced students.
Alipur, who received her letter on the same day, will be coming to McMaster to pursue a Master's in gender and social justice this fall.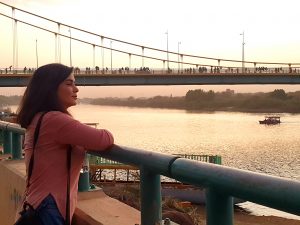 "I have savings from having worked a number of years that I can't fully access," Alipur said. "With the current situation in Afghanistan, banks are not operating on a normal basis and there are limits on how much you can withdraw."
She said receiving SARB made up her mind about whether she would be able to afford to study at McMaster.
"My first reaction was huge excitement and contentment and as it cooled down, I had a satisfying sense of assurance that I am closer to my academic goals than any time before," Alipur said.
Only three per cent of refugees have access to higher education, according to the United Nations High Commissioner for Refugees. Bonny Ibhawoh, who will be McMaster's vice-provost (International Affairs) starting on July 1, said diversity of origin is important in building a global university.
"Attaining a higher education helps the individual unlock opportunities and go on to make greater contributions to the general common good," Ibhawoh said. "Supporting displaced students and researchers is an important part of internationalization for universities."
Ibhawoh is a member of the SARP adjudication committee tasked with assessing applications. He added that continuing to fund programs that support forcibly displaced students, scholars and researchers will benefit McMaster.
"The international and comparative perspectives of these individuals will add to the academic excellence that McMaster is renowned for internationally," he said.
More information on the two bursaries can be found at McMaster Global.