McMaster students building satellite to study space radiation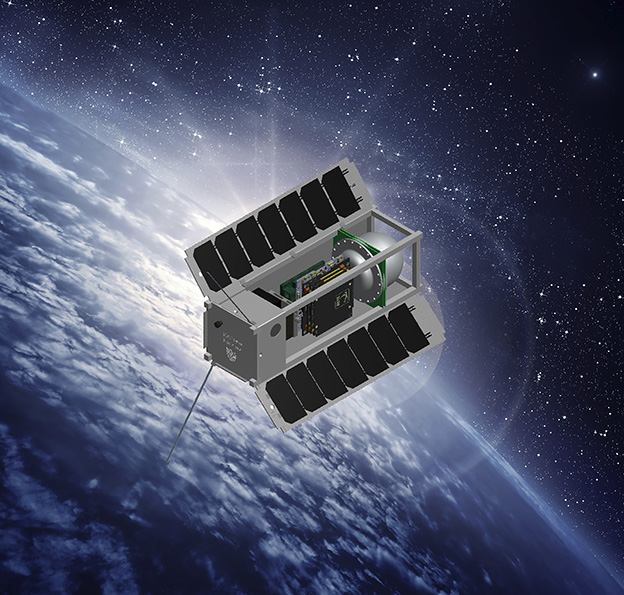 A team of McMaster students is working to launch a satellite into space. The satellite will help the team research the type and amount of radiation found in space.
---
A team of McMaster undergraduates is building a miniature satellite to send into orbit for a project that will help researchers better understand the effects of radiation on astronauts.
More than 30 students, led by recent grad Andrei Hanu, now a researcher at NASA's Goddard Space Flight Center, have been meeting weekly since January to design and build a "CubeSat."
The satellite, about the size of a loaf of bread, will contain specialized equipment that will help researchers measure the amount and type of radiation astronauts face, especially during space walks.
Read: Students show off mini satellite to nuclear industry execs
Activities outside spacecraft are common on the International Space Station and are predicted to dramatically increase as commercial space transportation becomes readily available.
"You can never entirely shield an astronaut from radiation," says Hanu. "Having travelled through our entire galaxy to get here – no amount of shielding is going to block it completely. However, if we know the quantity and type of radiation, we can better manage the activities of astronauts in order to limit their exposure.
The project began early this year when Hanu approached his former faculty advisor, associate professor of Medical Physics and Applied Radiation Sciences Soo Hyun Byun.
"I said, 'I want to launch a satellite into space with the help of McMaster undergraduates,'" says Hanu. "He said, 'Fantastic, let's do it.'"
The team hopes to find a partner who will take the satellite along as "secondary payload" on a rocket destined for space, hopefully in late 2017.
Hanu is working with a number of sponsors, some of who have already donated equipment for testing and prototypes, and he is exploring the possibility of a crowdfunding campaign.
He predicts the whole project can be financed for less than $500,000.
First, however, the students must finish building their CubeSat and subject it to the rigorous testing required of all equipment that goes into space.
The satellite will have to undergo vibration testing, thermal testing and vacuum testing, among other things, to prove its space-readiness to potential partners.
Hanu hopes to keep the satellite in low Earth orbit, somewhere between 300 and 800 km above Earth, for at least a year, giving students the opportunity to study it and the data it collects about radiation in space.
"It's a great educational opportunity for students," says Hanu. "We can build the expertise and know-how at McMaster, and maybe one day our work will help with something like a mission to Mars."