McMaster students at the forefront in building a more inclusive Faculty of Science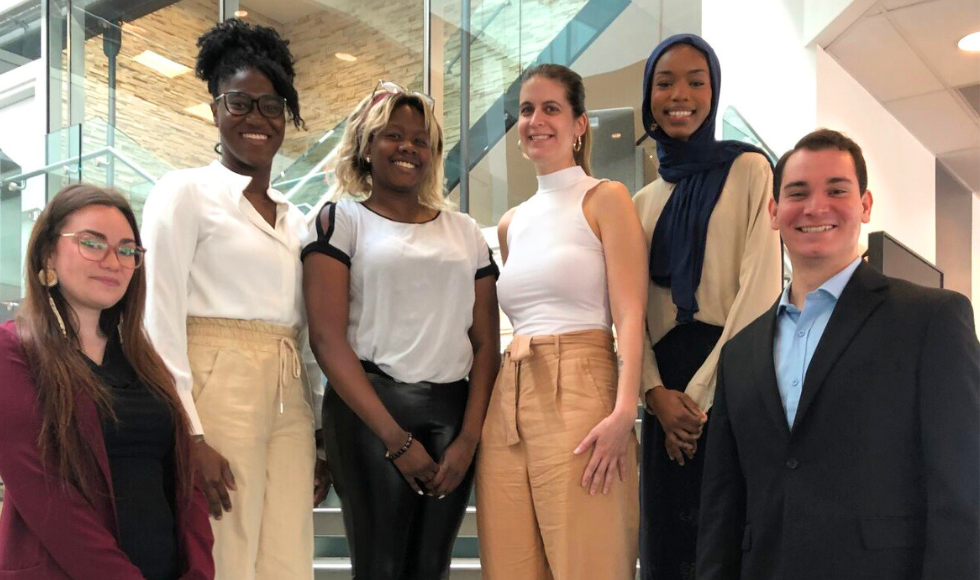 Among the McMaster students working to help foster inclusivity in the Faculty of Science are, left to right, Brooke Fearns, Khandra Barrett, Esther Arase, Natasha Swiderski, Koubra Haggar Hassan, and Iñaki Gómez Alvarez.
---
Diversity leads to better science and two student-driven projects launching this academic year will make the Faculty of Science even more welcoming for everyone.
Science 2AR3 – Foundations of Science: Equity, Justice and Anti-Racism in Science has been added to McMaster's undergraduate course calendar for the winter 2024 term. The class description notes that through case studies, literature and guest speakers, students will be exposed to an interdisciplinary curriculum which examines the intersections of equity, justice and anti-racism with science.
The course is the brainchild of the Anti-Racism Inclusion and Equity in the Undergraduate Curriculum (ARIE) team of McMaster science students Shymega Arasaratnam, Brooke Fearns, Iñaki Gómez Alvarez and Koubra Haggar Hassan. Past student team members are Claudia Alonso Cantú and Tanjot Grewal.
"I think there are multiple reasons why equity-deserving students don't necessarily feel welcome in the field or don't feel as though they can thrive," said Haggar Hassan.
"This course is a very tangible kind of goal we've achieved that I believe is the first step, or at least one of the first steps, in being able to create that welcoming, safe, and inclusive space at McMaster."
Haggar Hassan recently completed her undergraduate degree in human behaviour from McMaster's Department of Psychology, Neuroscience and Behaviour. She begins her journey this fall towards a master's degree in speech language pathology at the University of Toronto.
Raised in a low-income area in downtown Hamilton, Haggar Hassan says pursuing post-secondary education, especially in the sciences, did not seem realistic. She hopes to change this.
"As a Black Muslim woman in a STEM field, I wanted to bring my experiences into the field to make it more accessible to others," Haggar Hassan said.
Recognizing that supporting equity and inclusion in science starts well before students take their first steps on a university campus, another team of students in the Faculty of Science has made strides developing an outreach and community project.
McMaster Equitable Pathways to Learning University Sciences (MePLUS) is a 10-month free program that offers science workshops, mentorship and personal and professional opportunities to youth from equity-deserving groups, including Black, Indigenous and Latinx high school students in Hamilton catchment and surrounding areas. It is expected to serve 30 Grade 11 and 12 participants per cohort starting this fall. The launch date is on Saturday, Sept. 23 from 9 a.m. to 3 p.m., with an astronomy workshop at the planetarium and a session to match mentors and mentees.
The project concept comes from faculty members Robert Cockcroft, Juliet Daniel, Kalai Saravanamuttu and Rodrigo Narro Pérez.
The development and implementation are by students Elizabeth Arango Ruda, Esther Arase, Khandra Barrett and Natasha Swiderski.
Arango Ruda is a PhD candidate in Earth and Environmental Sciences, with a forester-hydrologist degree from la Universidad Nacional de Colombia in Medellín, Colombia. She says it is important to connect with students even before they choose a post-secondary path to open their minds to the different streams of science.
"Research has shown that usually youth in underrepresented groups have less access to knowledge in science fields," she said. "The idea is to teach them more about the possibilities of science in areas such as astronomy, physics, earth sciences, or neuroscience. We want them to know this is possible and they can have careers in these fields."
Arango Ruda says it has been rewarding for her personally to be working on this initiative.
"It feels good to know that you can be like a role model," she said. "As a woman from Colombia who went into science, it's nice to show others it's possible."
Both ARIE and MePLUS come from the Office of the Associate Dean, Equity, Diversity, Inclusion and Indigeneity in the Faculty of Science. The office was established in fall 2022.
Kalaichelvi Saravanamuttu, inaugural associate dean of the office, says both she and her colleague, Rodrigo Narro Pérez, knew McMaster science students had to be at the forefront of student-focused initiatives from the beginning.
"It is fundamentally important to understand the barriers that prevent students from feeling accepted and included," said Saravanamuttu, who is also a professor of chemistry and chemical biology at McMaster. "We wanted to ensure our students' voices were integrated in the work of this office, and these two projects show the incredible possibilities when they are involved."
Saravanamuttu says that it is imperative that students affiliated with the office's projects are not volunteers, but rather paid student staff. This provides students with an opportunity to not only be involved, but to serve in leadership positions that foster their personal and professional development.
"The intent is that they are validated as students, their work is validated and their interest is validated," she said. "If we are talking about being more inclusive, then we have to make sure we are doing that in every way."
Haggar agrees that progress made by the students and the office of the associate dean are steps in the right direction that have the potential to make a difference for students, both today and tomorrow.
"We're creating a space at McMaster and within the Faculty of Science to support current and future students," said Haggar Hassan. "It's important to prioritize those who've often been left behind in the conversation around STEM as it relates to research, education, or even employment in the field. We have an opportunity to make a difference."
To learn more or become involved, email the Office of the Associate Dean, Equity, Diversity, Inclusion and Indigeneity, at adediisc@mcmaster.ca.
---
Sign up to be a MePLUS mentor or mentee
McMaster graduate students from any faculty interested in becoming MePLUS mentors can complete the Graduate Student MePLUS Mentor Application. Secondary school students interested in participating in the MePLUS program can complete the Hamilton High School Student Application.