McMaster student, recent grads win Hamilton Environmentalists of the Year Awards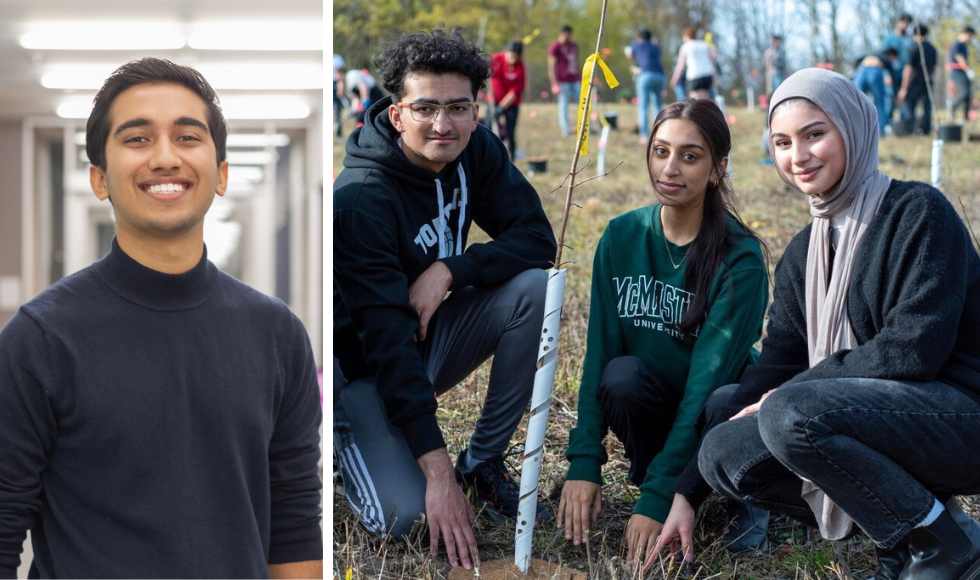 (From left to right: McMaster student Armaan Kotadia, and recent graduates Abdullah Mumtaz, Herleen Sambhi and Sama Hameed have been recognized for their contributions to the environment by the Hamilton Environmentalists of the Year Awards. Photos courtesy Armaan Kotadia and Peter Rukavina/McMaster University).
---
A McMaster student and three recent graduates have been recognized for their efforts to address environmental and sustainability challenges in our local community.
Fourth-year Bachelor of Health Sciences (BHSc) student Armaan Kotadia and three recent McMaster graduates, Herleen Sambhi, Abdullah Mumtaz and Sama Hameed, are the winners in two new youth award categories recently given out at the Hamilton Environmentalists of the Year Awards.
Kotadia won the Adam Chiaravalle Post-Secondary Youth Conservation Award, while Sambi, Mumtaz and Hameed together won the Youth Eco Project Award.
Established in 1979, the Hamilton Environmentalists of the Year (EOY) Awards recognize individuals and groups who have made a significant contribution to the protection and/or enhancement of the environment in the City of Hamilton.
The awards were put on pause during the pandemic but returned this year with the ceremony being held in the L.R. Wilson Concert Hall on October 27th.
"We were honoured to host the Hamilton Environmentalist of the Year awards 2023 at McMaster," says Nature at McMaster's Wayne Terryberry, an organizing committee member for this year's awards.
"The event was a tremendous success, with 10 award winners in various categories, all of whom are true environmental heroes. Several of the award winners have McMaster connections — a strong testament to the importance of environmental action to the McMaster community," says Terryberry, who is a past EOY award winner himself.
An exceptional leader in sustainability at McMaster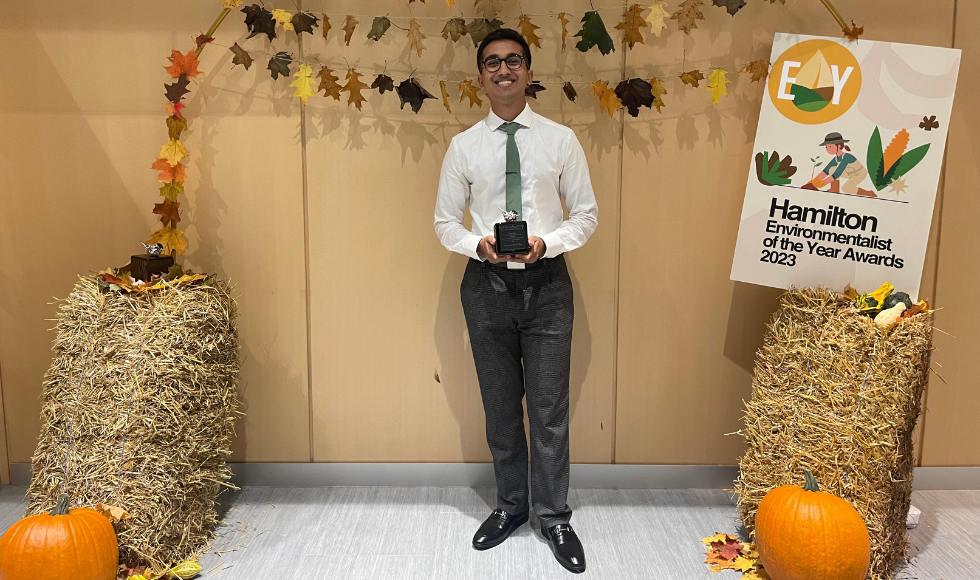 Kotadia says winning the Adam Chiaravalle Post-Secondary Youth Conservation Award is a highlight of his university experience and that he feels humbled to have been named the recipient of an award so deeply aligned with his values.
"I feel extremely grateful to live in a community where awards like this exist," says Kotadia.
The BHSc student, who has spent over 700 hours as a teaching assistant in the Sustainable Future Program (SUSTAIN), was honoured for his leadership both inside and outside the classroom.
The McMaster student has been involved in the Student Sustainability Ambassadors Program, the TEDxMcMasterU Conference and volunteered with various on-campus environmental initiatives from tree plantings to electronic waste donation drives.
And while his name may be the one on the award, Kotadia is quick to point to the mentors who have helped influence his academic and professional pursuits during his time at McMaster.
"This award is not just a personal achievement but a testament to the collective effort and shared vision of all those who have been part of this journey," says Kotadia.
His advice to other students looking to make positive, sustainable change?
"Remember that sustainability is a collective effort, and your contribution, no matter the size, is immensely valuable to our community. Together, we can drive the change we wish to see in the world!
Growing the McMaster Carbon Sink Forest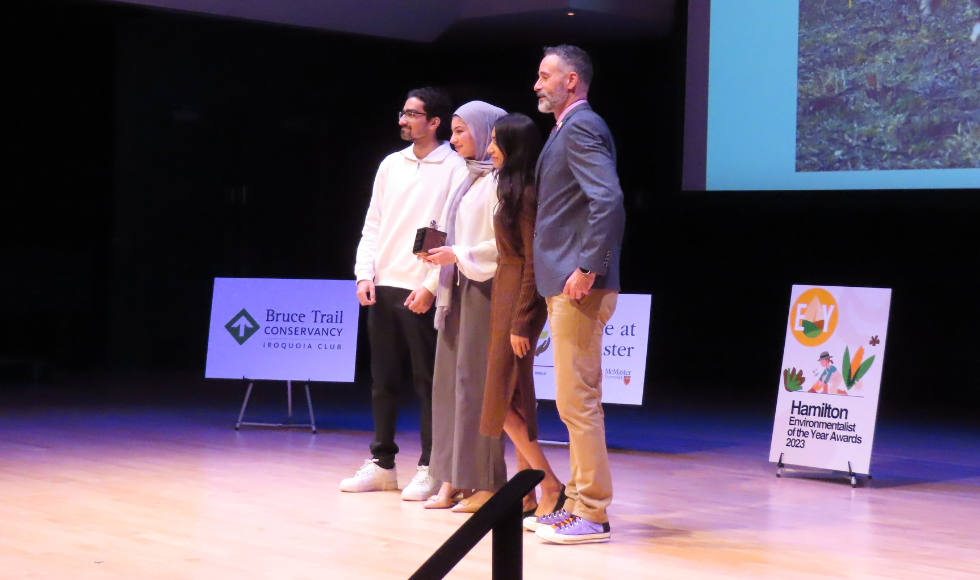 Recent McMaster graduates Herleen Sambhi, Abdullah Mumtaz and Sama Hameed were honoured for their leadership in a project that saw the planting of 300 trees in the McMaster Carbon Sink Forest — a forest that absorbs more carbon than it releases.
The trio built upon previous tree planting collaborations between university leaders and community partners, and also used the opportunity to educate and engage community members.
"While this particular tree planting initiative started as a project in the SUSTAIN 3S03 – Implementing Sustainable Change course, it grew it into something much bigger," says Kate Whalen, the Associate Director of the Academic Sustainability Programs Office.
"These students and their collaborators from the McMaster Centre for Climate Change, Nature at McMaster, and Trees for Hamilton turned the project into a community-wide initiative that saw 125 people participate. This is a true example of the power of collective action."
The planting of the 300 trees was one of four planting events that saw a total of 1,000 trees planted at the site. The forest, which is growing on a one-hectare plot beside McMaster Forest lands in west Hamilton, continues to serve as a research project, demonstration site and outdoor classroom for students across the university.
"This project will not only benefit our environment going forward, but I am confident it will also serve as an inspiration to other students at McMaster that our actions can have a huge impact in our community and globally," says Whalen.
Adam Chiaravalle Post-Secondary Youth Conservation Award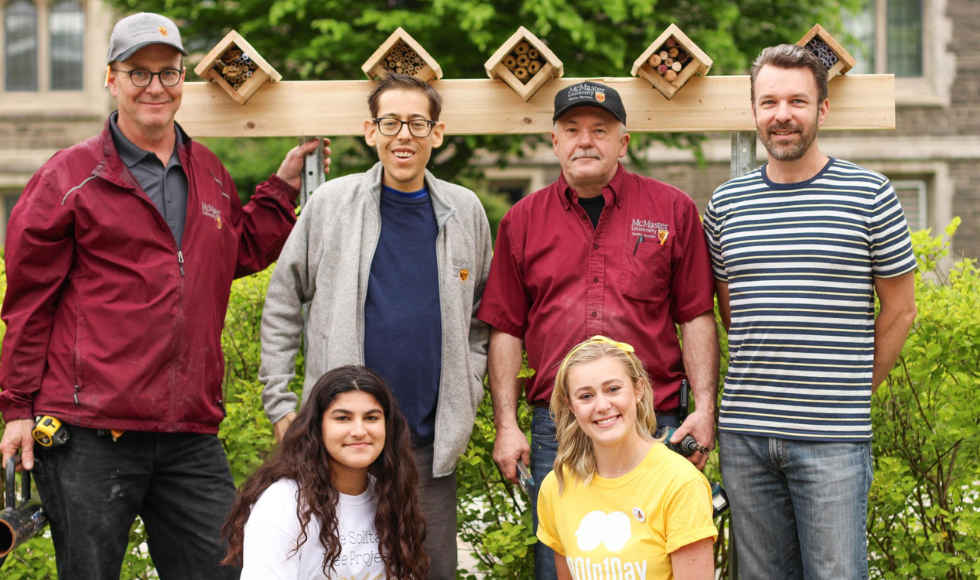 The Hamilton Environmentalists of the Year Awards' new Post-Secondary Youth Conservation Award is named in honour of Adam Chiaravalle, a McMaster graduate who left an indelible impression on the campus community.
During his time at McMaster, Chiaravalle was integral to several sustainability initiatives, including the McMaster Community Garden, the McMaster Community Bee Project and the Stinson neighbourhood community garden in Hamilton.
The political science major, who graduated in 2017 with a minor in sustainability, passed away in 2020 at the age of 26.
The McMaster graduate is fondly remembered for his eagerness to inspire and teach everyone he met about how to make McMaster and Hamilton better and a more sustainable community.
At the time of Chiaravalle's passing in 2020, Dave Heidebrecht, then the manager of McMaster's Office of Community Engagement said, "anyone honoured enough to have met him was better off. His infectious positivity will live on through the many people he touched with his actions and commitment to a sustainable planet."