McMaster Student Affairs appoints inaugural Manager of Black Student Success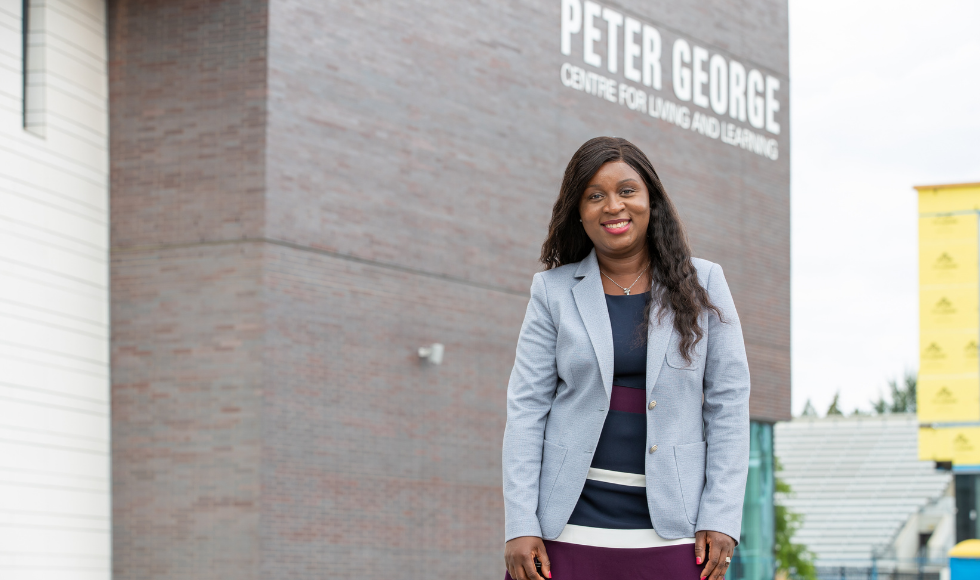 Faith Ogunkoya, Manager of Black Student Success, will help build a centre where self-identified Black students, regardless of program or level of study, can build community and receive advice and support. (Photo: Georgia Kirkos)
---
Student Affairs has appointed Faith Ogunkoya as the inaugural Manager of Black Student Success. In this role, she will help build the Black Student Success Centre — a space where self-identified Black students, regardless of program or level of study, can build community and receive advice and support.
"We are so pleased to welcome Faith to the team" says Clare Warner, senior advisor for equity, inclusion and anti-racism within Student Affairs. "Her long-standing commitment to student success and equity will be a tremendous asset as we build out the centre."
Over the past five years, Ogunkoya has fostered strong relationships at McMaster through a range of career development and strategic management positions within the Faculty of Science, the Student Success Centre and the Registrar's Office. Prior to joining McMaster, Ogunkoya spearheaded career management and student service initiatives at the University of Greenwich in the UK and Mohawk College.
Consistently working to spotlight Black Excellence, she played a pivotal role in the recent formation of the Black Student Association at McMaster and co-authored the Black Excellence Strategy document with the executive team of the African Caribbean Faculty Association of McMaster (ACFAM) in response to the murder of George Floyd in 2020.
Her work with the centre will start online at first and, as provincial and public health guidelines allow, will eventually open up in-person activities in room M07 of the Peter George Living and Learning Centre (PGCLL).
Ogunkoya says she is passionate about the centre's mandate and looks forward to working with students to implement their ideas.
"Programming that sets students up for success also boosts a sense of belonging," says Ogunkoya. "It's important that we give students that sense of ownership because we're building this space with them."
The centre is part of a five-point action plan that followed the university's review of the Black student-athlete experience in October 2020. Although the review was pivotal in creating this service, Warner stresses that the centre builds on the advocacy work of generations of Black faculty, students and staff.
"It's important to acknowledge the activism of Black students, staff and faculty at McMaster which long predates the report. We're always standing on people's shoulders who were brave before we were brave," says Warner.
As a first step in co-creating the centre alongside students, Warner and Ogunkoya are working with McMaster student and editor of Pitch magazine Angelo Grant to fill the space with artwork celebrating Black expression and creativity.
Ogunkoya says the collaboration with Grant is just the beginning.
"It's all about building community and creating opportunities for our students and their work to be highlighted and celebrated," she says. "We look forward to creating a space where more of these amazing student-led workshops, sessions and ideas can flourish."
—
If you have questions about the centre or would like to get involved, please email bss@mcmaster.ca.