McMaster staff recognized with President's Awards for Outstanding Service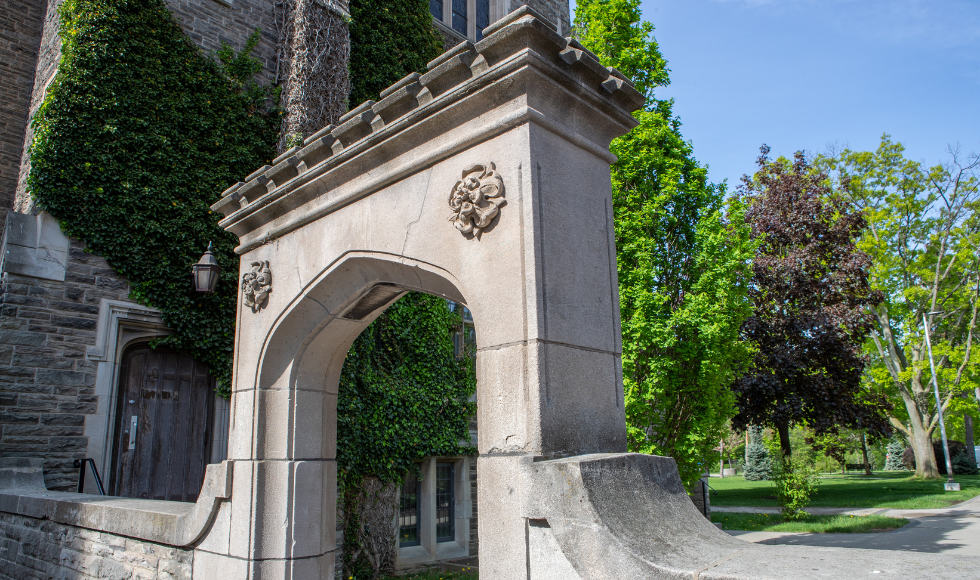 The President's Awards for Outstanding Service are an annual recognition of employees or groups of employees who have made an outstanding contribution to our community.
---
Staff from across McMaster University who have gone above and beyond in their roles were recently recognized with President's Awards for Outstanding Service.
Recipients of these awards, handed out in a ceremony on June 1st, were nominated for their exceptional service to staff, faculty, students, alumni, donors or visitors. 
The annual awards also recognize contributions that improve the efficiency and effectiveness of university operations, or positively impact the reputation of McMaster. 
Read more about the award recipients below: 
---
Individual Award Recipients
---
Krzysztof Adamczyk
Senior Systems Administrator, Department of Family Medicine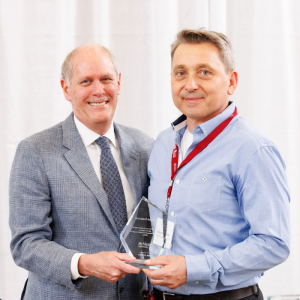 Krzysztof Adamczyk (Kris) has led the Department of Family Medicine's Information Technology team since 2006. Adamczyk has made significant contributions to OSCAR, one of the leading electronic medical records (EMR) systems in Canada, and his work played a major part in attaining a key certification for OSCAR.
Adamczyk was also at the forefront of designing a new Faculty Relationship Management database which has been implemented across the Faculty of Health Sciences. During the pandemic, Adamczyk was a key contributor to shifting the resident interview and selection process from an in-person approach to one that was fully virtual. He generously supports medical clinics in developing countries, working to design, implement and maintain EMR software and IT systems. 
---
Lindsay Bolan
Director, Outreach and Community Engagement, Faculty of Engineering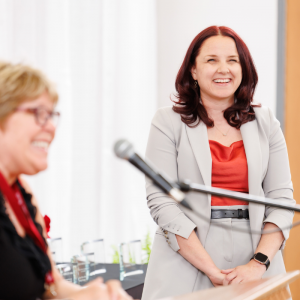 Lindsay Bolan started her career at McMaster in 2012. She eventually moved to the Faculty of Engineering, becoming the director of outreach and community engagement in 2021. She restructured the department and built a high-performing team, overseeing a website rebuild while working to enhance the faculty's brand and recruitment. She is also responsible for expanding the Engineering Co-op and Career Services unit.
Bolan has assisted the Engineering Alumni Relations team in developing several awards programs and initiatives aimed at enhancing the connection between Engineering alumni and students. Her team has launched and supported several successful programs within the university and the community. 
---
Omar Danta
Facilities Manager, W. Booth School of Engineering Practice and Technology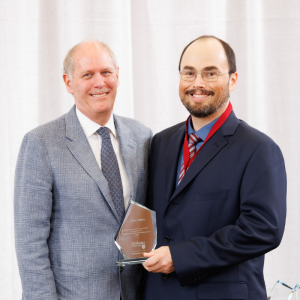 Omar Danta has been the facilities manager of the W. Booth School of Engineering Practice and Technology since 2014. He leads the team that manages and maintains the computer and IT facilities within the computing labs in the Engineering Technology Building (ETB), McMaster Automotive Research Centre and the Learning Factory.
In addition, Danta is responsible for transforming several labs in ETB, setting up the facilities for the new biomanufacturing graduate program and implementing enhancements to accommodate students with hearing impairments. He has also been recognized for facilitating the curbside pickup of equipment for online teaching and providing solutions that allowed instructors to stay on Microsoft Teams while moving through the lab during the pandemic.   
---
Mary Kiriakopoulos
Executive Assistant, Office of the Dean and Vice-President, Faculty of Health Sciences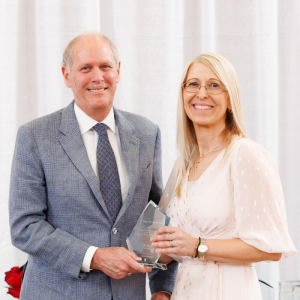 Mary Kiriakopoulos started her McMaster career in the Department of Pathology before moving to the Office of the Dean of the Faculty of Science. She became the executive assistant in the Office of the Assistant Vice-President of Health Sciences in 2019.
Kiriakopoulos developed a system for tracking the elements of complex initiatives and projects. She is recognized for helping new employees acclimatize and succeed in their positions.
Kiriakopoulos is also well-known for her ability to establish strong relationships with visiting scholars and dignitaries. 
---
Lina Liu
Research Engineer, Department of Chemical Engineering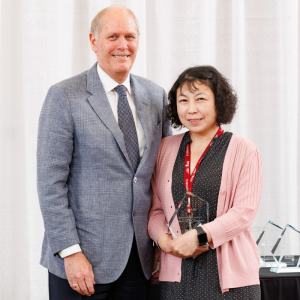 Lina Liu has been with the Department of Chemical Engineering since 2004. Not only is she a research engineer in one of the world's leading ophthalmic laboratories, she also works closely with students while developing new research methods.
Liu has been recognized for her work with students, winning the McMaster Graduate Students Association Award for Contributions by Non-Academic Staff in 2009. Throughout the pandemic, she worked on research projects to support COVID-19 mitigation efforts and led the collection and donation of personal protective equipment.
She also supports organizations such as Cycle for Sight and Fighting Blindness Canada. 
---
Christopher Neill
Gardener, Grounds Department of Facility Services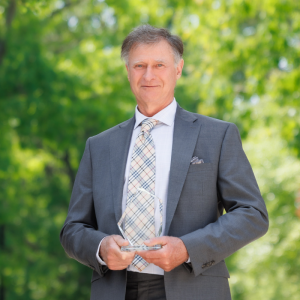 Christopher Neill works as a gardener with the Grounds Department of Facility Services. He maintains the grounds around the McMaster campus, responsible for planting trees and shrubs, servicing machinery and monitoring the growth of horticultural areas.
Neill is also a part of the essential service team for all winter-related operations and contributes to sub-teams of the Grounds Department whenever possible. He is recognized for his leadership and work with summer students.
Neill regularly attends horticultural certificate courses to enrich his work and implements his knowledge around campus. His new approach to trimming large grass areas has improved the productivity of the Grounds Department. 
---
Tracy Rerecich
Laboratory Technician, Department of Biology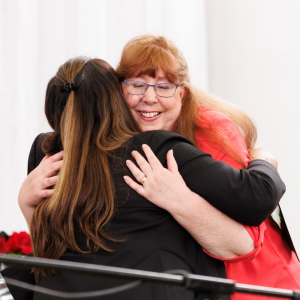 Tracy Rerecich has worked at McMaster for nearly 30 years. She has been a laboratory technician in the Department of Biology since 2017.
Rerecich plays a large role in facilitating the lab component of BIO 1A03 – Cellular and Molecular Biology, being responsible for setting up the lab, testing experiments, anticipating roadblocks and training teaching assistants.
Rerecich is known for accommodating students by opening the lab an extra day a week to allow them to re-do exercises, assisting in their overall success. She co-chairs the Joint Health and Safety committee for the Faculty of Science. During the pandemic, she worked with the BIO 1A03 team to develop at-home lab kits. She also developed videos to guide students through the experiments at home. 
---
Steven Spencer
Instructional Facilities Engineer, Department of Electrical and Computer Engineering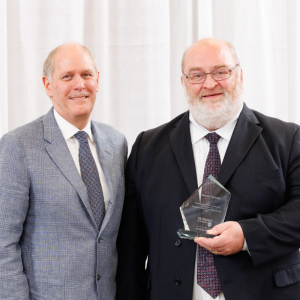 Steven Spencer has worked in the Department of Electrical and Computer Engineering for 40 years. He supervises 14 undergraduate labs that accommodate more than 1,000 students annually.
Spencer is also responsible for implementing new computer systems, training staff and students on these systems and solving challenges as they arise.
Throughout his career, Spencer has written several successful and useful programs for the Faculty of Engineering. 
---
Early Achievement Award Recipient
---
Abbie Little
Community Engagement Coordinator, Faculty of Engineering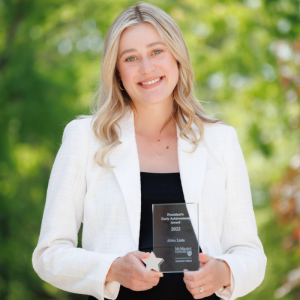 Abbie Little began her permanent role with the Academic Sustainability Programs Office in 2021. She manages the Interdisciplinary Minor in Sustainability Student Committee that she founded in 2018, as well as the Sustainability Ambassadors Program.
Little is involved in McMaster's Centre for Climate Change, Nature at McMaster and Trees for Hamilton, working to develop McMaster's Carbon Sink Forest.
She also helped launch a student proposal for a community fridge on campus. She is recognized as a key leader in the development of the resource "Implementing a Community Fridge: A Guidebook for Campuses."
---
Team Award Recipients
---
Bring Your Own Bottle (BYOB) Working Group

Launched in January 2022, the Bring Your Own Bottle (BYOB) Working Group is committed to promoting water bottle refilling on campus.
BYOB reports to the McMaster Okanagan Committee and the McMaster Sustainability Advisory Committee.
The team has secured funding through the McMaster Okanagan Special Projects Fund. They have created a website, an interactive map with more than 200 refill stations, signage, and communications programs to promote the initiative. The BYOB team is always looking for feedback along with ways to improve the quality and impact of the system. They are engaged in student initiatives that create experiential learning opportunities.  
---
The Buttery Team

Located in Alumni Memorial Hall, The Buttery opened in 2022. The restaurant team provides their guests with a fine dining experience while honouring McMaster history.
The Buttery team employed several sustainability tactics, including using upcycled furniture in the restaurant, managing a kitchen garden and featuring beverages from local companies.
Positive reviews and strong event dining has resulted in high operating revenues. The Buttery also provides Hospitality Services staff with valuable culinary experiences.