McMaster signs MOUs with some of China's leading universities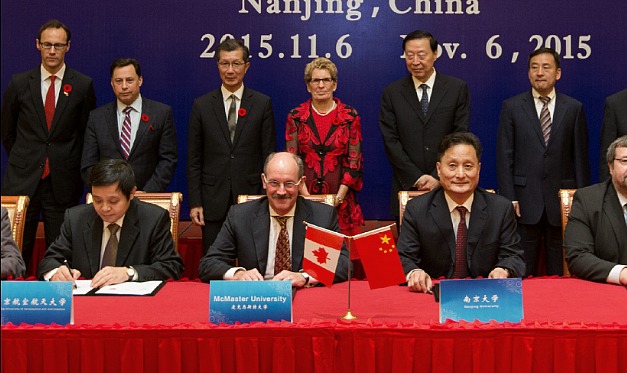 Peter Mascher, McMaster's AVP International (front row centre) delivered remarks at a summit in Nanjing, China to celebrate and expand research and academic partnerships between Ontario and Jiangsu Province. Ontario Premier Kathleen Wynne (back row centre) co-chaired the meeting.
---
McMaster University has entered into memoranda of understanding with some of China's leading universities while at a research and development summit held earlier this month in Nanjing, China.
The summit, which was co-chaired by Ontario Premier Kathleen Wynne and Jiangsu Province party secretary Luo Zhijun, included representatives from the Jiangsu Province Department of Education, the presidents of several leading universities in China and a delegation from the Council of Ontario Universities (COU).
During the event, Peter Mascher, McMaster's Associate Vice-President International, was invited to represent Ontario's research-intensive universities as part of the COU delegation. McMaster University executed three memoranda of understanding (MOU) on academic and research co-operation with Chinese institutions including Nanjing University, Nanjing University of Aeronautics and Astronautics and Nanjing University of Science and Technology. Peter Mascher also met with Zhu Xiulin, president of Soochow University, a long-standing partner of McMaster.
The MOUs are broad based arrangements which help facilitate our partners' access to their government's funding mechanisms. These current arrangements encompass a number of disciplines and are aimed at exploring the joint development of research projects, faculty and staff exchanges, the development of summer research internships, and of student mobility programs at the undergraduate and graduate level.
"High profile, collaborative missions such as this recent effort help build partnerships and play a contributing supportive role in McMaster's global efforts," says Mascher. "They lay the groundwork for the training of the next generation of scholars and create a research framework for advancing new knowledge and new applications. I am confident these collaborative arrangements will lead to expanded opportunities for students and researchers both at McMaster and at our partner institutions."
While in China, Peter Mascher also had the opportunity to renew McMaster's commitment with the University of Science and Technology Beijing, and met with representatives from Shanghai Jiao Tong University and their Medical School to explore ways to expand research and academic partnerships. Both USTB and SJTU are long standing valued partners of McMaster University.