McMaster scientists and local artists team up for innovative exhibition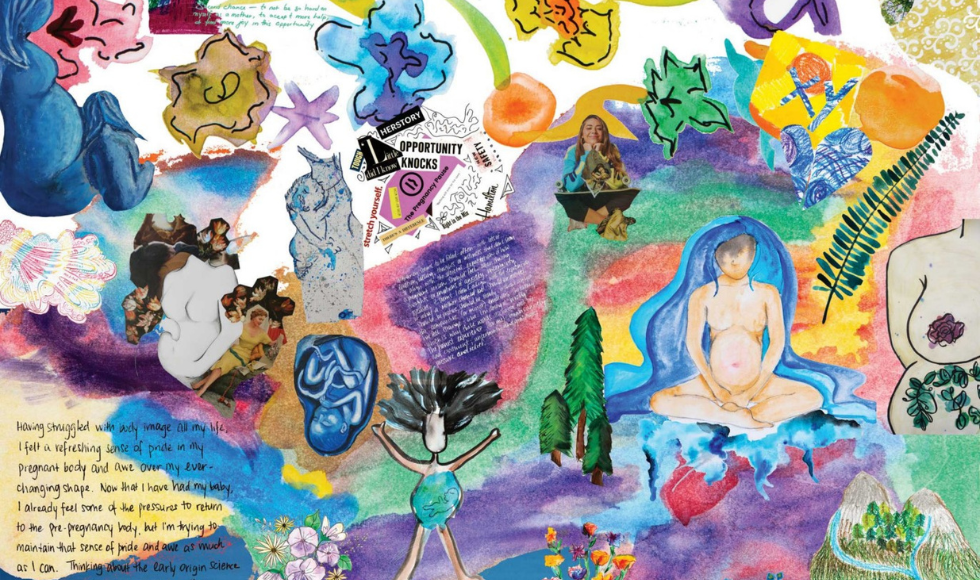 Artist Vanessa Crosbie Ramsay composed a collage of artwork created by pregnant participants in the Art of Creation art workshops and focus groups. (Art of Creation image)
---
A unique, interactive art exhibition created by Hamilton artists and McMaster scientists is designed to help people understand the importance of investing in new parents' health during and even before pregnancy.
The Art of Creation Project exhibition, exploring the biology behind the importance of a healthy start to life, opens Sept. 14 at the Art Gallery of Hamilton.
"We want to improve the health of our communities by using the powerful experience of visual art, dance and music to foster discussions among policy makers and the public about how our environment impacts health," says project lead Deborah Sloboda, a professor in the department of Biochemistry and Biomedical Sciences.
The project is the result of a unique partnership between McMaster and the Art Gallery of Hamilton that included art education and focus groups with pregnant individuals.
In a true "art meets science" endeavour, professional artists created art messages based on the biology of pregnancy health. These art pieces, among others, form the basis of the exhibition at the gallery.
"Exploring ways to take scientific concepts beyond the walls of academia and make it creatively accessible and engaging to the general public has been a fascinating adventure," says Sara Dickinson, the gallery's interim head of programming and community engagement.
McMaster alumni artists featured
The exhibition features seven local artists who created visual art, dance and spoken-word works after spending time in Sloboda's lab, where they asked questions and observed scientists leading research on early origins science.
Three of the artists —Vanessa Crosbie Ramsay, Jill Letten and Ravinder Ruprai — are McMaster alumni.
"Each artist thoughtfully captured their learning experience in the Sloboda Lab, and we're really looking forward to sharing this with the public," Dickinson says.
Ruprai used microscopic slides to produce visual art for the exhibition. "I am fascinated by the body," she shared on Instagram. "Three of the five panels explore my curiosity with red blood cells and the vital oxygen they carry to every part of the body."
The Art of Creation exhibit also includes artwork by local residents who engaged in art workshops during their pregnancy. Each participant attended six art workshops led by Cornelia Peckart, a local artist and arts educator at the gallery. Art of Creation project team member Jordan Chin facilitated conversations about pregnancy health and what it is like to be pregnant.
The Art of Creation project is funded by the New Frontiers in Research Fund and supported by the McMaster University Provost, and the faculties of Health Sciences and Social Sciences. Using a social sciences lens and engaging with community groups like the Hamilton YWCA and Hamilton Public Health Services is an important aspect of the research, says team member Tina Moffat, an associate professor of anthropology.
early origins science
Early origins science explains a crucial idea: The way parents live affects their health and, in turn, their children's health and future well-being. Environmental factors like diet, stressors or pollution impact parents during key life stages — adolescence, pregnancy and early parenthood — shaping their children's (and even grandchildren's) long-term health and risk of disease.
For example, mothers' and fathers' stress levels, diet and other factors prior to and during pregnancy can impact their children's risk of developing diseases like Type 2 diabetes or obesity when they grow up.
Supporting parental access to good food, clean air, housing, and health services, just before and during pregnancy could improve children's health and lower their chances of diseases later in adult life.
"It's our obligation as scientists to ensure that our research findings reach people in ways they can understand," says Sloboda. "Art is a new way to share the science behind the early-life factors that affect the next generation."
However, it's important to view early origins research findings in the context of community health, rather than placing the burden on pregnant people, many of whom may be disproportionately affected by systemic barriers like food insecurity, lack of affordable housing or health services, and racism, she says.
"The health of the next generation is a community issue; we have an obligation to ensure that people have what they need to be healthy before and during pregnancy. It's our responsibility as a community to make sure everyone has a healthy start to life."
Sloboda hopes the exhibition will inspire scientists to consider collaborating with cultural institutions to translate their own science to the public.
"Arts-based messaging can be used on a global scale. Everyone has communities that need to understand complex ideas in a manner that is accessible."
"It's going to take a long time to change culture around scientific communication, so it needs to start now."
The Art of Creation Exhibition launches with a free opening ceremony open to the public, on Sept. 14, and runs until the end of November.
McMaster Chancellor and alumna Santee Smith, a multidisciplinary artist and artistic director of Kaha:wi Dance Theatre, will speak at the opening. Smith is from the Kahnyen'kehàka Nation, Turtle Clan, Six Nations of the Grand River, Haldimand Treaty territory.
Follow  The Art of Creation and the Sloboda Lab on Instagram to learn more.