McMaster graduate student part of winning team at international innovation challenge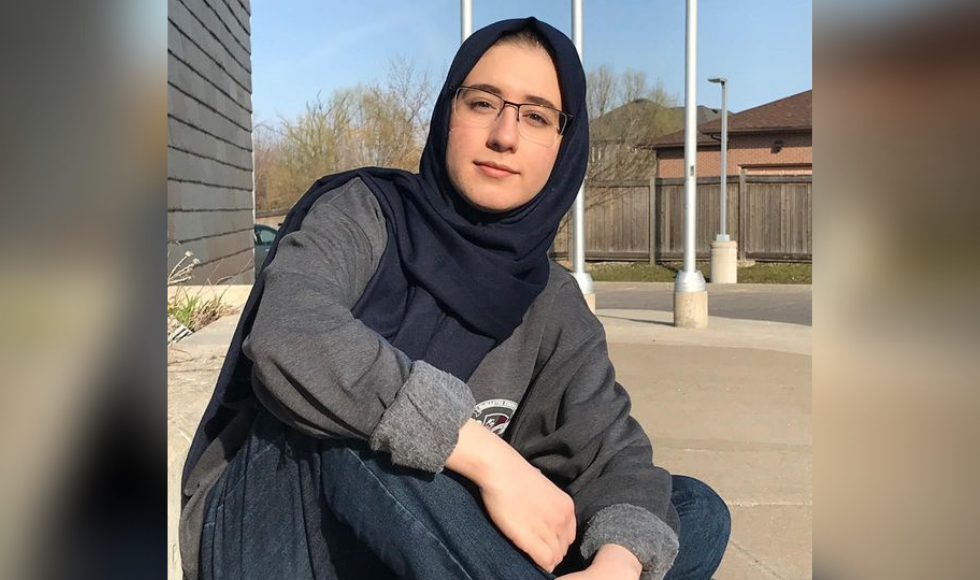 Sarah Arsalan, a master's student in the department of kinesiology, was part of the winning team in the 2022 U21 and PwC Innovation Challenge. The competition is designed to encourage international collaboration and networking between students across borders and allows them to work together on real-world challenges. (Photo courtesy Sarah Arsalan).
---
A McMaster graduate student is part of this year's winning team in the Universitas 21 (U21) and PwC Innovation Challenge — a global competition that aims to bring together bright young minds from around the world to tackle some of society's biggest challenges. 
Sarah Arsalan, a first-year master's student in the department of kinesiology — along with three other graduate students from around the world — impressed the judges with a creative and insightful response to this year's challenge question, which asked participants to evaluate the extent to which they thought governments should support the private sector in addressing environmental and societal concerns. 
The U21 PwC competition is managed by the Office of International Affairs at McMaster University. McMaster is a member of U21, a unique global network that brings together 28 world-leading, research-intensive universities who share a common belief in the value of collaboration and internationalization. 
We spoke to Arsalan about taking on the challenge and what she learned through the global networking opportunity.  
This interview had been edited for length and clarity.  
---
What prompted you to get involved with the U21 and PwC Innovation Challenge? 
Arsalan: I think it was the academic program assistant for graduate studies in kinesiology who shared it with us as an opportunity that we could get involved in. And I'm very interested in the humanities. Right now, I'm a first-year master's student in kinesiology, and I did my undergrad in kinesiology at Mac as well. While I was pursuing my undergrad, I did a lot of philosophy courses and I pursued a certificate in applied ethics and policy. And that policy bit, I thought it was really interesting. And it can apply in many different areas — climate change is just one of the areas. So, it is a personal area of interest. It doesn't have anything to do with kinesiology, but I thought it would be really fun and interesting, so I thought, 'why not?' 
What did you think of this year's challenge question: "To what extent should governments support the private sector in managing and prioritizing their Environmental, Societal and Governance agenda?" 
I thought it was relevant. You hear about it in the news a lot and it seems like people are becoming a bit disillusioned with how the trajectory of climate change is going. I think previously there was a focus on what you can do on an individual level, but now people are realizing that that's not nearly enough — something has to be done at a systemic level, and on the level of government regulation and government involvement to stop corporations from exploiting the environment. It makes sense at a time like this that we're seeing this interest, and I'm glad to see it implemented at the level of a contest for graduate students because I think it brings together so many different opinions and ideas. 
How did your time at McMaster prepare you to take on this challenge? 
One of the things that really amazed me when I came to McMaster is the level of student involvement in extracurriculars — there are an unbelievable amount of clubs. The thing I got involved in the most when I was an undergrad was the debate club. And so, as a part of the club, we got to debate a lot of different topics. A lot of the topics that we would pick would be stuff we heard in the news — topical stuff, relevant stuff. We also arranged to go to tournaments at other universities. It was a really good environment to develop your network, your public speaking abilities and your interests in different areas. 
What was it like working as part of a group with other students from around the world?   
It was me and three other students from the Universities of Melbourne and Connecticut, and the National University of Singapore — so spanning over a number of different time zones. So we had to figure out what platform worked for us and then find a good time to work. Once that was settled, it actually proceeded really smoothly, and it felt like a very equal partnership.  
We agreed that the first thing we were going to do was read about the topic as much as possible and then come together to gather our ideas. People were dissecting and critiquing my ideas, and I was doing that for them and it felt like a productive space. And in the end we arrived at something that we were all happy with. 
Why do you think your group won?  
We tried to think of the perspectives of different stakeholders and basically present practical solutions based on that. Because you're dealing with the government, you're dealing with corporations, and then you're dealing with the effect on people in general, whatever solution you come up with has to be sensitive to so many different factors and you have present realistic, not idealistic, solutions.  
What did you learn about yourself in this process?  
I think I gained more confidence in my ability to work in a team, especially an international team like that with different perspectives. We were still able to work together. So that gave me a bit of a confidence boost. 
Any advice to students considering taking part in the U21 and PwC Innovation Challenge? 
It's just a really fun opportunity, and even if you don't end up winning, you'll still learn a lot. You'll still expand your network, you'll gain new skills, you'll gain perspective on an important global issue. So, I don't think there's anything to lose. I think it's a fantastic opportunity and I hope like every grad student gives it a shot. 
---
Read more about the Universitas 21 (U21) and PwC Innovation Challenge here.