McMaster researchers share global impact of their work in Queen's Baton Relay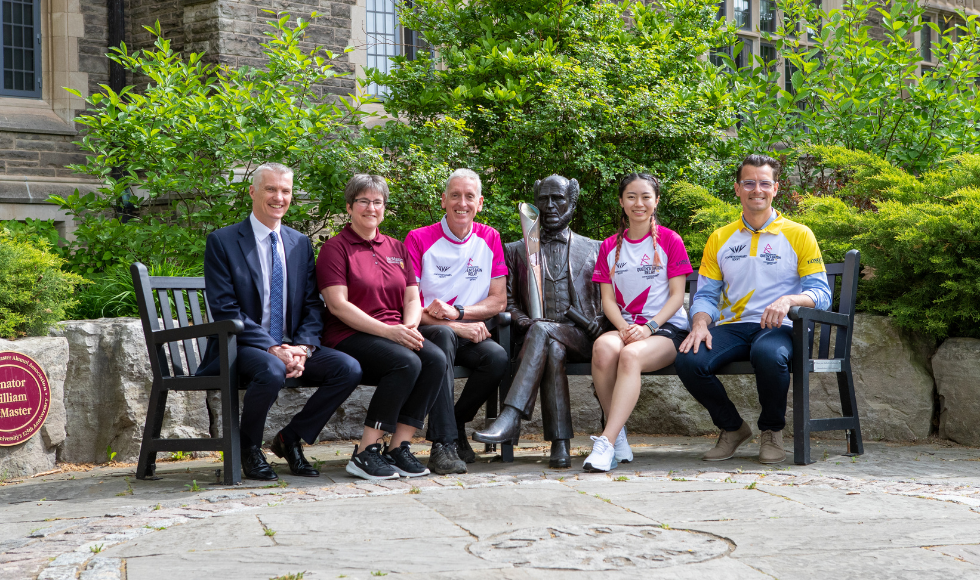 University of Birmingham and McMaster University community members kick off the Queen's Baton Relay. From left to right: University of Birmingham Provost and Vice-Principal Tim Jones; McMaster Vice-President of Research Karen Mossman; Mike West, local physician and Olympic and Commonwealth medal-winning swimmer; first-year McMaster student and badminton star Jeslyn Chow; and Olympian and Member of Parliament Adam van Koeverden.
---
Ahead of the Birmingham 2022 Commonwealth Games, McMaster welcomed the Queen's Baton Relay and a delegation from the University of Birmingham — the educational partner of the Games — to campus this week.
The Baton, which has a high-tech core that analyzes atmospheric and environmental conditions, passed through the hands of researchers at several research locations across McMaster's campus on May 26.
The relay, which featured both athletes and researchers, highlighted the potential for meaningful partnerships between the universities in shared areas of research, and the power of sport to unite. Athletes served as baton bearers, carrying the Queen's Baton to various research stops around McMaster's main campus.
"This is a wonderful opportunity for researchers from both universities to connect and further collaborations around aging, infectious disease, sustainability and other global challenges," said McMaster Vice-President of Research, Karen Mossman.
"Having the Queen's Baton here today is just a great way to use sport as a mechanism to bring us all together as a global community."
Learn more about research highlights from the Queen's Baton Relay below
---
Mike Waddington on protecting water resources

The first research stop on the relay featured Mike Waddington, McMaster water expert and Canada Research Chair (Tier 1) in Ecohydrology.
Waddington spoke of the need to protect precious water resources in the face of climate change.
"McMaster is an international leader in water research and we study the interactions of water and ecosystems. Climate change is manifested through an amplification of the water cycle, so stronger floods, more extreme wildfires, stronger droughts and that has big implications for many of the UN Sustainable Development Goals," said Waddington.

"What we're doing here at McMaster is leveraging our expertise and long-term monitoring and understanding of how floods are being altered and how we can better predict fires and floods. We're trying to better develop tools to prepare Canadians for that impending danger."
---
Erica Dao on nuclear research and innovation
Erica Dao, PhD student in the department of Physics and Astronomy and tour guide for the McMaster Nuclear Reactor, spoke at the next relay stop.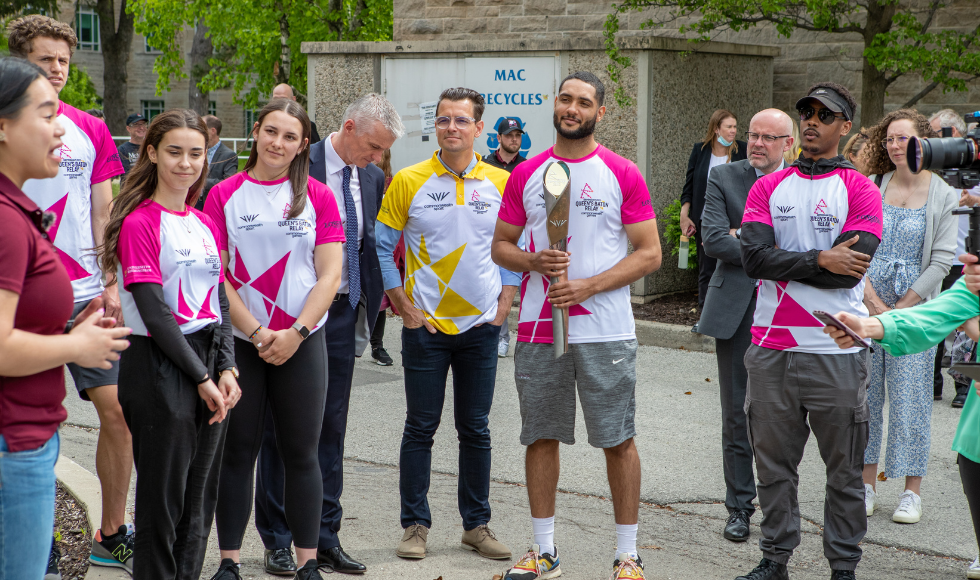 McMaster is home to the largest research reactor in Canada and the first in the British Commonwealth. The reactor is also one of the primary producers worldwide of isotopes used in a variety of cancer treatments and other therapies.
"We tackle global challenges every day at the McMaster Nuclear Reactor," said Erica Dao, PhD student in the department of Physics and Astronomy and tour guide for the McMaster Nuclear Reactor.

"One area of research I am really excited about is McMaster's role in small modular reactor research, development and training. The main benefit of SMRs is that they produce emissions-free electrical power generation for remote or off-grid communities."
---
Gerry Wright on infectious disease research
The Baton was next carried to the Michael G. DeGroote Centre for Learning and Discovery and home to much of McMaster's cutting-edge research in infectious disease.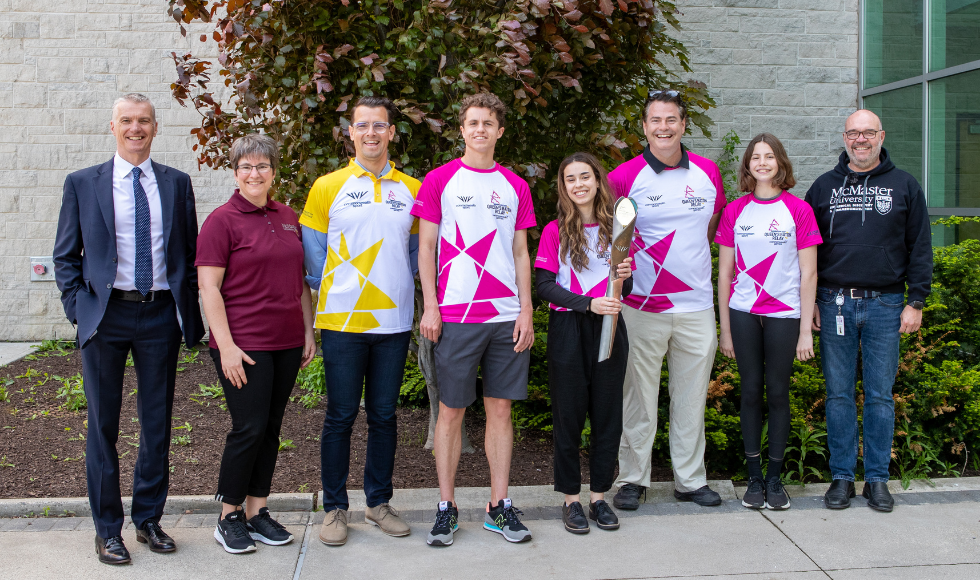 Gerry Wright, Scientific Director of the Michael G. DeGroote Institute for Infectious Disease Research (IIDR) and inaugural lead for Canada's Global Nexus for Pandemics and Biological Threats shared more about this work.
"The objective of the Nexus initiative is to combine and really pull together our response to large biological threats like pandemics. So, not only bringing biomedical advances forward, like developing new vaccines as we've done here, but also establishing their clinical usefulness and their impacts on society as a whole," said Wright.

"What we want to be able to do is create a community or an environment where we can respond to any new threats as they come through. And we know that they will, and so having us prepared to develop or to pursue these is essential for us to be successful in the future."
---
Maureen MacDonald on improving health and well-being of older adults
Maureen MacDonald, dean of the Faculty of Science and an athlete herself, next shared key research initiatives out of McMaster's Physical Activity Centre of Excellence (PACE), a state-of-the-art exercise research and training centre where researchers study — and work to improve — the health and well-being of older adults and people living with chronic diseases or disabilities.
"The longest standing PACE community program started 40 years ago in cardiac rehabilitation, and we've been monitoring and watching the progression of our participants in those. We can look back through the data and determine the fact that participants in our programs have a slower decline than participants that are measured who are not part of our programs," said MacDonald.

"One thing that is really unique about PACE is that we have over 200 undergraduate students involved in research and community programs, and volunteers in courses and in work placements."
---
"The relay is an excellent metaphor for the synergistic relationship between McMaster and our interdisciplinary partners worldwide, like the University of Birmingham," says Mossman.
"Together, we work to deliver research and impact in areas of mutual interest, and today was a great opportunity to see McMaster's campus and strengthen our capacity to tackle global challenges."
Click here to learn more about the Queen's Baton relay and related events.