McMaster researchers present work in the field of aging at MIRA and Labarge Research Day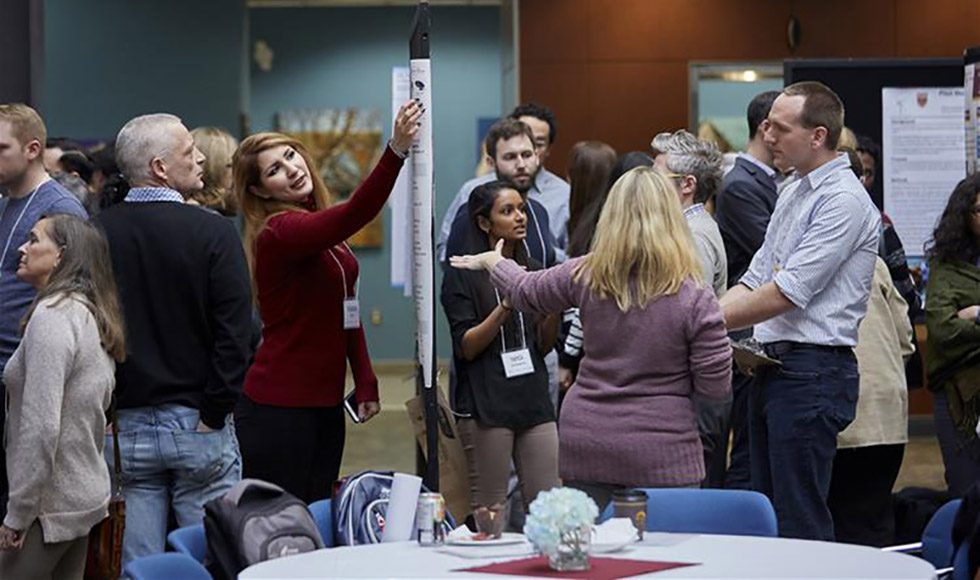 ---
In December 2017, the McMaster Institute for Research on Aging (MIRA) and the Labarge Centre for Mobility in Aging (LCMA) hosted the second annual MIRA and Labarge Research Day at the McMaster Innovation Park.
More than 80 students and researchers from multiple disciplines gathered to recognize McMaster University's contributions to the field of aging, as well as the generous donations of Chancellor Suzanne Labarge.
The event featured five updates on Labarge-funded projects and more than 35 poster presentations. Highlights included vehicle design innovations focused on an aging population, a communication toolbox designed to deliver research evidence to older adults and a pilot study on the use of dance for cognition and exercise.
"Seeing the quality and range of work, and the range of people doing it, is really inspiring," said Labarge, who has contributed $30 million to McMaster over several years in order to help stimulate and sustain aging research and knowledge translation.
"There is still a lot to do, but what's been done in the period of time I've been involved is incredible," she said.
For Judith Shedden, Associate Professor, Psychology, Neuroscience and Behaviour, Labarge funding was instrumental in directing her research from basic science to aging. She is collaborating with Martin von Mohrenschildt, an associate professor in the Faculty of Engineering to better understand multisensory changes as we age.
"This funding is helping us develop strategies for maintaining safe driving, mobility, and self-sufficiency for seniors," said Shedden. "It's completely changed how we are running our research."
For the first time during this event, a poster competition was held for trainees in the field of aging. All winners received an award certificate and gold winners received a cash prize.
Gold poster presentation awards went to the following recipients:
Undergraduate category: Thipiga Sivayoganathan for "Exploring Social Participation and Resilience among Older Adults in Hamilton"
Master's category: Rashik Ahmed for "A Molecular Mechanism for the EGCG-induced Toxic to Nontoxic Remodeling of the Alzheimer's Disease Amyloid Beta Oligomers"
PhD category: Justin Lee for "The HiCOSTT Study: Characterizing Healthcare Utilization and Medication Use in Older Adult High Cost Healthcare Users"
Post-doctoral category: Binod Neupane for "Optimal Combination of Complex Interventions for Pain and Physical Function in Hip or Knee Osteoarthritis."
The event closed with remarks from Suzanne Labarge; Susan Denburg, Associate Vice-President Academic, Faculty of Health Sciences; Parminder Raina, Scientific Director of the McMaster Institute for Research on Aging; and McMaster University's President, Patrick Deane.
"Establishing aging as a priority for McMaster has helped us focus our energies, leverage our infrastructure, develop new partnerships and gain national recognition for our strengths in important areas of aging research," said Deane, "and we are just getting started."