McMaster ranked among the top 70 universities worldwide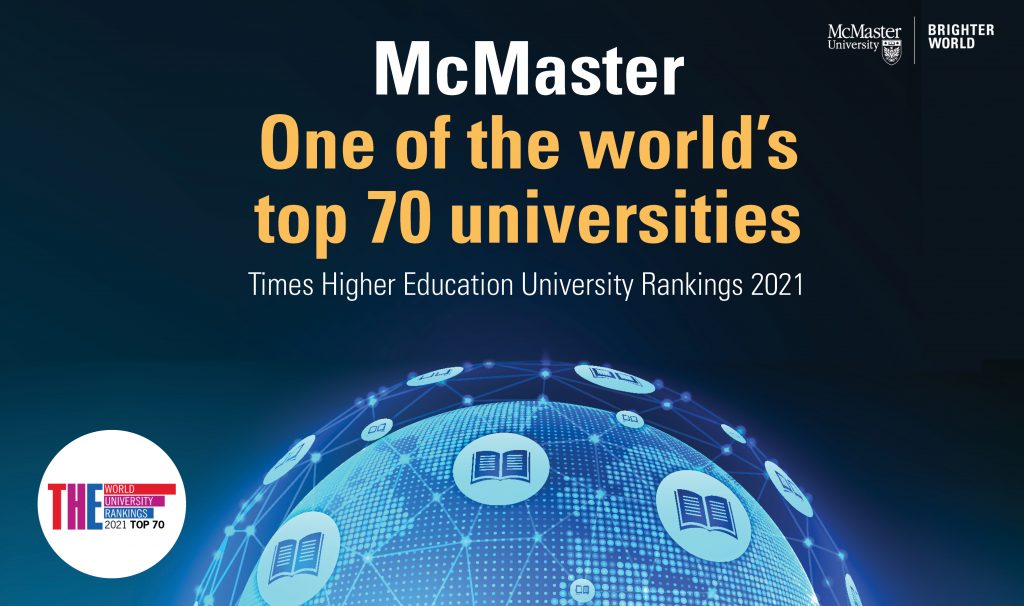 ---
McMaster has been named one of the top 70 universities in the world, according to an internationally influential ranking encompassing more than 1,500 institutions worldwide.
The university is ranked 69 in the 2021 Times Higher Education rankings released today, one of only four Canadian universities in the world's top 70.
McMaster's rank advanced three spots over last year, and continues the university's steady path of improvement, moving from 113 to 69 in just four years.
In a year dominated by the global COVID-19 pandemic, the qualities that have placed McMaster in the top 70 – especially its dedication to collaborative, impactful research – are more important than ever, says David Farrar, McMaster's president and vice-chancellor.
"The pandemic has reinforced the necessity of bringing research expertise together, working creatively and collaboratively to solve the biggest challenge of our time. That way of working is in the DNA of McMaster and it's had a tremendous impact on our institution's response to the crisis — at home and globally," he said.
Building on the institution's overall performance, McMaster's Clinical and Health programs is ranked 11th in the world, moving up from 26 in last year's rankings.
"This ranking demonstrates the strength of our innovative approach to health research and education at McMaster, which is what has anchored our place as global leaders," said Dr. Paul O'Byrne, dean and vice-president of the Faculty of Health Sciences. "McMaster is the home of evidence-based medicine, but it's our continual innovation that sets us apart."
McMaster ranked 79 globally in Life Sciences. Other subject areas, including engineering, physical sciences and social sciences, also experienced significant improvements.
McMaster was top-ranked in Canada in the areas of citation impact and industry income.
This year's Times Higher Education World Ranking measured the performance of 1,527 universities from 93 countries using a number of performance indicators in the areas of teaching, research, citations, international outlook and industry income.
The annual rankings are widely regarded around the world as a barometer of excellence in higher education.