McMaster projects will 'shock-proof' the future of Canadian industries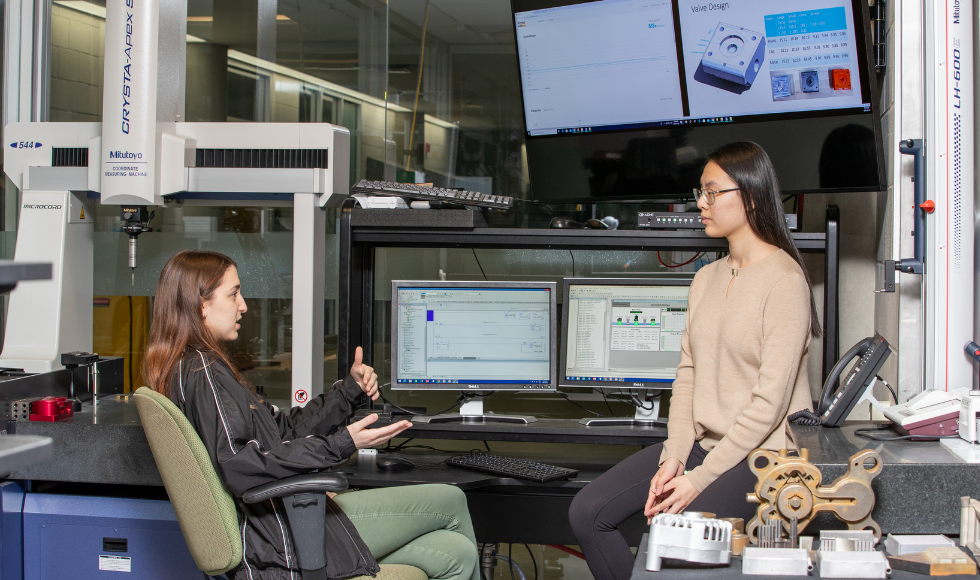 Funding from Canada's Future Skills Centre will help advance two innovative and skill-building McMaster projects. Photo by Georgia Kirkos.
---
How will the COVID-19 pandemic shape non-profit work? How might smart technologies improve a hospital patient's experience? What are the skills engineering students need to develop today to lead teams through a technology-driven revolution?
In an effort to address these questions and shock-proof the future of work across Canadian industries, the Future Skills Centre (FSC) has awarded more than $300,000 to a McMaster community partnership between the DeGroote School of Business and Faculty of Humanities, and more than $900,000 to the W Booth School of Engineering Practice & Technology.
These McMaster projects are two of 64 initiatives that are part of the FSC's "Shock-proofing the Future of Work" program, launched in response to the COVID-19 pandemic to encourage the creation of partnerships that will promote resilience in the face of potential future disruptions.
Launched in February 2019, the Future Skills Centre is the first pan-Canadian centre established at the federal level to focus on skills training. They work with more than 5,000 partners from many sectors across Canada and have invested more than $102 million in innovation projects in Canada.
Here's how this funding will help advance two McMaster initiatives.
Building social innovation through university partnerships
The joint partnership is a collaboration between McMaster's DeGroote School of Business, the Faculty of Humanities and the United Way of Halton and Hamilton. Leveraging the support and broad expertise of a network of partners including Social Impact Advisor, CampaignRaven, Mitacs and Universities Canada, this partnership works to help the not-for-profit (NFP) sector build its capacity for social innovation through partnerships with universities.
Over the two-year project, the team will create, pilot and scale a program that combines skill development for non-profit managers with experiential learning opportunities for undergraduate students. In the final phase of the project, an online collaborative platform will help partners like the University of Guelph and the University of Ottawa implement the process to build their own version of campus-community partnerships that focus on skills for social innovation.
"The pandemic has hit the not-for-profit sector particularly hard, eliminating a key element of Canada's social safety net. To improve their sustainability, NFPs need to focus on social innovation: creative thinking that benefits people," explains Brent McKnight, an associate professor at the DeGroote School of Business who leads the project with Faculty of Humanities professor Sandra LaPointe.
Adopting digital technologies and smart systems
The goal of the Faculty of Engineering's FSC-funded project is to introduce digital advances such as the internet of things (IoT) within industries including manufacturing, transportation and health care.
Led by W Booth School of Engineering Practice & Technology adjunct professor Ishwar Singh, the project will find placements for students to encourage adoption of technologies that will automate traditional manufacturing and industrial practices within small and medium enterprises, municipalities and community organizations.
Some of the challenges students will be working on with community partners include developing applications for virtual health care; classifying voice messages to automate 24/7 customer service responses; and designing and building humanoid robots with AI capabilities, such as greeters and receptionists.
Pedro Barata, executive director of the Future Skills Centre, says that creating a network of resources to accelerate the use and adoption of digital technologies in industry is a perfect example of programs FSC is investing in.
"Industries that have not traditionally relied on technology will have the opportunity to develop a digitally skilled workforce," says Barata. "This is just one of the exciting shock-proofing projects that FSC is investing in to build a future playbook for shared prosperity, and help Canadian workers and businesses seize opportunities in our future economy."