McMaster places 17th in the world in Times Higher Education Impact Rankings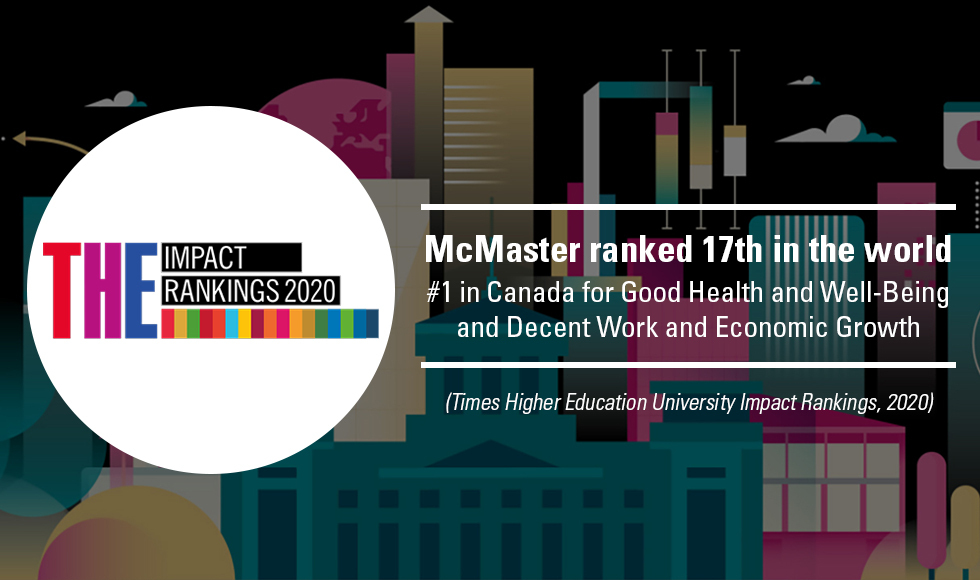 ---
McMaster University has placed 17th in the world in The Times Higher Education (THE) Impact Rankings, which recognizes the important contributions universities make to their communities, countries and on an international scale.
This is the second year for the ranking, based on the United Nation's Sustainable Development Goals (SDGs) which are a call to action to end poverty and hunger, protect the planet, and ensure healthy lives, peace and prosperity by the year 2030.  They are designed to address the most serious challenges of our time.
McMaster has been recognized for its commitment to the development goals and performed well across key SDG categories, including good health and well-being and decent work and economic growth, placing first among Canadian universities in both.
"The Top 20 universities all show a commitment to the Sustainable Development Goals that stretches across the entire institution, and takes in their research, their teaching, the outreach that they perform in their communities, and their careful stewardship of natural and human resources," says Duncan Ross, data and analytics director with Times Higher Education, which released the rankings at its Innovation & Impact virtual summit.
"We hope that the best practice that they have developed can be extended – both within higher education, and also as an inspiration to the wider community," Ross says.
More than 850 institutions from nearly 90 countries participated in this year's rankings, compared to approximately 500 participants last year, in which McMaster placed second in the world.
"The intertwining of student learning and research is the DNA that runs through our university," says McMaster president David Farrar. "We are the birthplace of problem-based learning and that's the approach we've taken to incorporating the SDGs into every aspect of our university."
McMaster's Global Health program, for example, has focussed all its international activities according to the SGDs, while the Faculty of Engineering introduced an ambitious plan to build research clusters that solve global problems, and the University has a new sustainability minor which has inspired hundreds of student-led research projects focused on the development goals.
Ishwar Puri, McMaster's Dean of Engineering, was to represent the university at the Impact & Innovation summit originally scheduled for Stockholm this week but moved online due to the COVID-19 pandemic. Instead, he shared a message at the virtual summit about the university's commitment to the future of the world.
"At McMaster, we have always challenged our community to come up with big ideas to solve the world's greatest challenges, with a razor-sharp focus on the UN's Sustainable Development Goals," he says.
"Now the world is facing one of its biggest challenges yet with COVID-19 – and our community has mobilized to pivot at time when our planet needs hope, agency and innovation most."
While McMaster placed 17th overall, the university received specific rankings in each of SDGs as follows:
#2 – Decent Work and Economic Growth (placing 1st among Canadian universities)
#6 – Good Health and Well-being (placing 1st among Canadian universities)
#13 – Gender Equality
# 23 – Responsible Consumption and Production
# 29  – Sustainable Cities and Economies
# 34  – Clean Water and Sanitation
# 42 – Partnerships for the Goals