McMaster names new president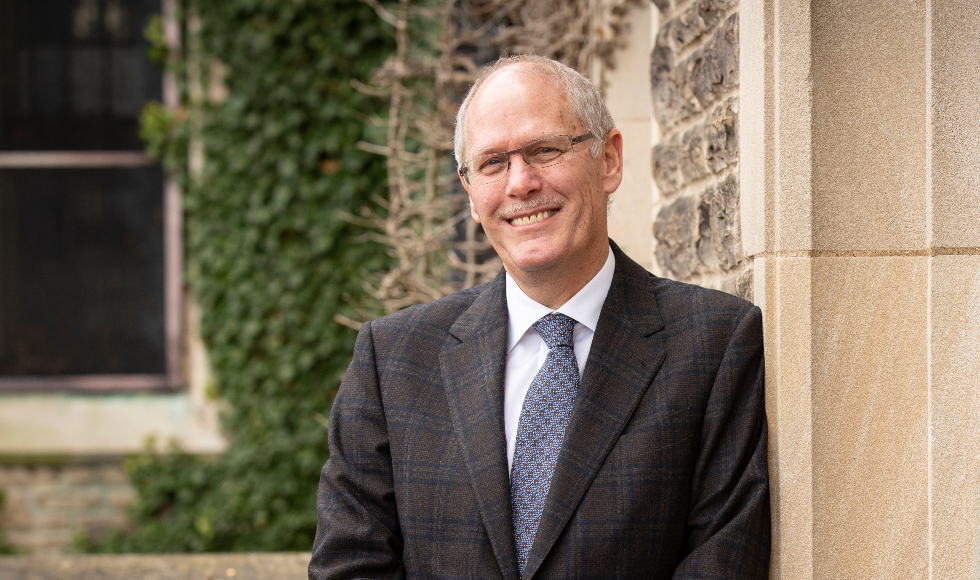 Photo by JD Howell
---
David Farrar is about to become McMaster's next president. The appointment has now been approved by both the Senate and the university's Board of Governors after an international search spanning more than nine months.
"We had tremendous interest in the role and a strong pool of candidates were attracted to McMaster by its international reputation and unique balance as a world leading research university with an equal commitment to teaching students and preparing them to take on the world," said Brad Merkel, chair of the Board of Governors and a McMaster Engineering graduate, 1985. "The Committee to Recommend a  President interviewed outstanding candidates with an impressive and diverse range of experience. The Committee unanimously agreed that Dr. Farrar was uniquely positioned to lead McMaster, given the calibre of his research and leadership experience at world-renowned universities, his commitment to build on McMaster's history of innovation, and his unwavering belief in the faculty, staff, students and alumni who give the university its potential to do even more."
Dr. Farrar currently serves as McMaster's acting president having joined the university in 2017 as provost and vice-president, Academic. Prior to joining McMaster he spent more than 10 years at the University of British Columbia where he held roles as interim president, provost and vice-president Academic and vice-president (Finance). During his career at the University of Toronto, he served as deputy provost, vice-provost, Students, and chair of the Department of Chemistry.
In the Report recommending his appointment the Committee emphasizes that, "Throughout the process, David demonstrated his deep knowledge of McMaster and the challenges and opportunities that are facing the University at this time in its history. He brings to the role a leadership style that is focused on values, collegiality and collaboration."
"Progressing through this detailed selection process gave me time to reflect on and understand just how much I wanted the opportunity to lead such an amazing university," says Farrar. "From the first time I stepped onto McMaster's campus, I knew that there was something special about our institution and the Hamilton community. We have an outstanding history, energetic and talented faculty, students, staff and alumni, and the opportunity to create an even brighter future."
Farrar says it's time to find out exactly what we want the university to look like over the next five years and beyond. "McMaster's success is rooted in taking chances. Our greatest leaps forward have happened when people came together and imagined something totally new like problem-based learning. Even more importantly they were encouraged to exercise their creativity, take a chance and do something astonishing. That's pretty remarkable and is exactly where we need to focus our collective expertise and energy." He plans to engage the university community in a strategic planning process beginning early in the new year.
The Committee to Recommend a President includes members from both the Senate and the Board of Governors. It was chaired by past Board chair Paul Douglas and dean of Science, Maureen MacDonald was elected as vice-chair. The Committee strongly agreed on the importance of equity and inclusion throughout the process and Arig al Shaibah, McMaster's AVP Equity and Inclusion, was appointed as a consultant to ensure equity, diversity and inclusion (EDI) were prominent considerations in all parts of the Committee's work. This included EDI training to learn best practices and inclusive excellence in finding and selecting candidates. The company Boyden Executive Search assisted the Committee throughout the process.
The full report of the Committee to Recommend a President can be found on the University Secretariat's website. It includes details of the extensive consultation process the Committee undertook to ensure that it had input from faculty, staff and students along with alumni and community leaders.