McMaster named top Diversity Employer for fifth consecutive year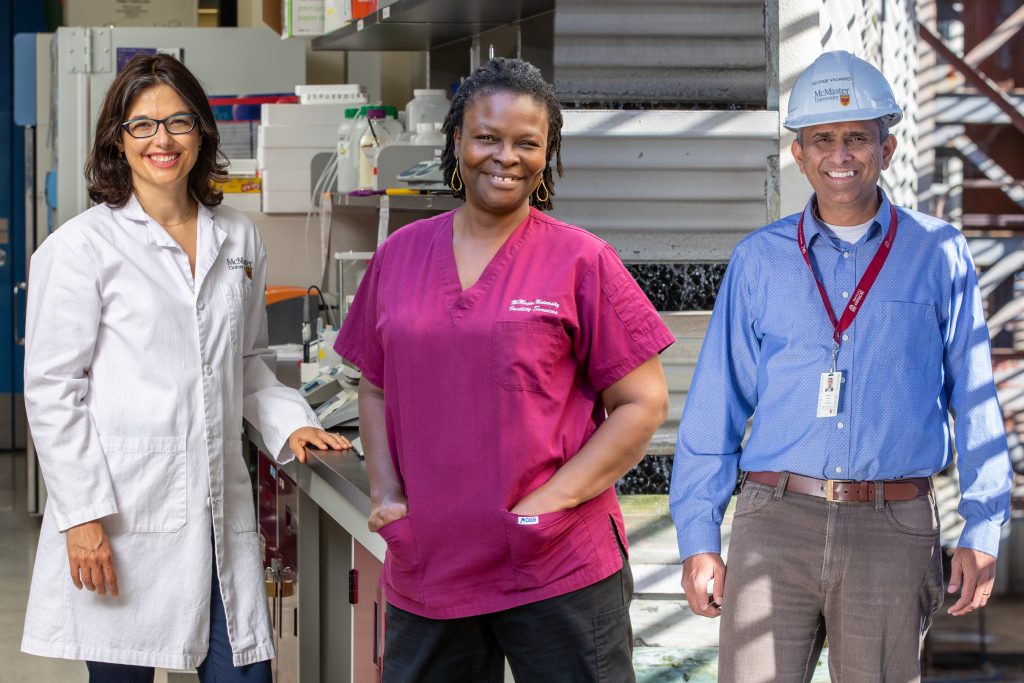 McMaster employees working across a variety of campus settings. From left to right: Dawn Bowdish, professor in professor in the Faculty of Health Sciences, Madeleine Agboton Neville, custodian with McMaster Facility Services and George Vadakken, Acting Director of Maintenance Services.
---
For the fifth consecutive year, McMaster University has been ranked one of Canada's best Diversity Employers in an annual competition that recognizes organizations with successful workplace diversity initiatives in a variety of areas. This comes on the heels of McMaster also being named as one of Canada's Top Employers, ranking 13th overall. The Forbes ranking is created by surveying 12,000 Canadians about their workplace.  McMaster has also been recognized as a top employer in the Hamilton-Niagara region for the 7th consecutive year.
Over the past year, McMaster surpassed its initial goal of recruiting and hiring 12 Black faculty members, instead hiring 18 across all six faculties. The Black, Indigenous and Racialized Staff (BIRS) Employee Resource Group also continues to grow and recently held a large gathering to support its members. The group provides support to its members, access to leadership training, informal gatherings and works to amplify the voices and needs of these staff members at an institutional level.
"There's always more work to do, but I'm incredibly proud at how far McMaster has come as an institution to embrace equity, diversity and inclusion," says Saher Fazilat, vice president, operations and finance. "We know that without involving our entire community and without true inclusion, we will not succeed."
McMaster continually evaluates its programming, policies and processes to ensure they are meeting the needs of our community. For instance, over 550 participants on academic recruitment and selection committees have completed training on how to attract the most diverse talent pool and achieve the most equitable inclusive faculty hiring decision.
The Inclusive Excellence Leadership Program is also currently being piloted to ensure leaders across the University are equipped with the fundamentals of leading with an equity, diversity and inclusion lens in the workplace.
To support all employees' well-being, McMaster continues to encourage flexibility in how we work. The flexible work guidelines were written to support leaders and teams in staying adaptable to the needs of employees, while also continuing to be inclusive, connected and productive. The university also expanded its coverage of mental health practitioners as part of its benefits plan and created a dedicated mental health site with resources and supports for students, staff and faculty.
"The past year has brought a lot of change to campus and we've tried hard to adapt to the lessons we learned during the pandemic," says Wanda McKenna, assistant vice president and chief human resources officer. "Our teams are always open to hearing feedback on what we can do to improve our services – we want to ensure that McMaster continues to be a great place to work for all of our employees."