McMaster named one of Hamilton-Niagara's top employers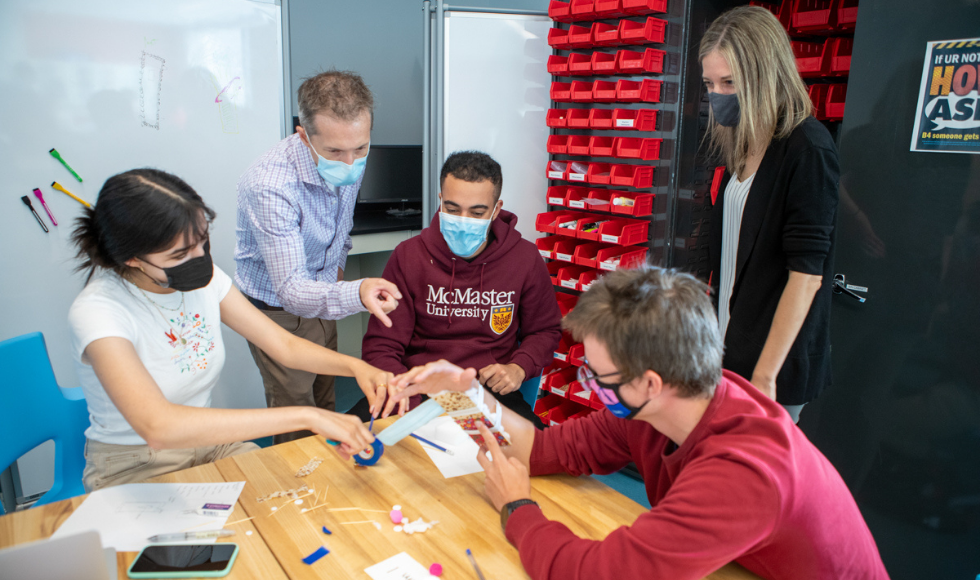 Researcher Colin McDonald and teaching assistant Kyla Sask, along with students Ahmed Alduuyher, Johnny Malcolm and Rimsha Malik inside a classroom at McMaster University.
---
For the seventh year in a row, McMaster University has secured a position on Hamilton-Niagara's Top Employers list.
"There are so many reasons to be proud to work at McMaster," said Melanie Garaffa, Associate Director, Talent, Equity and Development, Human Resources Services. "With our diverse strengths, unique talents and world-leading expertise, we continue to be an important part of the Hamilton and Niagara communities."
McMaster is one of the largest employers in the Hamilton area and created more than 14,000 jobs as a result of McMaster's annual operating expenditures in the economy. With a strong commitment to employment equity, the university is focused on creating an inclusive work environment that values the strengths, perspectives and contributions of each individual.
The university's 16,000 faculty and staff members, including 6,200 full-time employees, bring a versatile combination of skills, knowledge and expertise. "The people truly are the heart of McMaster and why we are such a great place to work. With award-winning, world-class professors, researchers and subject-matter experts from more than 54 countries around the globe, our people make this university an amazing place," said Garaffa.
As McMaster responded to the impact of the COVID-19 pandemic, the university engaged in virtual teaching, learning and research environments. Employee volunteers worked with the institution to move a variety of university celebrations and social events to the digital sphere as we remained committed to providing opportunities for employees and their families to come together, have fun and learn from each other.