McMaster music ensembles return to live concerts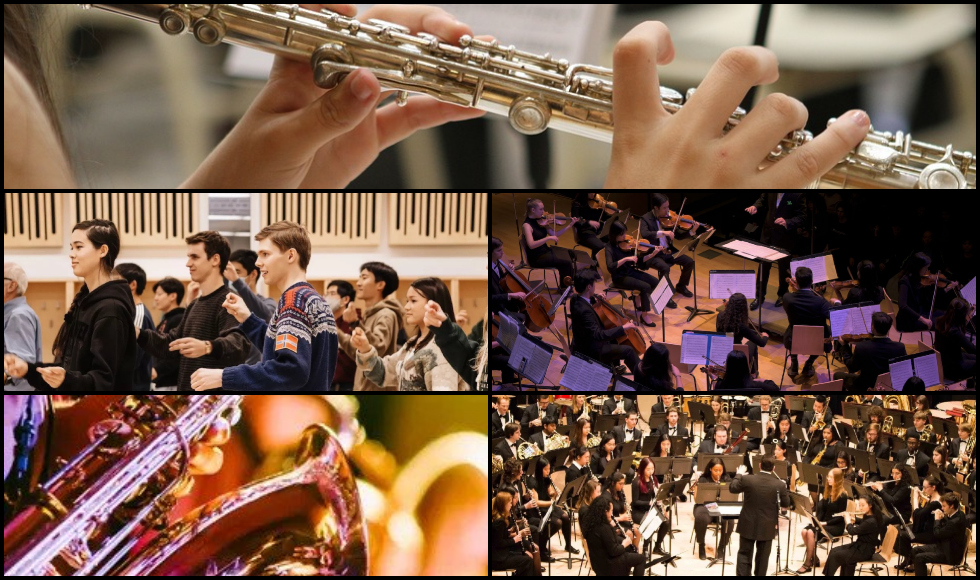 ---
Ponder mystical tales, celebrate community, and dance the night away: McMaster's music ensembles are returning to the L.R. Wilson Concert Hall for in-person performances after a long hiatus caused by the COVID-19 pandemic.
Between November 27 and December 6, the symphony orchestra, jazz orchestra, choirs, concert band and flute ensemble will present concerts on many different themes, each showcasing a variety of music from around the world and from a range of time periods.
---
Sunday, November 27, 2 p.m. "Song, Dance and Variations"
Join the McMaster Symphony Orchestra and conductor Joseph Resendes as they perform "Song, Dance and Variations," a graceful nod to the works of Vaughan Williams, Respighi, Mozart and Rossini. Specializing in exciting and inspiring repertoire, the McMaster Symphony Orchestra provides musically talented students from across campus with the opportunity to develop their performance skills.
Listen to the MSO on YouTube.
For tickets, go to the Showpass website.
---
Wednesday, November 30, 7:30 p.m. "McMaster Jazz Orchestra Fall Concert"
The McMaster Jazz Orchestra is directed guitarist Michael Occhipinti, co-leader of the JUNO award-winning jazz orchestra NOJO and an 11-time JUNO nominee. The autumn concert will feature some of Michael's innovative compositions as well as music by Pink Floyd and classic jazz by Miles Davis, Phil Nimmons and others. The McMaster Jazz Orchestra is made up of music students as well as students from other departments, all giving their time to explore jazz and improvised music. Their spring concert will feature compositions by Canadian women.
For tickets, go to the Showpass website.
---
Saturday, December 3, 2 p.m. and 5 p.m. "Priceless Mysteries"
Conducted by Melanie Tellez and including collaborative pianist Monica Admiral and percussionist Jamie Drakem, the McMaster University Choir and Cantemus Treble Ensemble will perform choral music (and ponder mystical tales) from Canada, Norway, Ireland, Germany, France, West Africa, Spain, the Philippines and Syria.The McMaster University Choir and Cantemus Vocal Ensemble are reflective of the McMaster community, with a strong focus on academic and artistic excellence, musical development, and personal growth through collaboration. The choirs consist of auditioned singers from across campus who specialize in fields as diverse as rehabilitation, economics, engineering, nursing, music cognition and mathematics.
For tickets, go to the Showpass website.
---
Sunday, December 4, 2 p.m. "Band Together!"
The Concert Band is sharing the stage with the community once again, welcoming special guests Sherwood Secondary School Band and clarinet soloist Zoltan Kalman. "Band Together" is a celebration of the return to the stage after nearly three years of virtual performances. The concert will feature works by composers including Ticheli, Goto, Herberman, Sweeney, Balmages and others. The McMaster University Concert Band, under the direction of Joseph Resendes, has been a leading ensemble within the School of the Arts and the Hamilton community for 50 years. It is made up of auditioned members belonging to various programs across campus.
Listen to the ensemble on YouTube.
For tickets, go to the Showpass website.
---
Tuesday, December 6, 7:30 p.m. "Snow on Ben Nevis"
The David Gerry Flute Ensemble's December concert will feature the "Falconer Suite" by Catherine McMichael, with original melodies that evoke the folk music of Scotland. Various works by Brahms, Holst and Bartok are also on the program, with Latin jazz by Fabrice Lucato to close the afternoon's music. The multi-voice David Gerry Flute Ensemble is directed by Hamilton flutist and music educator Sara Traficante, and is comprised of students from across all disciplines at McMaster.
For tickets, go to the Showpass website.
---
Please note: all concerts take place at times when CUPE 3906 picket lines are not in place.