McMaster Museum of Art receives major grant for Indigenous/American art project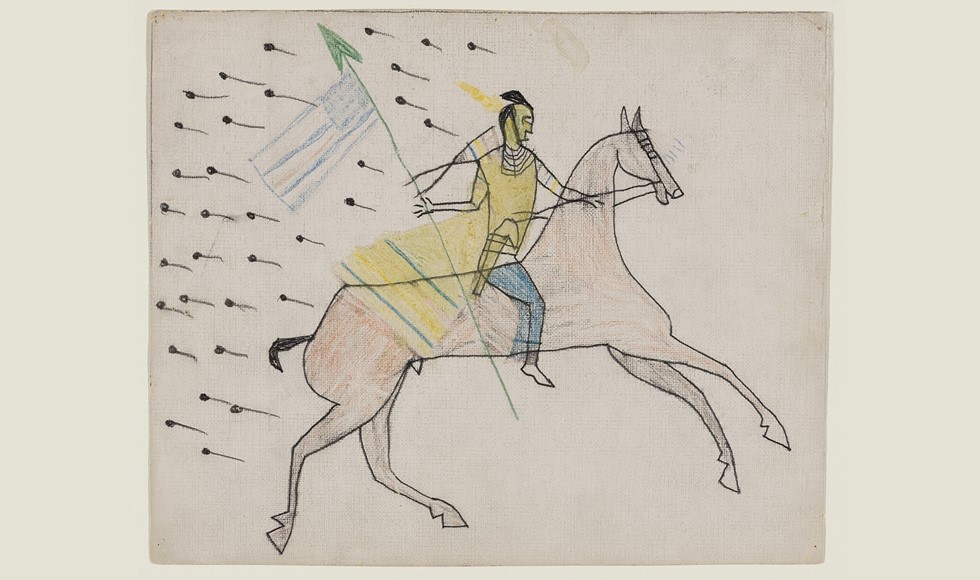 White Swan, Apsaalooke, 1851 – 1904, Untitled (White Swan Riding Through Gunfire), about 1890, graphite and colored pencil on wove canvas paper. Hood Museum of Art, Dartmouth: Mark Lansburgh Ledger Drawing Collection; Partial gift of Mark Lansburgh, Class of 1949; and partial purchase through the Mrs. Harvey P. Hood W'18 Fund, and the Offices of the President and Provost of Dartmouth College; 2007.65.93.
---
The McMaster Museum of Art has received more than $100,000 CDN  from the Chicago-based Terra Foundation for American Art, which supports exhibitions and scholarship at institutions worldwide, from the Musée d'Orsay to the Tate Modern.
The grant for McMaster will fund the upcoming curatorial project, Peripheral Vision(s): Perspectives on the "Indian" image by 19th-century Northern Plains warrior-artists, Leonard Baskin, and Fritz Scholder.
Peripheral Vision(s) is curated by Rhéanne Chartrand, curator of Indigenous art at the McMaster Museum of Art, with guest scholar and acclaimed curator, Dr. Gerald McMaster.
"It is such a tremendous honour, and so early in my curatorial career, to receive the financial support of the Terra Foundation for American Art, and to do so on a project whereby I am co-curating with one of my long-time mentors," Chartrand says. "This project is borne out of our mutual and ongoing interest in interrogating the "Indian" image, applying gaze theory and the praxis of survivance to the critical analysis of Indigenous art, and building Indigenous art histories from an Indigenous perspective.
"I am so grateful to MMA director / chief curator, Carol Podedworny, for allowing Gerald and I to realize this project at MMA, and for being able to showcase its collection alongside works from distinguished Canadian and American collections"
Peripheral Vision(s) acknowledges the positionality of the included artists by framing their vision(s) within a cross-cultural/cross-temporal space-time in order to make sense of how the past informs the present, and how, when we look back, it all depends on where we are standing and what is within our gaze or line of sight, when it comes to understanding the "Indian" image.
The curatorial project will generate insights on image-making, self-representation, misrepresentation, naming and the overall intent of portraiture, and contributes to McMaster's goal to produce new Indigenous research by Indigenous scholars.
The exhibition will be presented at the MMA in the fall of 2019.
The Terra Foundation for American Art is dedicated to fostering exploration, understanding and enjoyment of the visual arts of the United States for national and international audiences. Proposals are reviewed by an external panel of scholars and curators who are specialists in historical American art (circa 1500–1980).
"The Terra Foundation for American Art's support is a first for McMaster," says MMA Director Carol Podedworny. "It confirms the importance of the project's scholarly contributions to both Indigenous art history and exhibition production in Canada. It's something to be celebrated."
The exhibition will present 11 of the MMA's 27 "Indian portraits" by Jewish-American artist, Leonard Baskin (1922-2000), generously donated to the museum by Baskin's brother, long-time Hamilton resident Rabbi Bernard Baskin.
Works by Luiseño-American artist, Fritz Scholder (1937-2005), are generously on loan from the following American institutions:
Harwood Museum of Art at the University of New Mexico (Taos, NM)
IAIA Museum of Contemporary Native Arts (Santa Fe, NM)
Minneapolis Museum of Art (Minneapolis, MN)
Tucson Museum of Art (Tucson, AZ).
Ledger drawings by 19th-century Northern Plains warrior-artists, including the renowned Short Bull (c.1845-1923), are drawn from both regional and American institutions, including:
Hood Museum of Art at Dartmouth College (Hanover, NH),
Royal Ontario Museum (Toronto, ON)
Simcoe County Museum (Minesing, ON)
The exhibition will be accompanied by a significant publication exploring the "Indian" image with scholarly essays by some of the most prominent Indigenous and non-Indigenous voices within the fields of Indigenous art history and art criticism today, including:
Janet Berlo, professor of art and art history and visual culture at the University of Rochester
Christina E. Burke, curator of Native American and non-Western art, Philbrook Museum of Art, Tulsa, OK
Paul Chaat Smith, associate curator at the National Museum of the American Indian, Washington, DC
Dr. Gerald McMaster, curator, artist, author and  Tier 1 Canada Research Chair of Indigenous Visual Culture and Curatorial Practice, Ontario College of Art and Design University, Toronto, ON
Jeffrey Thomas, independent photo-based artist and research and recipient of the 2019 Governor General Award for the Visual Arts.
Coordinating curator and MMA's curator of Indigenous art, Rhéanne Chartrand, will also contribute an essay to this publication, accompanied by a foreword by MMA director and chief curator, Carol Podedworny.
Established in 1967, the MMA is a public, non-profit, university-affiliated gallery situated in the heart of McMaster University campus.
The MMA, which houses the university's internationally recognized collection of approximately 6,000 art objects and antiquities, presents exhibitions and provides public programs through scholarly research and interpretation.
The MMA is closed for renovations from March 19 to August 23, 2019.