McMaster Museum of Art partners with Hess Street School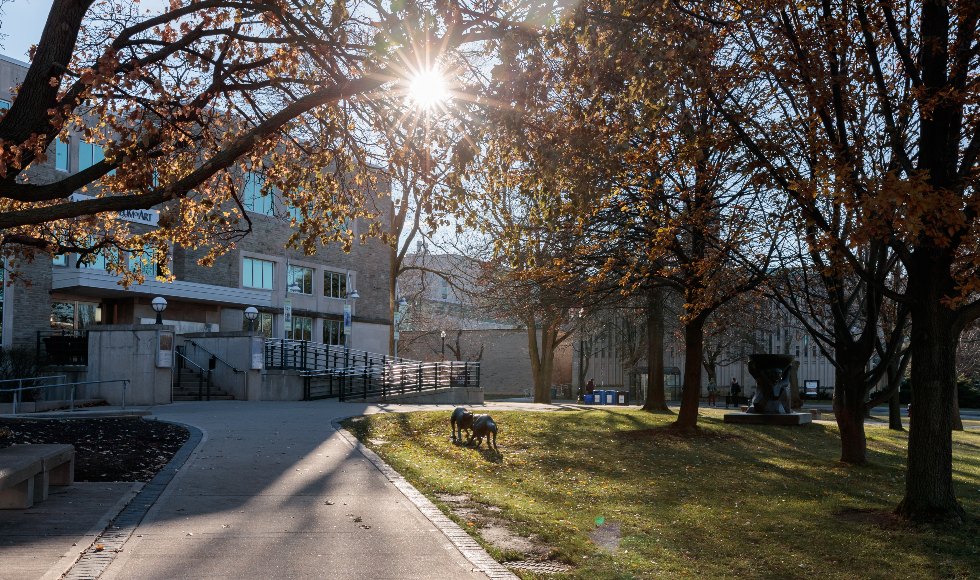 Photo by Sarah Janes
---
Following an enthusiastic partnership begun during the McMaster Museum of Art's spring outreach program in Hamilton schools, the museum's education officer Teresa Gregorio has now developed a collaborative project with two Hess Street Elementary School teachers to use McMaster's significant art collection to teach visual literacy skills.
"Our students come from a diverse range of backgrounds and experiences. The lessons on visual literacy, will help them learn how to interpret works of art," say teachers Christine Wilson and Lorraine Cooper. "We hope they begin to see the power of these visual images, which convey important information about others and various points of view. We want our students to understand the value of art in our lives."
The project is supported by an Access Strategy Grant from McMaster's Office of Community Engagement.
Museum staff visited the classrooms during the fall and a culminating event will bring the students to McMaster in spring 2020. The students will be introduced to campus and celebrate their hard work with a display of their art in the museum of art's Education Gallery.
"Through the partnership with the McMaster Museum of Art, we foresee a multitude of benefits for our Hess Street Elementary students," say the teachers. "We hope that exposure to our local university can set in motion thoughts about post-secondary opportunities.
"Our visits to McMaster and interactions with university staff in our classrooms will show our students that the university is local and part of their community–that university is within their reach."
During Gregorio's first visit to the school in September, students learned about the critical analysis process and the power of visual note-taking. At that time, they received their own drawing set and sketchbook.
During a second visit in November, Gregorio demonstrated the fundamentals of printmaking and the impact and power this form of art and mass communication has to share individual voices and expressing personal opinions.
"[The] printmaking project will allow students to not only demonstrate their creativity, but also experience and grow from a challenging, multi-step process," say Cooper and Wilson.
Gregorio is hoping to work with Wilson, Cooper, and museum of art volunteers to expand and extend this partnership into the 2020-2021 school year.
"The students were inspired by the programme and are eager to spend more time learning about art. We'd love to foster this enthusiasm for next school year with additional visits and activities."