McMaster medical student will be Rhodes Scholar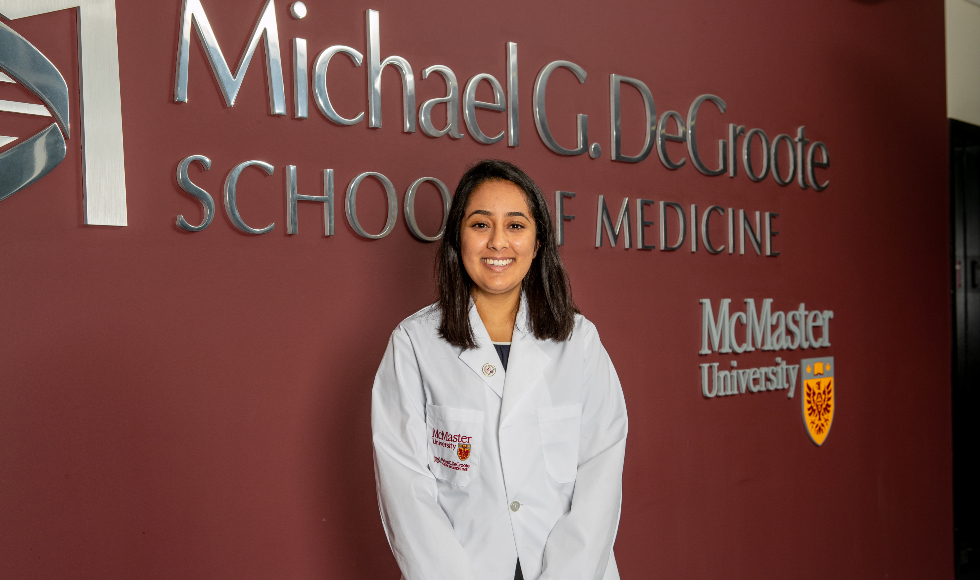 ---
Nina Acharya, a first year medical student at McMaster, has been awarded a distinguished Rhodes scholarship.
The Ottawa native hopes to complete a master's of philosophy in international development with an emphasis on children's nutrition while a Rhodes Scholar at the University of Oxford in the U.K.
She was with a group of childhood friends at her Hamilton home when she received the phone call from the Rhodes Trust informing her of her selection.
"It was a very surreal experience – there was lots of excitement in the room," said Acharya, 22.
She graduated from Cornell University earlier this year with her Bachelor of Science in Human Biology, Health and Society and with the honour of being named one of the university's most outstanding graduates.
She came to McMaster for her physician training as she was keen to train in Ontario's medical system.
"McMaster is a perfect fit for me. The three-year medical program was appealing and it's the home of evidence-based medicine. It's been very welcoming here," Acharya said.
Nina has been involved in childhood nutrition research and worked in the federal government as a policy analyst for Canada's multilateral nutrition aid.
In her past she helped create the Canadian Science Fair Journal, a virtual mentorship program for children aged six to 18 to introduce students to scientific writing and publishing. She plans to be a pediatrician, while contributing to children's health via global health policy.
She is one of 11 Canadians chosen as 2020 Rhodes Scholars, and she will join a class of 100 from more than 60 countries. Her tuition, living expenses and travel at Oxford will be covered by the scholarship.
Richard Pan, the Canadian Secretary of the Rhodes Trust, said, "The scholarships call for an recognize a set of timeless virtues – intellectual excellence, strength of character, energy to strive, commitment to serve and instinct to lead.
"We are proud of the opportunities that the scholarships provide to our most talented, passionate and charismatic university graduates."
Acharya will leave McMaster at the end of next summer, returning in 2022 to finish her medical degree.
"We are extremely proud that Nina has received this very prestigious Rhodes scholarship," said Paul O'Byrne, dean and vice-president of the Faculty of Health Sciences. "It will be a wonderful opportunity and an enriching experience for her, and we will welcome her back to finish her McMaster medical training when her scholarship is completed."