McMaster medical student on winning team on The Amazing Race Canada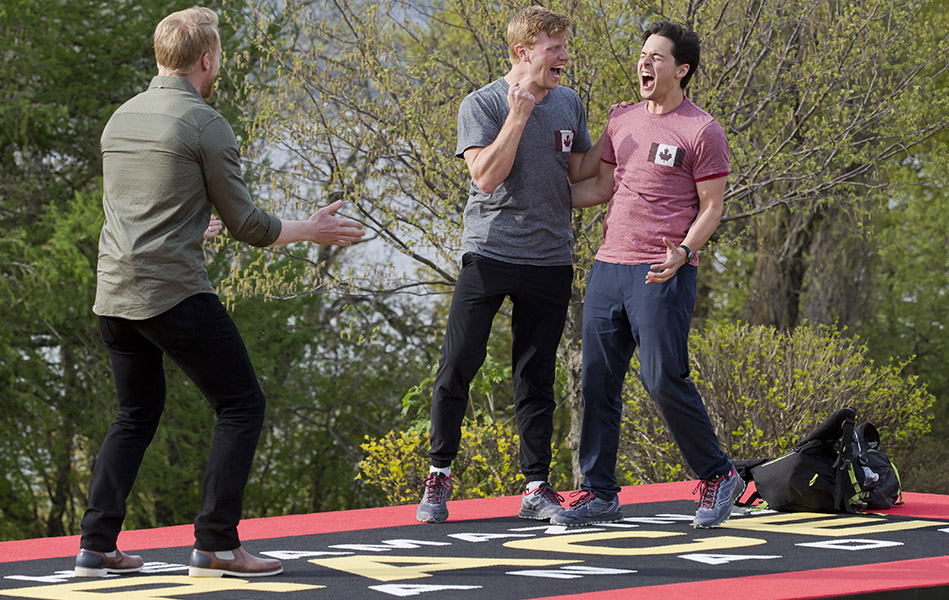 McMaster medical student Sam Lambert, centre, and partner Paul Mitskopoulos celebrate winning The Amazing Race Canada with host Jon Montgomery.
---
Sam Lambert, a first-year medical student at the Michael G. DeGroote School of Medicine at McMaster University, has won The Amazing Race Canada.
In the season five finale that aired this week, Lambert and his boyfriend, Paul Mitskopoulos, were the first of the final three teams to cross the finish line in Québec City in the reality television competition.
The journey spanned four countries, six provinces, 17 cities and more than 50,000 kilometres.
As winners of The Amazing Race Canada, the duo receive $250,000 in cash, two new SUVs and a trip for two around the world.
"It feels unbelievable," said Lambert in a telephone interview from Toronto. "We've had to keep it a secret for the past four months, but now being able to share with our friends and family has been amazing. I look forward to coming back to class and being able to share with all my peers at McMaster medicine as well."
Lambert hails from Oakville and started medical school at McMaster last month.
During a previous episode this season, Lambert's parents informed him he was accepted into the medical school of his choice, which turned out to be McMaster.
"McMaster was the best choice for me because the medical school has a focus on selecting people with diverse backgrounds and I felt like I could join a program that would value the experience I have," said Lambert, who has a degree in business. "I really appreciate the problem-based learning that McMaster offers as well."
Lambert says the first few weeks of medical school have been both challenging and rewarding. As for his future, he's still determining which field of medicine he would like to pursue.
"I think I want to be an ob-gyn or a pediatrician," he says. "I love children and I think women's health is extremely important. Working with mothers throughout the term of a pregnancy is something that appeals to me."
Lambert and Mitskopoulos live in Toronto. The couple was a fan favourite to win the competition.
The pair doesn't have any travel planned at the moment due to busy schedules, but they do know their first destination will be China.
Lambert said he has been recognized from the show by his classmates and other students from across the university. He added he is grateful for the support.
"I would love to thank the Mac community for their support and I am excited to become a bigger part of the community as I continue through my career in med school," he said. "I am thrilled to be at such an amazing university and I am looking forward to making the most of it."