McMaster launches collaborative PhD program with the University of Rome and the University of Hong Kong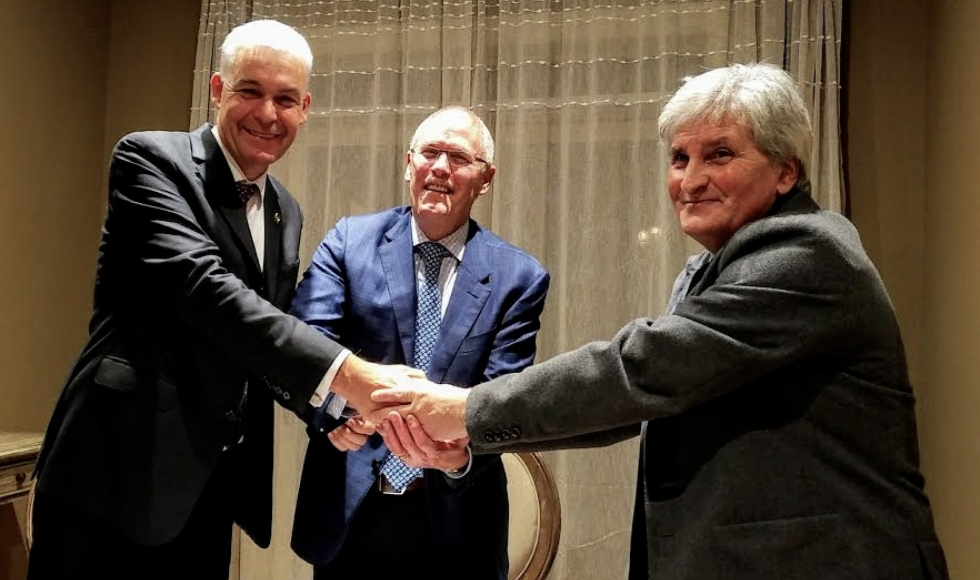 Matthew Evans, dean of science at Hong Kong University (left), David Farrar, provost and vice-president, academic at McMaster University (centre) and Bruno Botta, vice-rector at the University of Rome (right)
---
In an agreement spanning North America, Europe and Asia, McMaster University, the University of Rome (La Sapienza) and the University of Hong Kong have introduced a new collaborative PhD program in the chemistry of food and nutrition.
McMaster Provost and Vice-President (Academic) David Farrar, Vice-Rector Professor Bruno Botta from La Sapienza and Professor Matthew Evans, dean of science from the University of Hong Kong signed a five-year agreement launching the program. The agreement had also been signed by the rector of La Sapienza, Eugenio Gaudio.
Over the term of the agreement, at least 30 PhD candidates will be completing their graduate work between the three universities, moving freely between them. The students will be supervised by professors at the three institutions.
"Formally, the collaboration is described as 'Molecular Design and Characterization for Promotion of Health and Wellbeing: from Drugs to Food,'" says Farrar. "The agreement is an impressive start to a very promising collaboration between three key universities on three continents. It leverages the benefits of skills, equipment and deep knowledge at each of the universities to deliver top quality research and education."
The idea of sharing knowledge, resources and equipment will deliver results that maximize the advantages that each university brings to the partnership.
"Having two great universities work alongside La Sapienza in this deep new relationship will accelerate innovation and deliver research outcomes that have the opportunity to be truly groundbreaking," says Botta. "This is the beginning of something very exciting. We are looking for great results in chemistry and many other areas of research."
The first opportunities for promising PhD candidates will be posted on the three universities' websites by the end of the first quarter of 2019.
"We are very much looking forward to seeing this exciting new initiative develop both superior global graduates, but also new and groundbreaking research," says Evans of the University of Hong Kong. "We can all be proud of having kicked off something very special with a simple signing of a document at McMaster University."
The partnership supports McMaster's Brighter World initiative as well as the university's strategic plan in its commitment to taking a collaborative approach to improving people's lives, contributing to global knowledge and advancing health and well-being.
"When you have three excellent comprehensive universities come together great things will happen," explains Farrar. "We are already seeing a second initiative develop in the area of archeology and we are exploring several other areas within health, science, the social sciences and the humanities. We expect to see top quality research and global-minded graduates with a strong foundation that will go on to contribute positively to the future of all three continents."